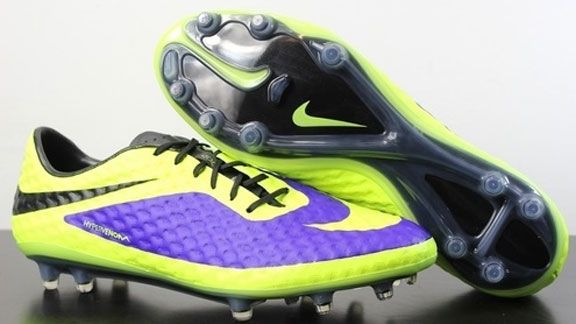 OtherThe Nike Hypervenom Phantom is in a league of its own.
Rating:


The Nike Hypervenom Phantom is all about innovation, introducing several new features that the soccer world has never seen before. Replacing the iconic Total 90 series, a line from Nike that has been around since 2000, the Hypervenom has now been launched, with Barcelona star Neymar the main poster boy for this exciting new line. The boot has, to say the least, been turning heads, and for good reason -- they not only look the part, but perform the part too.

DESIGN: 5/5

The Hypervenom Phantom is unlike anything we've ever seen. The low-profile, streamlined silhouette of the boot has drawn comparisons to the very popular Mercurial series from Nike, but the fit and feel of the Hypervenom is totally unique. The highlight of the Phantom is the all-new NikeSkin upper, combining mesh webbing and thin layers of Polyurethane to create a material that is unmatched in softness and flexibility. It gives the boot not only a great feel for the ball, but also an incredible fit.

The Hypervenom series also features the all-new X1.1 last, a shape that Nike says is designed to move more naturally with the curves and bends of the foot. The glass nylon soleplate and stud pattern was designed with agility in mind, and is one of the best performing stud patterns released in recent times.

COMFORT: 5/5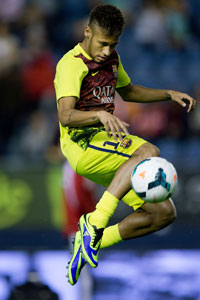 OtherNeymar is the face of the Nike Hypervenom Phantom boots.
The Phantom is an incredibly comfortable boot, perhaps the most comfortable thin synthetic boot currently on the market. The NikeSkin synthetic upper is incredibly soft and flexible, and unlike many synthetics, has the unique ability to stretch, allowing you to get that perfect custom fit after only a few hours of break-in time. The upper wraps your foot tremendously well, providing a perfect second skin feel, but without squeezing your foot too tightly, allowing for a wider range of foot types to fit comfortably in the Phantom. In terms of sizing, the Hypervenom Phantom runs true to size, so if you're looking to order a pair for yourself, it's recommended to stick with your normal size for the best possible fit.

PERFORMANCE: 5/5

The Phantom is packed with technology, and shows how Nike is truly innovating when it comes to their performance products. The standout feature is definitely the NikeSkin upper, which provides a very close touch on the ball, but at the same time has a slightly cushioned feel. The NikeSkin upper also features what Nike calls "X-Ray" texturing, which gives the surface of the upper a soft touch feel. The incredible fit in combination with the natural feel of the upper makes the boot seem as if it were an extension of your foot, to the point where you might even forget that you're wearing shoes.

The glass nylon soleplate is very responsive, giving the lightweight boot a much more solid feel than you might expect. At 7.2oz, the Phantom provides a nice lightweight feel on feet, while still maintaining plenty of rigidity. The stud pattern features low-profile conical studs, allowing for plenty of ground penetration at push off, while still maintaining the freedom to pivot and turn when planted. What's also great is that the Phantom is available in FG, SG and AG stud patterns, so you'll be able to get the proper stud pattern for any type of playing surface.

VALUE: 4/5

With a retail price of $225, the Hypervenom Phantom is up there in price with very popular models like the Nike Mercurial Vapor 9 and the Adidas F50 adizero. While it may seem like a steep price to pay for a single pair of shoes, the $200 mark has become the standard price of admission for a top-end model. Durability is always a major concern when paying upwards of $200 for a pair of shoes, and throughout testing there were no issues with Hypervenom Phantom. It is a boot that should easily get you through a season's worth of play, which is all you can really ask of any modern soccer shoe.

Overall: 5/5

The incredible fit in combination with the sock-like fit of the NikeSkin synthetic upper gives the shoe an incredibly natural feel, while the responsive glass nylon soleplate and stud pattern provides all of the performance elements you could possibly want. Many compare the Hypervenom Phantom to the Mercurial series from Nike, and while there are similarities between the two designs, the final product is completely different when it comes to feel and performance. The Phantom brings new ideas, new technologies and new materials to the fore, creating what is arguably the most original boot currently on the market.

Joshua Vujovic writes for www.soccerreviewsforyou.com