Roma's 2013-2014 home and away jerseys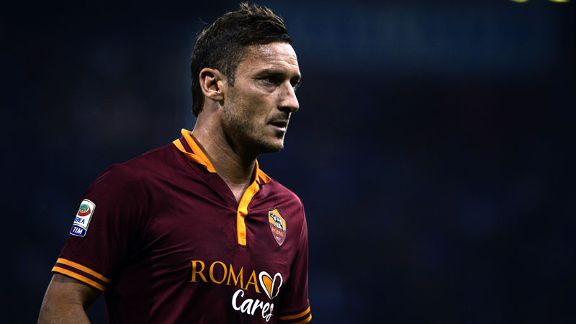 GettyImagesWho better to be the poster boy for the new Roma kit than Giallorossi legend Francesco Totti.
Rating:


This offseason was shrouded in doubt and mystery for Roma and the nature of the team's kits for 2013-14 was no different; with the Nike contract not set to kick in for another year and the association with Kappa ended, many waited with anticipation to see who would manufacture Roma's jerseys this season and what they would look like.

We needn't have worried. Opting for a do-it-yourself approach as before the Nike deal kicks in from next season, Roma have produced a 2013-14 home and away jersey that is one of the best kits sported by the Giallorossi in years. Made of high quality poly stretch material, the tops look classy and feel comfortable, with the ironed-on names and numbers on the back made of a felt-like material that is soft to the touch.

These kits have the historic distinction of being the first to feature the club's new logo, which is far different to look at in reality than on a screen. In person it seems a refined upgrade on a familiar logo -- a modernization rather than a revolution to make the Roma name more recognizable on a background that remains familiar.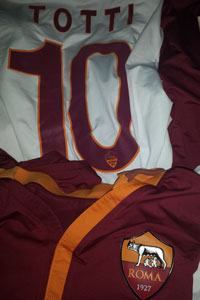 OtherRoma could well win the 2013-14 Scudetto in a kit they made themselves.
Compared to kits in years past, the 2013-14 home and away jerseys more than hold their own. They're shipped without the "Roma CARES" branding seen on the players during matches and breathe easily. The only slight fault is that the collar tends to curl rather than staying flat, something watchful eyes may have noticed on the players themselves during the matches.

Much like Roma kits in the past, the sizes run small, especially from an American perspective. Ordering a size up is not only recommended on Roma's official website but truly necessary unless the customer wants a shirt that will show off every curve and muscle on their torso.

Then again, nothing quite compares to the pride of walking around with a Francesco Totti home kit -- and because the club has homegrown bandiere like Totti and Daniele De Rossi, ordering kits with a name on the back isn't quite the risk it is with many other teams and players. Yet with all the players in fantastic form early this season, and Roma's new online store redesigned to allow for the customization of nearly every player in the squad as well as hundreds of other shirts, socks, bags, scarves [basically any paraphernalia you can think of] -- the choice is quite open.

While it's far too early to suggest that this season will end historically, it certainly has begun in most impressive fashion -- and despite early confusion about how Roma's jerseys would end up this season, the 2013-14 home and away kits are similarly impressive, both stylish and comfortable.