Value picks and surprise failures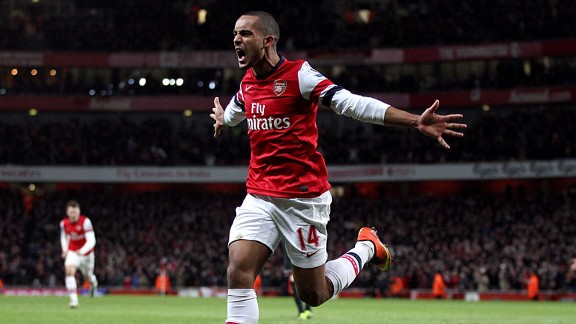 PA PhotosWalcott's resurgence makes him a good option for fantasy managers
With 12 Premier League matches remaining, fantasy managers are looking at what can be done to boost their team scores. Here are three groups that may be useful for making decisions on wisely spending your remaining transfers.

1. Surprises and good value:

Midfielders:
Michu, Swansea City: 174 points, 7.4 value, 62.8% ownership

The Spaniard remains the best buy in our game even though he was held out against Liverpool.

Theo Walcott, Arsenal: 144 points, 8.0 value, 44% ownership

The light seems to be turned on. Walcott is not having as many stretches of invisible play and has stayed fairly healthy.

Steven Gerrard, Liverpool: 156 points, 8.2 value, 26.6 ownership

After it looked like his career was in fast decline, Gerrard has come back with a vengeance.

Note: Liverpool midfielder Philipe Coutinho has only played two matches for the Reds, but the 20-year-old Brazilian, who scored against a lame Swansea team, looks to be a future star. He will not play in Gameweek 27, but at 6.3 value is an attractive fantasy pick.

Forwards:

Rickie Lambert, Southampton: 121 points, 7.0 value, 17.2% ownership

Grinds out excellent performances for a lower table team at a bargain value.

Christian Benteke, Aston Villa: 117 points, 7.2 value, 8.7% ownership

An exciting new star on a dreadful team that may be relegated.

Romelu Lukaku, WBA: 88 points, 5.8 value, 7.6% ownership

Even with a manager who rarely gives him a start, this on-loan player from Chelsea scores goals in limited playing time.

Arouna Kone, Wigan: 101 points, 6.6 value, 3.3% ownership

Now back from Africa, Kone is ready to continue filling Premier League nets and notched an FA Cup brace.

Jay Rodriguez, Southampton: 66 points, 5.3 value, 3.7% ownership

Bargain forward not on many teams.

Goalkeeper:

Simon Mignolet, Sunderland: 117 points, 6.0 value, 19.5% ownership

Best keeper value on a team with an improved defence.

2. Top performers: high value but no surprise

Midfielders:

Juan Mata, Chelsea: 155 points, 9.4 value, 41.5% ownership

Gareth Bale, Tottenham: 149 points, 9.2 value, 24.8% ownership

Forwards:

Robin van Persie, Manchester United: 162 points, 10.1 value, 70.6% ownership

Demba Ba, Chelsea: 118 points, 7.6 value, 14.1% ownership

Luis Suarez, Liverpool: 154 points, 8.7 value, 54.8% ownership

Goalkeepers:

Joe Hart, Manchester City: 112 points, 7.0 value, 11.3% ownership

Petr Cech, Chelsea: 108 points, 7.6 value, 6.6% ownership

3. The following players are surprises for having bad values:

Midfielders:

Ashley Young, Manchester United: 45 points, 6.9 value, 1.3% ownership

A wretched fantasy performer with zero goals who is not the player he was at Aston Villa.

Nani, Manchester United: 27 points: 6.3 value, 1% ownership

Forgotten and futile, 'step-over" has only featured in two of his last 13 matches. Where did his talent go?

Samir Nasri, Manchester City: 50 points, 5.9 value, 1.8% ownership

A bad career move to leave Arsenal and now is nearly anonymous in Mancini's rotation.

Lucas Leiva, Liverpool: 42 points, 5.6 value, 0.3% ownership

After a gutsy return from two injuries, Lucas has helped the Reds' distribution but is dead weight for fantasy managers.

Alex Oxlade-Chamberlain, Arsenal: 54 points, 6.1 value, 0.8% ownership

One goal, two assists in 17 games. Who is wearing the kit of the player with all the media hype?

Forwards:

Carlos Tevez, Manchester City: 106 points, 8.1 value, 3.3% ownership

No goals in his last 11 league games and is often lost behind Sergio Aguero and Edin Dzeko.

Javier Hernandez, Manchester United: 58 points, 6.7 value, 2.2% ownership

Chicharito is getting Cup leftovers and delivering nothing for fantasy managers.

Defenders:

Nemanja Vidic, Manchester United: 42 points, 7.5 value, 3.3% ownership

Vidic has the third highest value with one third of the points of the two players ahead of him.

David Luiz, Chelsea: 79 points, 7.2 value, 8% ownership

Luiz was a fad pick-up by many fantasy managers when he seemed to be in a midfield role. The frizzy Brazilian is no longer a scoring threat.

Joleon Lescott, Manchester City: 51 points, 6.0 value, 1.2% ownership

A victim of the Mancini mystery selection process, Lescott has only had three shots on goal.

Goalkeeper:

Tim Howard, Everton: 93 points, 6.2 value, 7.8% ownership

Only four clean sheets for a goalkeeper who used to be in the top five.