Second thoughts: When it's time to cut the cord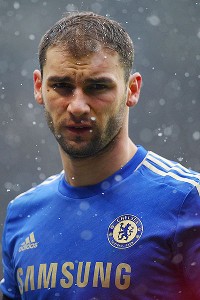 Laurence Griffiths/Getty ImagesIt has been a cold, unproductive 2013 for Chelsea's Branislav Ivanovic.
There comes a time when fantasy players cease to be the point-producers they were in the past. To hold on to them for too long a time can be fatal for fantasy managers wishing to move up in their league or maintain their advantage over the rest of the pack.

The following players have high salaries, and for the past several weeks have been low fantasy producers and are not recommended.

1. Branislav Ivanovic, Chelsea defender
7.1 value, 122 points, owned by 32%
Ivanovic is still ranked as the second-best fantasy defender point producer; however in his last five matches, he has a total of 10 points and has not scored since Jan. 5.

2. Ali Al Habsi, Wigan goalkeeper
5.0 value, 87 points, owned by 6.8%
Al Habsi is the ninth-highest fantasy goalkeeper point producer; however, in his last five matches he has 12 points and has not had a clean sheet in 2013.

3. Oscar, Chelsea midfielder
6.8 value, 77 points, owned by 2.6%
Oscar's performance has not lived up to the hype that preceded him. He is only the 50th-highest fantasy midfield point producer and has not had a PL goal in 2013. He has 15 points in his last five games.

4. Kevin Nolan, West Ham midfielder
6.9 value, 119 points, owned by 12.2%
Once a must-have, Nolan is in a prolonged scoring slump with one goal in his last 12 matches and 27 points in his last eight games. He is still the 10th-highest fantasy point producer among midfielders but the majority of his points came early in the season. He is also on a team in serious decline.

5. Steven Pienaar, Everton midfielder
6.8 value, 109 points, owned by 6.2%
At the end of the year, Pienaar looked in great form, but in his last six games, he has zero goals, no assists and two clean sheets. He is the 13th-ranked fantasy midfielder for scoring but has just 19 points in his last six matches.

6. Dimitar Berbatov, Fulham forward
7.3 value, 101 points, owned by 3.7%
Berbatov remains silky smooth but in his last five matches has only 16 fantasy points.

7. Sergio Aguero, Manchester City, forward
7.4 value, 94 points, owned by 10.4%
Aguero has 14 points in his last five games. He is preferred by Roberto 'The Scarf Mancini' to Carlos Tevez but other than Aguero's miracle goal against Liverpool, he is not the force he once was.

Others not recommended:

Forwards
Jermain Defoe, Tottenham (In goal drought; now injured)
Steven Fletcher, Sunderland (In dry spell; now contending with Danny Graham)
Javier Hernandez, Manchester United (Seems destined for non-PL games)
Emmanuel Adebayor, Tottenham (Took his time getting back from Africa, disappointing since permanent return)
Carlos Tevez, Manchester City (Aguero, Dzeko getting PL starts)
Nikica Jelavic, Everton (Clueless)
Danny Welbeck, Manchester United (van Persie, Rooney get the PL minutes)

Midfielders
David Silva, Manchester City (Nothing like player when he first burst on the scene)
Marouane Fellaini, Everton (A brace two games ago, but looks out-of-sorts and looking to leave)
Stephane Sessegnon, Sunderland (What happened? Probably doesn't know himself)
Leon Osman, Everton (Close, but doesn't produce)
Samir Nasri, Manchester City (Why did he ever leave Arsenal?)
Adel Taarabt, QPR (All flash, no goals)

Defenders
Gary Cahill, Chelsea (Not an offensive force anymore)
Phil Jagielka, Everton (Predictable 3's each week)
Winston Reid, West Ham (No longer a fantasy favorite)
Gareth McAuley, WBA (Scored beautifully against Liverpool, but not much else for many weeks before that)

Goalkeepers
Petr Cech, Chelsea (A few injuries and questionable defenders in front of him)
Jussi Jaaskelainen, West Ham (A target on a team in decline)

There are players who are in a good groove and have prospects for continued high points.

Goalkeeper
Simon Mignolet, Sunderland
Ben Foster, WBA (First clean sheet against Liverpool, but a great penalty save and 21 saves in
his last four games)

Defender
Patrice Evra, Manchester United

Midfielders
Juan Mata, Chelsea
Gareth Bale, Tottenham
Frank Lampard, Chelsea
Steven Gerrard, Liverpool (Although WBA was a disaster)
Moussa Sissoko, Newcastle

Forwards
Christian Benteke, Aston Villa
Edin Dzeko, Manchester City
Robin van Persie, Manchester United
Wayne Rooney, Manchester United
Luiz Suarez, Liverpool (Warning: Two more YCs and he gets two-match suspension)
Rickie Lambert, Southampton

Of concern to fantasy managers in the coming weeks will be player rotation for teams involved in tournaments outside the Premier League, especially Manchester United that has a huge lead and can afford to rest big-name players. I project that major rotation will occur for MU's game March 2 against Norwich City. MU has the second leg of its Champions League tie against Real Madrid at home March 5.