Gameweek 24 Fantasy Preview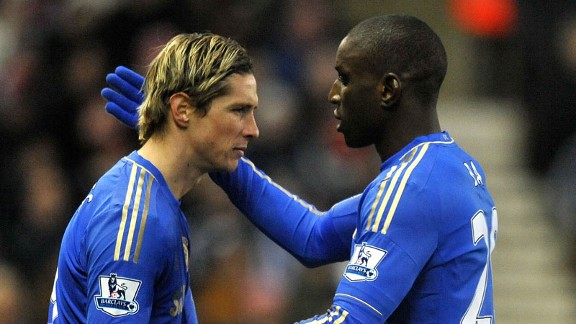 PA PhotosDemba Ba should be first choice for Chelsea after Fernando Torres started in the FA Cup
With the FA Cup weekend over, it is time to resume what fantasy managers live for - the resumption of Premier League matches.

Unlike the first two weeks of segment two fantasy play when there were two extra games, round 24 has the standard ten matches. However, they will all be played at night during the week. There is only one true marquee match, with Liverpool travelling to London to play Arsenal on Wednesday January 30.

Tuesday January 29

Aston Villa (4-8-11) - Newcastle (5-6-12):The worst offensive and defensive team in the Premier League is Villa. With only 19 goals scored in 23 games, Villa has been bombarded with 44 goals and crashed out of the League Cup and FA Cup in the same week. Can you spell r-e-l-e-g-a-t-i-o-n?
Newcastle, quivering in 16th is in full rot. Yohan Cabaye is injured again. The acquisition of midfielder Moussa Sissoko brings new hope.

QPR (2-9-12) - Manchester City (15-6-2): Loic Remy is listed as out injured after Rangers were bounced by MK Dons in the FA Cup. Manchester City's Samir Nasri is ill and Vincent Kompany has a bad wheel, while Sergio Aguero, Carlos Tevez and Edin Dzeko all featured in City's FA Cup win over Stoke.

Stoke (6-11-6) - Wigan (5-4-14): The Potters are in damage control and are trying to shore up a defence that has turned to silly putty. Wigan sorely misses Arouna Kone, and Franco DiSanto is often MIA in attack.

Sunderland (7-7-9) - Swansea (8-9-6): Lee Cattermole, the human yellow card, returns from injury along with Carlos Cuellar and more importantly, Danny Rose. Michu, the Swans' big scorer, hasn't had a league goal since December 23. Jonathan DeGuzman is in fine form.

Wednesday January 30

Arsenal (10-7-6) - Liverpool (9-7-7): Arsenal's ten-minute carpet-bombing against West Ham has the Gunners confident and looking to move closer to a Championship position. Lukas Podolski and Olivier Giroud were on fire with assists and goals while Theo Walcott was dangerous and Santi Cazorla sparkled. Mikel Arteta's return will be a big boost.

A notch behind Arsenal, Liverpool brings its double threat of Luis Suarez and Daniel Sturridge to the Emirates. The combination was not enough to prevent Oldham from ousting the Reds in the FA Cup, though. Steven Gerrard has 61 fantasy points in his last seven matches. Pepe Reina is out until February 3.

Everton (9-11-3) - WBA (10-4-9): Everton have drawn 11 matches to achieve their fifth place standing. Marouane Fellaini is without a goal in the last five games he has played in.

Norwich (6-8-9) - Tottenham (12-5-6): The Canaries have given up 39 goals while only scoring 24. Their eight draws have kept them mid-table but they were embarassed and eliminated from the FA Cup by non-league Luton Town. Sebastian Bassong is still out injured.

Jan Vertonghen is back for Spurs, while Clint Dempsey has moved into the starting XI as Emmanuel Adebayor is on national duty in South Africa. Deuce scored again, but Leeds sent Tottenham out of the FA Cup on Sunday. Jermaine Defoe, having gone four league games without a goal, is out injured.

Fulham (6-7-10) - West Ham (7-6-10):The London derby features two teams in decline. Dimitar Berbatov is not getting many shots and has only scored two Premier League goals in his last 12 matches. The desperate Cottagers checked out Emmanuel Frimpong from the Emirates library.

West Ham was hammered by Arsenal and now key defender Winston Reid is out injured. James Collins' return would help, although Andy Carroll (dubious help) is available. Kevin Nolan's play and influence have been subpar lately.

Manchester United (19-1-3) - Southampton (5-8-10): United and its 57-goal attack - bolstered by Robin van Persie's ten goals in his last eleven outings - face an improving Southampton outfit. Wayne Rooney should be starting; he got a goal and Chicharito a brace in the FA Cup win over Fulham.

Rickie Lambert could thrive on set pieces against a brittle David De Gea and Jason Puncheon is a menace going forward.

Reading (4-7-12) - Chelsea (13-6-4): Reading is trying to escape from the drop zone and Pavel Pogrebnyak, with three goals in his last four league games, is giving them hope.

Chelsea is without Eden Hazard, he of the ball boy kicking flap and suspension. The Blues were bounced from the League Cup and drew with Brentford in the FA Cup. With Fernando Torres starting in that game, Demba Ba should start against Reading. David Luiz and Petr Cech are out injured, while the sublime Juan Mata will be crucial.

There is a short turnaround for Week 25. That begins with the early game on Saturday February 2.