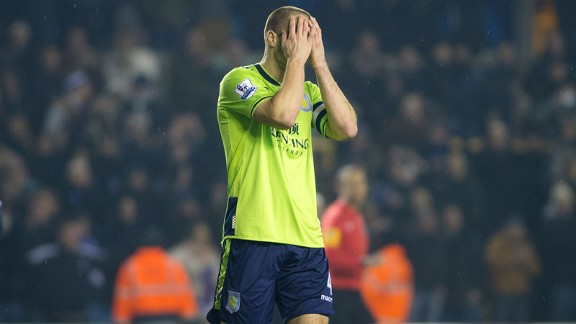 Neville Williams/Aston Villa FC/Getty ImagesRon Vlaar's disappointment at Aston Villa's FA Cup defeat Friday mirrors the feelings of some fantasy fans toward cup football.
I have a confession. Perhaps there are many like me who have the same feeling, so in this weekend of FA Cup matches, I confess the following:

I don't enjoy football as much when there are no Premier League matches with fantasy competition.

There, I've said it.

Please understand that I love the beautiful game. It's just that I have an empty feeling when I have no fantasy stake in such games as Brighton and Arsenal and Manchester United and Fulham, as was the case this weekend. The same holds true for Champions League matches (although I play in that outmoded fantasy game) and Europa competition. And I can't imagine following the results on the Internet of a League Cup match except to see if my fantasy players were injured or received a red card.

In some ways, fantasy football has corrupted the love affair and loyalty between football clubs and their supporters. While I have been a life-long Chelsea supporter, I'll admit that if Santi Cazorla would register a brace against my Blues - even though Branislav Ivanovic would lose his clean sheet - I would not be totally unhappy, because my fantasy team would have just had 12 more points. Of course, I would want Juan Mata and Demba Ba to come back and score, with perhaps the game-winner from Ivanovic and a Chelsea result over Spurs.

Fantasy competition has been able to do what used to be the impossible and that is have Manchester United supporters actually pulling for players at Manchester City to do well, and vice versa. The same would be true for other teams and their geographic rivals.

When you are obsessed with fantasy football as I am, it bothers you to see a player on your fantasy roster score in a non-fantasy game. And it galls you if a player is injured in competition outside PL fantasy play.

Each week in fantasy play, managers sweat who will be in the starting XI. We scour the Internet for hints on projected lineups and we constantly check injury status of players. If only the real managers knew how we fantasy managers felt. Of course, they could not care less.

So only two more days until our beloved Premier League and fantasy competition resumes. The matches will be Tuesday and Wednesday and then we are back at it for another round beginning on Saturday.

I'll have a fantasy preview of the next Gameweek Monday.