First Ups and Downs of Segment 2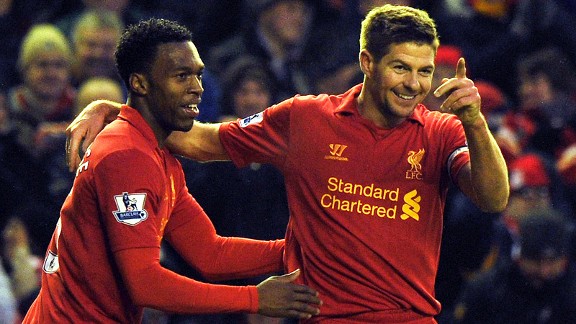 Paul Ellis/AFP/Getty ImagesLiverpool's Daniel Sturridge, left, and Steven Gerrard are currently providing good value for fantasy owners.
The first value adjustments since the start of Segment 2 offer insight on the form of teams and players. Fantasy managers can have their budgets increase if players' values rise and are sold. Conversely, if player values drop, the manager's budget is reduced when those players are transferred.

Here is a look at selected players and their new values beginning with increases:

GOALKEEPERS
Player
Value
Gain
Pts.
Of note
Julio Cesar
QPR
5.6
+.3
62
Seven saves in his last two matches
Petr Cech
Chelsea
7.6
+.2
100
Spotty performances - increase is a puzzle
Artur Boruc
S'hmptn
4.8
+.3
21
12 saves in 3 games for new Saints' wide-bodied #1.
DEFENDERS
Nemanja Vidic
Man Utd
7.7
+.3
34
Fit again and scored two games ago.
Cesar Azpilicueta
Chelsea
7.0
+.3
61
Rafa's choice and capable of assists.
Glen Johnson
Liverpool
6.6
+.3
93
Starts and finishes; solid choice.
Maya Yoshida
S'hmptn
5.1
+.3
61
Starts every game; getting clean sheets.
Luke Shaw
S'hmptn
4.5
+.3
50
Future star; poised and strong.
MIDFIELDERS
Juan Mata
Chelsea
8.7
+.3
134
Goals, assists and clean sheets.
Eden Hazard
Chelsea
8.3
+. 3
126
In great form until League Cup red card
Frank Lampard
Chelsea
7.7
+.3
86
Near certain on penalties and now starting despite La-La land beckoning.
Others: Ramires, Chelsea 6.9 (+.3); Adam Johnson, Sunderland 6.5 (+.3); James Milner, Manchester City 6.5, (+.3)
FORWARDS
Robin van Persie
Man Utd
10.2
+.2
145
The best and should have increased more.
Demba Ba
Chelsea
8.5
+.3
116
Only drawback is sharing playing time with Torres.
Rickie Lambert
S'hmptn
6.9
+.3
109
A throwback goal machine.
Romelu Lukaku
WBA
6.0
+.3
79
Simply a monster talent.
Jason Puncheon
S'hmptn
5.1
+.3
83
On a roll.
Others: Pavel Pogrebnyak, Reading, 5.6 (+.3); Franco Di Santo, Wigan 5.7 (+.3); Adam Le Fondre, Reading 5.5 (+.3)


And here are selected players who have dropped in value with possible reasons for their lower value:


GOALKEEPERS
Player
Value
Loss
Pts.
Of note
Asmir Begovic
Stoke
5.9
-.3
100
Conceded 13 goals in 4 matches after allowing 4 in 8
Pepe Reina
Liverpool
6.0
-.3
77
No apparent reason for drop but didn't start v. Norwich; Liverpool has conceded two goals in the past four matches.
DEFENDERS
Robert Huth
Stoke
5.6
-.3
84
Part of shaky Potters defense.
Ryan Shawcross
Stoke
5.5
-.3
81
Another member of the leaking dam.
James Tompkins
West Ham
4.2
-.3
43
Big Sam's defence was indefensible vs. Arsenal.
MIDFIELDERS
Steven Gerrard
Liverpool
7.8
-.2
133
Mysterious drop; 55 points in 6 weeks; a career resurrection.
Clint Dempsey
Tottenham
6.1
-.3
84
Once a fantasy machine has played infrequently & produced little under AVB - until Sunday that is. Adebayor who?
Santi Cazorla
Arsenal
7.9
-.2
142
Little man who took fantasy world by storm had done little since hat trick, then posted 15 points in double game week.
Ashley Young
Man Utd
6.9
-.3
45
Simply an awful fantasy pick.
Antonio Valencia
Man Utd
6.8
-.3
55
Reduced playing time and even less impact.
FORWARDS
Lukas Podolski
Arsenal
7.5
-.3
111
Dismal until going crazy against West Ham.
Olivier Giroud
Arsenal
6.6
-.3
81
Other half of the puzzle who came to life against West Ham.
Mario Balotelli
Man City
6.5
-.3
26
Why is it always up to me to explain?
Best values: Theo Walcott, Arsenal; Luis Suarez, Liverpool; Dempsey; Gerrard.

Worst values: Young; Emmanuel Adebayor, Tottenham; Samir Nasri, Manchester City; Wayne Rooney, Manchester United; Sergio Aguero, Manchester City; Nani, Manchester United; Oscar, Chelsea

Likely to increase: Theo Walcott, Arsenal; Podolski; David Silva, Manchester City; Daniel Sturridge, Liverpool; Loic Remy, QPR; Gerrard

Likely to drop: Hazard; David Luiz, Chelsea; Eden Hazard, Chelsea; Marouane Fellaini, Everton; Kevin Nolan, West Ham; Fernando Torres, Chelsea; Nikica Jelavic, Everton; Papiss Demba Cisse, Newcastle

Values change at each Gameweek lock, so the next adjustments will be Tuesday, Jan, 29.