Impact of Africa Cup and transfers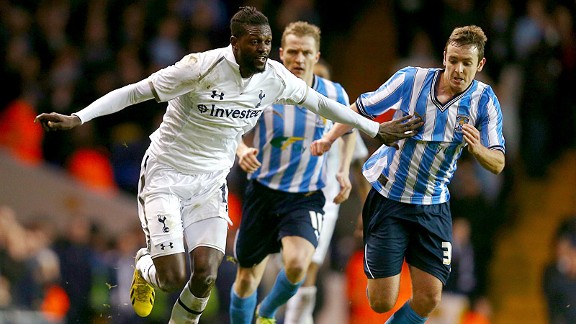 Clive Rose/Getty ImagesLike many Premiere League players, Emmanuel Adebayor is off to the Africa Cup of Nations, creating a quandary for fantasy owners
Fantasy managers preparing for Segment 2 have the annual Africa Cup of Nations dilemma to consider when selecting new team rosters. The tournament begins Jan. 19 and, depending on which teams make the finals, players could be in Africa all the way to Feb. 10. That means players whose team reach the finals miss four weeks of Premier League matches.

While players such as Emmanuel Adebayor have wavered on participation (he's going), here are players definitely headed for Africa:

Gervinho, Arsenal
Karim El Ahmad, Aston Villa
John Obi Mikel and Victor Moses, Chelsea
Mahamadou Diarra, Fulham
Yaya Toure, Kolo Toure and Abdul Razak, Manchester City
Cheik Tiote, Newcastle
Samba Diakite, QPR
Emmanuel Mayuka, Southampton
Emmanuel Adebayor, Tottenham
Modibo Maiga, West Ham
Arouna Kone, Wigan

There is no question that the biggest losses will be Yaya Toure, Kone and Adebayor.

Premier League matches resume February 23.

So far, with the exception of Demba Ba and Daniel Sturridge, the Premier League transfer window has had few big-name players slip through the sill. However, fantasy managers planning on having three Chelsea players will be in a dilemma if Everton midfielder Marouane Fellaini goes to Stamford Bridge by the end of the month.

Chelsea reportedly is preparing to pull the trigger on Fellaini's 25 million-pound release clause in what appears to be a replacement for legendary Blues star Frank Lampard. While nothing official has happened, a clue might be the speed with which Chelsea acted when they triggered a similar clause with forward Demba Ba from Newcastle.

Fantasy rules allow only three players from one team on a roster, so managers who already have a trio picked from the likes of Petr Cech, Branislav Ivanovic, Ashley Cole, Gary Cahill, Juan Mata, Eden Hazard, Fernando Torres, Oscar, Ramires, Lampard, Moses and Ba will have to decide who will dropped if Fellaini comes into the fold.

Further complicating the issue is how much playing time Fellaini will get under Rafa Benitez and how long he will take to feel comfortable with his new teammates and the system. And there is the issue of the Belgian living and working in the big city. He recently moved from Liverpool to Manchester because he wanted more privacy. The 6-foot-4½ Belgian with a 'do that make him look seven feet tall will find it rather challenging to assume anonymity in the capitol.

Fantasy transfers are like gold and should be used sparingly. Being forced to use a transfer to stay within the three-player limit is an unwanted hit.