Fantasy Segment 2 Info & Ideas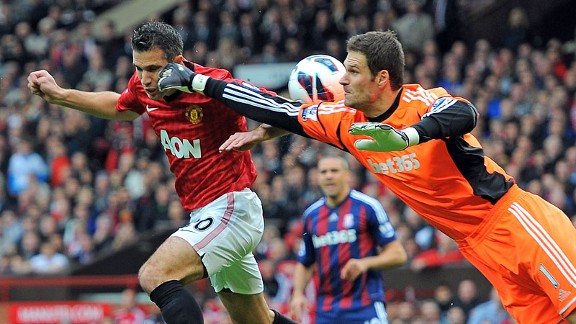 Andrew Yates/AFP/Getty ImagesRobin van Persie, left, and Asmir Begovic were two of the fantasy stars of Segment 1 of the Premier League season
Revised player values for Segment 2 are being set and will be announced Tuesday, Jan. 8. This will mean a short window of four days for managers to select their new 15-player rosters before the first kick-off Jan. 12.

Fantasy managers will remain in their private leagues for Segment 2; however, they will need to choose 15 new players. Your current roster will not recycle into Segment 2 with new values - you must pick a new roster.

If new managers are added to private leagues, they need to receive an invitation from the group's creator.

There will be at least two weeks in Segment 2 when teams playing two games (makeup dates for Chelsea-Southampton and Arsenal-West Ham United have not been set). This means double points for fantasy players on those teams and major considerations involving stars such as Santi Cazorla, Juan Mata, Eden Hazard, Petr Cech, Theo Walcott, Jussi Jaaskelainen, Kevin Nolan and Rickie Lambert.

Some player values will remain the same; however, it is almost certain that the big-name stars will begin Segment 2 at lower salaries than at the end of Segment 1. The most expensive fantasy player is Robin van Persie (11.1). Next highest is midfielder Gareth Bale (10), while John Terry carries a value of 8.3 (terribly over-priced in Sir John's opinion) and Petr Cech's is 7.2.

Midfielders represent your best point-producers. At the end of Segment 1, more midfielders had point totals above 100, with Swansea City sensation Michu racking up 143. Six others had more than 100.

Van Persie (127) led forwards but only he and Luis Suarez (108) had more than 100. Branislav Ivanovic (103) was the only defender to break the century mark

Goalkeepers are the least important fantasy point producers. Asmir Begovic (93) was the highest point-getter, although he gave up six goals in his last two matches.

In forming your new roster, keep in mind players who take most of their team's penalty shots.

Fantasy managers are forced to have two goalkeepers and five defenders. Sir John selects the cheapest GK for his bench and never plays him. Last season when Michel Vorm went down, a transfer was used for Begovic. And Sir John rarely plays more than three defenders each week.

The best bet is to put your money in midfielders and forwards.

Thankfully, rules were changed in Segment 1 to once again allow profits to be made on players transferred out. This allows managers to upgrade their rosters. Conversely, there is a risk that a player's value can drop. At the end of Segment 1, Sir John had a remaining budget of 5 million, accumulated during a unwise shuffling of players in Gameweek 20 explained below.

Probably the most important tip is to be judicious in the use of your 20 transfers even though Segment 2 will only be 17 weeks compared with 21 in Segment 1. Sir John recommends keeping five transfers for the final three weeks.

With that said, sometimes you can out-think yourself. With four transfers in hand in Gameweek 20, I dropped Luis Suarez and Jonathan De Guzman to get extra budget and transfer David Luiz to my roster. As part of the maneuver I got Chicharito and Jonjo Shelvey. Result: 35 lousy points for the round. Suarez got 11 points, De Guzman 9, Chicharito and Shelvey did not play and David Luiz got two. Had I Ieft my roster alone, I would have had 53. And to complete the howler, I invited someone to join our league before Gameweek 21 locked in. Like an idiot, I sent him the password for the final round of games. He bounced me out of first and won the league by 8 points. Ouch!

I'll have more fantasy discussion in the days ahead.