Fantasy mid-season review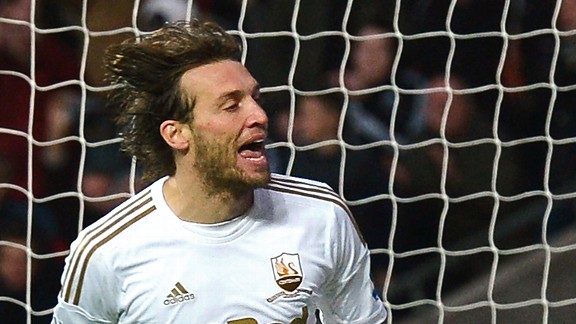 Ben Stansall/Getty ImagesSwansea's Michu has been the fantasy star of the season
Many ESPNFC Premier League bloggers have posted their assessments of the teams they cover through the first half of the 38-game season. Sir John offers his take on the fantasy season through Gameweek 19 and includes opinion on some of the best fantasy performers - and, based on their past record, potential or injuries, some who have not delivered:

GOALKEEPERS

Star

Asmir Begovic, Stoke: He is the top point-getter with 90 points and a bargain 6.6 salary. Begovic has nine clean sheets for the stingy Potter defense.

Disappointments

Tim Howard, Everton: Zero clean sheets and only 64 points.

David De Gea, Manchester United: DeGea has shared some of the duty with Anders Lindegaard. Between them they have 72 points; however, 28 goals have rippled the United onion bag.

DEFENDERS

Stars

Branislav Ivanovic, Chelsea: The top-rated defender with 100 points. Goals and clean sheets have been many from the Serbian.

Sebastien Bassong, Norwich City: A castoff from other teams, Bassong is the No. 3 defender with 82 points.

Jan Vertonghen, Tottenham: The sixth-highest point producer (77), the Belgian is solid on defense and offers goal possibilities going forward.

Disappointments (with points):

Phil Jones, Manchester United (7), Micah Richards, Manchester City (14), Nemanja Vidic, Manchester United (14), Maicon, Manchester City (19) and John Terry, Chelsea (30).

MIDFIELDERS

Stars

Michu, Swansea City: The incredible midfielder is the top point-getter at any position with 140 points (many more as captain) and remains a best buy at 8 million.

Santi Cazorla, Arsenal: No. 2 with 115 points.

Juan Mata, Chelsea: Best overall player in the PL is third with 112.

Until Everton's Marouane Fellaini butted Ryan Shawcross with his bonehead, Fellaini was fantasy gold and still has 99 points with only a 6.9 salary. He can play in the final round of Segment 1.

Disappointments (with points):

Charles N'Zogbia, Aston Villa (12), Lucas Leiva, Liverpool (18), Jack Wilshere, Arsenal (22), Shinji Kagawa, Manchester United (30), Gylfi Sigurdsson, Tottenham (31) and A. Oxlade-Chamberlain, Arsenal (36).

FORWARDS

Stars

Robin van Persie, Manchester United: The Dutchman has the highest salary at 11, a bushel full of goals (13) and assists (6) and is simply fantasy fabulous.

Luis Suarez, Liverpool: In position No. 2, Suarez has 97 points and his 11 goals are remarkable because he has zero supporting attackers.

Arouna Kone, Wigan: The anonymous striker for the lowly Latics has 87 points and is one of the season's surprises for fantasy managers.

Disappointments (with points):

Papiss Demba Cisse, Newcastle (55, based on last season's total Cisse is a bust), Chicharito, Manchester United (43), Emmanuel Adebayor, Tottenham (21, only one goal), Mario Balotelli, Manchester City (25, only one goal), Wayne Rooney, Manchester United (77, a low number based on what we usually get), and Sergio Aguero, Manchester City (63, only six goals). No disappointment list would be complete without Andy Carroll, West Ham via Liverpool (33, one goal and zero assists for the injured Pony Tail).

Sir John's best picks during the season were Frank Lampard (for the first double game week), Michu, Ivanovic, Fellaini, Mata, Cazorla, and Begovic (brought in when Michael Vorm went down), Bale, and a no-brainer, Van Persie.

Bad picks that were dumped included Sigurdsson, Kagawa, Pavel Pogrebynak and to a lesser extent, Yaya Toure.

A player transferred out at the right time was Lampard, while another player that I had no room for and has since produced was Eden Hazard.