Chelsea FC's '13 calendar: Sir John's perspective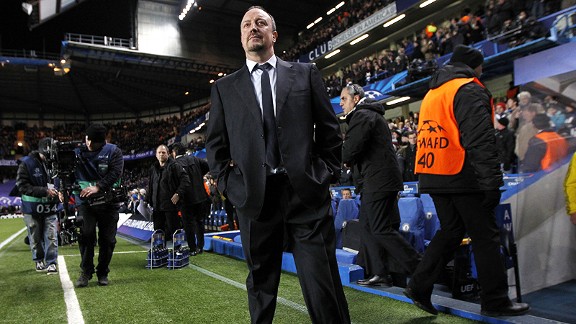 Ian Kington/AFP/Getty ImagesGiven Chelsea's recent managerial history, it's understandable that Rafa Benitez - the team's third 2012 boss - didn't get a calendar spot
Sir John opened Lady Patti's annual Christmas gift, the 2013 calendar from Chelsea Football Club.

While I don't blame those who chose the players for each month, it is interesting to speculate which players will be with the team and part of fantasy football in the coming year. The following players are featured on each month's page: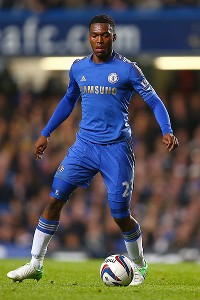 Clive Rose/Getty ImagesDaniel Sturridge could be wearing red in January 2013
January
Marko Marin-midfielder: Injured most of the season and has had barely a sniff of PL playing time. Why not Victor Moses?
Daniel Sturridge-striker: Said to be on his way to Liverpool in the January transfer window.
Jon Obi Mikel-midfielder: Away 4-6 weeks in the Africa Cup of Nations the same month he is on the calendar.

February:
Oscar-midfielder: He has had his fantasy moments; however, so far Oscar is not the reincarnation of Pele.
Ramires-midfielder: He has had a lesser fantasy playing role under Rafa Benitez.

March
David Luiz-defender: He is a fantasy regular; however, under Rafa appears to have found a prominent role as a midfielder.

April
Gary Cahill-defender: We shall see where the Blues are and Cahill's role in the home stretch of fixtures.

May
John Terry-defender: 2012 has been an injury and controversy-plagued year. How will he have fared in 2013 when we turn this calendar page?

June
Branislav Ivanovic-defender: Great fantasy memories for the hard-nosed defender in 2012 and we look for more in 2013.
Paulo Ferreira-defender: Not a marquee player - what happened to Cesar Azpilicueta?

July
Juan Mata-midfielder: Mata is Sir John's choice for Chelsea fantasy player of the year in the first half of the season.

August
Ashley Cole-defender: All sorts of rumors about his summer departure. Will it happen?
Ryan Bertrand-defender: Marginal first half for the likable, hard-working but so far disappointing fantasy performer.

September
Petr Cech-goalkeeper: The 2013-14 season will be well underway when this calendar page is turned. Cech is a fantasy favorite who has not shown signs of slowing down.

October
Frank Lampard-midfielder: Lamps is a legendary Chelsea player who is just about unequaled in his contribution at Stamford Bridge. Will he have made it through the summer and still be on the Blues' payroll in October 2013?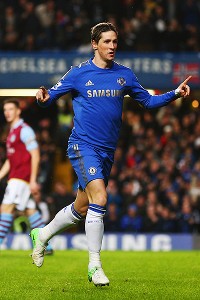 Clive Rose/Getty ImagesThe addition of a striker partner to help Fernando Torres would please many Chelsea supporters
November:
Fernando Torres-striker: Chelsea supporters and fantasy managers wonder if El Nino will be given a striker partner in the January and/or August transfer windows.

December:
Eden Hazard-midfielder: A year from now, what will be the fantasy story for this gifted Belgian star?

Twelve months of questions and more reasons why I love the beautiful game!