Gameweek 19 fantasy preview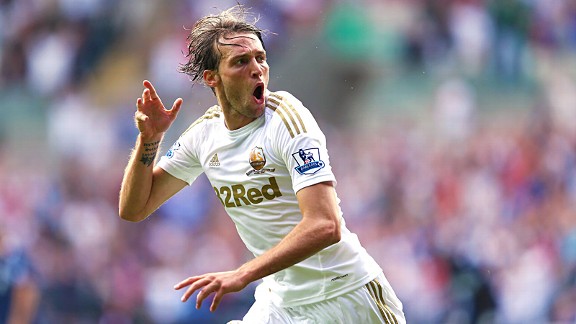 Richard Heathcote/Getty ImagesWith Swansea facing last place Reading, Swans midfielder Michu will have an excellent chance to add to his Premier League-leading goal tally.
There are only nine fixtures in the one-day round. Arsenal and West Ham's match is postponed because of labor actions against the London underground. Concerns about fans being unable to take the tube to and from the game will push this match up to late January and into fantasy Segment 2. Three other Boxing Day matches in the London region will go on as scheduled.

Wednesday, December 26

Everton-Wigan
The Blues (7-9-2, fifth) are without suspended Marouane Fellaini who does not return until January 2nd. Kevin Mirallas is out injured and will be missed along with Darron Gibson who was red-carded in the 2-1 late win over West Ham.
Wigan (4-3-11, 18th) played Arsenal nearly even on Saturday, only to be done in by a dumb penalty. The Latics have scored just 18 goals in 18 matches. Arouna Kone looks the best fantasy bet.

Fulham-Southhampton
Few teams have looked as awful as Fulham (5-5-8, 13th) did against Liverpool. Dimitar Berbatov has now gone seven straight games without a goal or an assist. Bryan Ruiz is needed but is out hurt. Steve Sidwell returns from suspension.
Southampton (4-3-10, 17th) bleeds goals (33) and is further troubled with the loss of Adam Lallana.

Manchester United-Newcastle
Before the season started, this looked like a premier fixture. However, so far Newcastle (5-5-8, 14th) is the flop team of the campaign. Hatem Ben Arfa is out injured. Demba Ba has 11 goals, Papiss Cisse only two.
Manchester United (14-1-4, first) had a hiccup against Swansea and will be without Rafael. Wayne Rooney was pulled in that game and should return with a vengeance. Robin van Persie's 12 goals and six assists make him a fantasy favorite for more goodies on Boxing Day but you wonder which players will be rested during the back-to-back-to-back fixtures.

Norwich City-Chelsea
The Canaries (6-7-5, 10th) are a solid mid-table team, but need Grant Holt who is fighting off an injury. Chelsea (9-5-3, third) comes off an eight-goal explosion against Aston Villa. Fernando Torres is lethal in the Rafael Benitez era, Juan Mata is arguably the best Premier League player now, and David Luiz looks excellent in midfield, especially for fantasy managers since he gets defender points.

QPR-West Brom
The Rangers' (1-7-10, 19th) players were roasted by Harry Redknapp for being overpaid. Adel Taarabt is about it for fantasy managers and he is looking to leave in January.
The Baggies (9-3-6, seventh) have gotten six goals from Romelu Lukaku who rarely starts. You like fantasy possibilities in this match from Zoltan Gera and Shane Long and a potential clean sheet.

Reading-Swansea City
Reading (1-6-11, 20th) had their hearts broken against Manchester City but this is a team beyond repair for survival. Adam Le Fondre with five goals is good but the defense is brutal (37 goals).
The Swans (6-6-6, 11th) may have a Royal feast. Michu leads the Premier League with 13 goals and Jonathan De Guzman, Nathan Dyer and Wayne Routledge make up a potent attack.

Sunderland-Manchester City
Manchester City (11-6-1, second) could score a bundle against the Black Cats (4-7-7, 15th). Fantasy managers still holding transfers have many City players who could be in for a big day along with a potential clean sheet for City defenders. Gael Clichy and Aleksandar Kolorav are out. Samir Nasri may be in.
Stephen Fletcher (eight goals) is Sunderland's best fantasy player.

Aston Villa-Tottenham
This is a game made for stacking your lineup with Spurs' (9-3-6, sixth) players. Gareth Bale, Emmanuel Adebayor and Jermaine Defoe could bring offensive firepower. Clint Dempsey is an injury doubt.
Up until Chelsea put in eight, Villa (4-6-8, 16th) goalkeeper Brad Guzan had only given up two goals in five previous games.

Stoke City-Liverpool
The Potters (5-10-3, ninth) are the meanest defensive Premier League team (13 goals). Asmir Begovic has nine clean sheets. Robert Huth and Ryan Shawcross are nails. Stoke has only scored 15 goals. Charlie Adam was out on compassionate leave. Peter Crouch has four goals.
Liverpool (6-7-5, eighth) wrecked Fulham. Luis Suarez has 11 goals, Steven Gerrard is revitalized and Raheem Sterling and Jose Enrique look good. Transfer bust Stewart Downing showed signs of life; however, goals in this road match will be hard to come by.

Captain suggestions: Michu, van Persie, Rooney, Sergio Aguero, Carlos Tevez, David Silva, Mata, Luiz, Eden Hazard

Merry Christmas to all and to all fantasy managers gifts full of fantasy points!