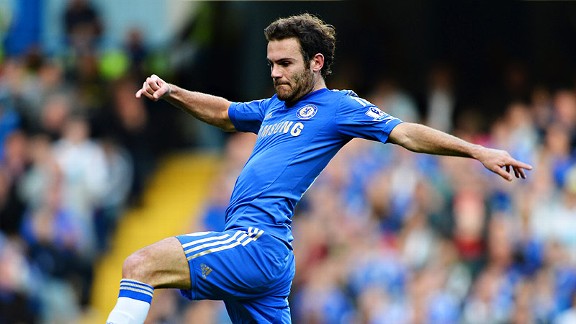 Mike Hewitt/Getty ImagesFantasy managers holding Juan Mata and other Chelsea players on their roster will have to seek replacement players due to the Blues' participation in the Club World Cup.
Chelsea and Southampton will not play in fantasy Gameweek 17. Their regularly scheduled game on December 15 is postponed since the Blues will be in Japan at the FIFA Club World Cup. This presents huge challenges to fantasy managers holding Chelsea players because the make-up game will not happen during Segment 1.

The worst case scenario for managers holding Chelsea players will be having up to three players not eligible for points. And when those players include the likes of Juan Mata, Branislav Ivanovic, Eden Hazard, Petr Cech, Fernando Torres, Ashley Cole, etc., fantasy managers who have no transfers left or scrubs on their bench will be in for a lean week. Fantasy managers may also have to play a 5-3-2, which is the worst formation for fantasy points. Sir John has eight remaining transfers and will move Mata out for sure and perhaps Ivanovic for one week and continue with his usual 3-4-3 formation.

If a fantasy manager has a surplus of transfers, then who are the best replacement players to fill the gap? The list below shows Chelsea players and the top three fantasy point producers (other than Chelsea players) at each position, their salary and the team's opposition in Gameweek 17. Note that many salaries have been adjusted up or down as of Sunday

Goalkeeper:
Cech, 7.4.

Replacements:
Jaaskelainen, West Ham, 6.4, Liverpool (H)
Begovic, Stoke, 6.6, Everton (H)
Hart, Manchester City, 7.4, Newcastle (A)

Defender:
Ivanovic, 7.4
Cole, 7.8
Luiz, 7
Terry, 8.3
Azpilicueta, 6
Cahill, 7.1

Replacements:
Bassong, Norwich City, 6.9, Wigan (H)
Baines, Everton, 7.3, Stoke (A)
Evra, Manchester United, 7.3, Sunderland (H)

Midfielder:
Mata, 9.3
Oscar, 6.9
Hazard, 8.8
Lampard, 8.2
Moses, 5.1
Romeu, 4.8
Ramires, 6

Replacements:
Michu, Swansea City, 7.5, Tottenham (A)
Fellaini, Everton, 7.2, Stoke (A)
Cazorla, Arsenal, 8.3, Reading, (A)

Striker:
Torres, 8.4
Sturridge, 5.9

Replacements:
Van Persie, Manchester United, 10.4, Sunderland (H)
Suarez, Liverpool, 9, Aston Villa (H)
Defoe, Tottenham, 7.8, Swansea, (H)

Forwards with salaries below Torres:
Ba, Newcastle, 8.3, Manchester City (H)
Jelavic, Everton, 7.8, Stoke (A)
Berbatov, Fulham, 7.7, QPR (A)

Suggested best replacements based on salary and opposition:
Jaaskelainen, Evra, Cazorla, and van Persie (Berbatov if you need a player below Torres' salary)

If you make switches and want to restore your original lineup, you'll need to use more transfers.

The scheduling quirk is another reason why it is always wise to keep transfers until the final weeks of Segment 1. We still have not had any cold weather postponements.

Note: This piece has only looked at Chelsea players and not those with Southampton. Chances are that fantasy managers who have one or more of the 'Aints are likely to be having the same kind of fantasy season as Southampton.