Fantasy farewell to Tevez - and Mancini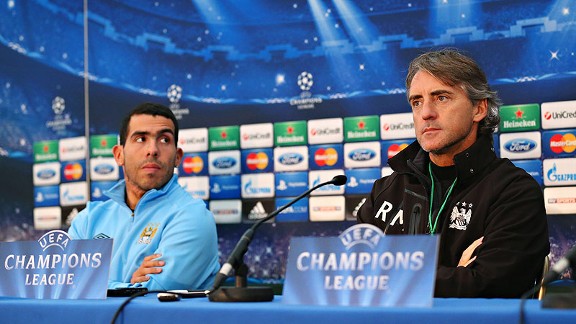 Alex Livesey/Getty ImagesCarlos Tevez's fantasy worth has been diminished by Roberto Mancini's managing
Sorry, Carlos Tevez, you were good to me, but I can't take The Scarf anymore. I never know when he starts you. It's obvious he doesn't want you and Kun (aka Sergio Aguero) in tandem, so it's either you and Edin Dzeko or Mario Balotelli or Kun with those two. You only played 21 minutes at Chelsea and never made an appearance at Wigan. I need more certainty who will start, so I dropped you in favor of Jermain Defoe. Even The Arrogant One (Andre Villas-Boas) is smart enough to put Defoe in Spurs lineup each week.
I also have Robin van Persie at a forward. While there are games when he and Wayne Rooney get good points, I never have been a believer in having two big-name strikers on the fantasy pitch at the same time. I've kept Luis Suarez, even though he can be a jerk at times because I know he will always start and Brendan Rodgers runs Liverpool's offense through Flipper.
Please pass the word to Yaya Toure that I dropped him from my team and reacquired Michu. I was brain-dead when I dropped Michu earlier in the season. The reason Yaya is no longer on my team isn't all his fault. Much of the blame lies with Scarfcini who insists on playing him way too deep. Yaya scored a goal in his first game and hasn't had one since.
I'm sure his Manchester City teammates talk about how lethal Yaya is when he goes forward on those marauding runs we remember so well. It's true he is the 10th leading fantasy point producer at 68, but his 8.5 salary is too pricey for 68 points. Michu has more than 100 points, Everton's Maroune Fellaini is pushing three figures and they both have much lower salaries. I know those two guys will always be in the starting XI.
The defenders also are a fantasy manager's nightmare. The Scarf has a thing about Joleon Lescott, so you never know when he will start. He has a great team attitude and could provide more goals on set pieces, but his 31 points don't justify his fantasy salary of 7.7.
Aleksandar Kolarov is a good set piece guy, but he is 54th for fantasy points at 35. His 5.3 salary is easy on the budget, but with The Scarf you don't know when he will start. I love the toughness of Pablo Zabaleta, but he only has 34 points. Vincent Kompany is 15th best for fantasy defenders, but he is just not the threat that he was in years past. As for Maicon, here again is a player you don't know will start and has a tendency to disappear during a game.
Samir Nasri is a player I don't think is that great for fantasy football. He only has 42 points and is 57th in the fantasy table. Nasri delivers on average only 4.2 points and that is weak for a 7.8 million salary. And then you have Gareth Barry, who averages 3.5 points. I know he plays a holding role, but 39 points is weak at a salary of 7.4.
Of all the other guys on your team, Joe Hart is a good fantasy point producer at goalkeeper. I had him two years ago, but found better value from Tim Krul last year. I switched to Michel Vorm for even better value but when he went down with an injury, Asmir Begovic has been a good pickup. I bought him at 5.9 and he is now valued at 6.3 while Hart is 7.4. Begovic has 71 points to Hart's 66.
So, Carlito, thanks for your contribution to Sir John's Lads. I was reluctant to pick you after your snit in Germany during the Champions League. In fact, I vowed never to have you on my team. But as we know, "never" is a long time. Thanks for the goal and seven points you gave me against Everton. I will miss your points but since I won't have any Manchester City players again, I won't have the weekly aggravation of Scarfcini.