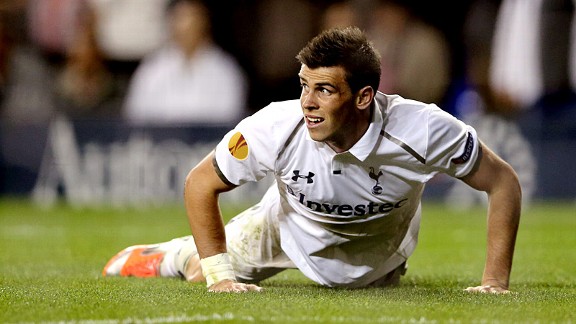 Scott Heavey/Getty ImagesDespite bagging a goal against the Gunners, Gareth Bale still saw his fantasy value drop.
Usually I understand the reasoning behind fantasy player values going up or down. However, there are times when nothing makes sense.

Consider the following:

Joe Hart - Manchester City GK
Hart has had three clean sheets over the past four games, including the 5-0 shutout over Aston Villa. Even so, his fantasy salary went down 0.2 to 7.4.

Ryan Nelsen - QPR defender
Nelsen gave up three goals to Southampton, yet his value increased 0.1 to 5.3.

Marounae Fellaini - Everton midfielder
Fellaini against Reading had no goals, no assists and picked up his fifth yellow card of the season, which suspends him for one game, yet his value increased 0.3 to 6.7.

Gareth Bale - Tottenham midfielder
Bale scored a goal against Arsenal, has 60 points and is ranked seventh, yet his value dropped 0.1 to 9.2.

Robin van Persie - Manchester United forward
Van Persie had no goals and no assists against Norwich City, yet his value increased 0.1 to 10.3.

Peter Odemwingie - WBA forward
Odemwingie scored a goal against Chelsea; however, his value plunged 0.3 to 6.5.

Adam Le Fondre - Reading forward
Against Everton, Le Fondre scored two goals and had his value drop 0.2 to 4.1.

Perhaps the biggest mystery (and bargain) remains Michu, Swansea City's midfielder. He scored a goal on Saturday, is the top point-producer in all of fantasy football with 80 points, yet his value remains the same at an unbelievably low 6.5.

Does anyone out there get it?