Gameweek12 Fantasy Preview Sunday and Monday games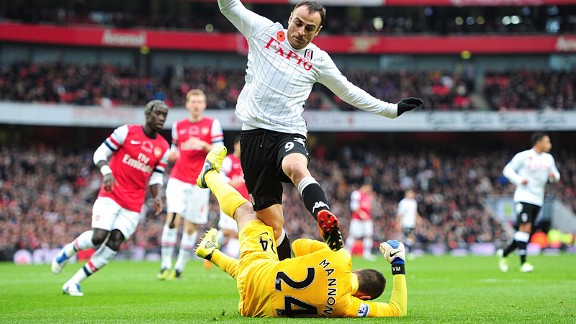 GettyImagesFulham's Dimitar Berbatov is certainly on the rise
Two matches complete the week with one Sunday and one Monday.

Sunday November 18
Fulham-Sunderland
Martin Jol's Cottagers have their act together and are no longer the dreary, one-dimensional team with Clint Dempsey and a collection of no-names. Fulham is 4-4-3 and in 9th place. At home they have scored 12 goals in five games and have a fully fit and rejuvenated Dimitar Berbatov (48 fantasy points in seven matches played) and rising star Ruiz (39 points) taking dead aim at the opposition.

Fulham is up against Sunderland, a team with little life or imagination. In 16th place with a game in hand and a 1-6-3 record, the Black Cats have scored a league-low seven goals. The only bright spot is their defense with just 11 goals conceded.

Martin O'Neil presides over a team that is a sorry 0-4-2 on the road and in forward Steven Fletcher (48 fantasy points) has a forward who has scored five of the team's seven goals, but none in the last five matches and Fletcher is questionable for this week because of an injury. Meanwhile, the one-time filet mignon of fantasy forwards, Sessegnon (28 points), is more hamburger than steak with zero goals and zero assists in ten matches. GK Mignolet (45) has had three clean sheets.

Monday November 19
West Ham-Stoke City
The Monday night game features the biggest surprise PL team so far this season in Big Sam's Hammers. In 6th place and just two points behind a Champions League spot, West Ham features a fantasy favorite with a bargain basement salary of 6.6 in Nolan (72 points) and the best fantasy GK in Jaaskelainen (56 points and a 6.1 salary). The 37-year-old Finland native has an incredible five clean sheets. West Ham supporters are still waiting for Carrroll (20 points) to score his first goal and/or assist. Tip: keep the Pony Tail off your fantasy team.

Tony Pulis has a superb defensive team (12th 2-6-3) led by Begovic (50), Huth (43), and Shawcross (42) but beyond Crouch (51), the Potters are awful on offense, scoring just nine times in 11 matches. Adam was an injury doubt but now should play. One would expect West Ham to find the net; however, with nine draws between them, including six by Stoke, a 0-0 final should be no surprise.

On Wednesday we saw another round of international "friendly" matches, something that seems sheer lunacy in the middle of the domestic season. The list of players traipsing around the world is long and included Cazorla, Schwartzer, Howard, Cameron, Aguero, Zabaletta, Mignolet, Kompany, Vertonghen, Fellaini, Benteke, Evra, Giroud, Cabaye, Luiz, Oscar, Ramires, Suarez, Podolski, Mertesacker, Wiemann, Yaya Toure, and England's team sheet.

Apparently all escaped relatively injury-free, although Arsene Wenger was not pleased that Cazorla, who did not play for Spain had to endure the 8,000-mile trek when his midfield star needs rest. We shall see how much the globetrotting affects the weekend play.