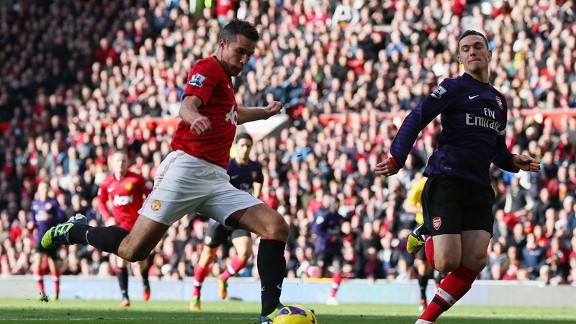 GettyImagesRobin van Persie scores for Man United against Arsenal
For all of us enjoying various degrees of success or failure in PL fantasy football, there are lessons to learn by looking at the top three fantasy managers in the world. What players did they start with, who do they have now, how many transfers have they used and what is their remaining budget?

1. Short Pump Wednesday, Gameweek10: 65 points, Total: 713 points
Latest starting XI: Begovic, Baines, McAuley, Glen Johnson, Fellaini, Cazorla, Hazard (Captain), Nasri, Berbatov, Suarez, van Persie—Bench: Howard, Riise, Jenkinson, Nolan.

First week team: Starting XI: Howard, Ivanovic (Captain), Assou-Ekotto, Riise, Mata, Nasri, Ireland, Sinclair, van Persie, Aguero, Torres—Bench: Foster, Hangeland, McAuley, Nolan

106 points for the first week with Ivanovic getting 48 points as Captain in double games followed by weeks of 94 and 80 propelled this manager into a near insurmountable lead.

Transfers left: 6
Remaining budget: 4.8 million

2. Mix II Entry 1, Gameweek10: 58 points, Total: 673 points
Latest team: Starting XI: Schwarzer, Baines, Evra, Ivanovic, Michu, Nolan, Cazorla, Hazard, van Persie, Tevez (Captain) Suarez—Bench: Pantillimon, Caldwell, Dawson, Mata

First week team: Starting XI: Ruddy, Baines, Evra, Ivanovic, Cazorla, Gerrard, Nasri, Hazard, Torres (Captain), Suarez, Tevez—Bench: Pantillimon, Caldwell, Dawson, Michu

98 points in Gameweek1 and 94 in week seven were keys to success.
It would appear this manager has more than one team entered. There is nothing wrong with that; however, personally it seems not in the spirit of fair play.

Transfers left: 11
Remaining budget: 0.5 million

3. Mix and Match, Gameweek10: 46 points, Total: 667 points
Latest team: Starting XI: Cech, Ivanovic, Riise, Baines, Cazorla, Hazard, Bale, Gerrard, Suarez, van Persie (Captain), Defoe—Bench: Guzan, Santon, Lichaj, Michu

First week team: Starting XI: De Gea, Ivanovic, Zaballeta, Rangel, Riise, Van der Vaart, Hazard, Yaya Toure, Defoe, Torres (Captain), Aguero—Bench: Lindegaard, Lichaj, Pienaar, Michu

96 points out of the gate, followed by 90 set the pace for this manager.

Transfers left: 9
Remaining budget: 0.3 million

Comments: No player was on all three managers opening day lineup and the latest roster, whereas Hazard and Ivanovic were on five of the six possible rosters.
Five players appeared on four rosters: Riise, Cazorla, Suarez, Michu and Baines
Two players were on three rosters: Torres and Nasri

Unlike last season, the top managers have not used their bench as a dumping ground for players who never play or are out of the league.

Short Pump Wednesday's six remaining transfers through ten weeks is a low number and will leave him with limited options in the remaining 11 game weeks of segment #1.

FYI, Sir John began the season with a starting XI of Vorm, Ivanovic, Hangeland, Vertonghen, Lampard (Captain), Kagawa, Yaya Toure, Sigurdsson, Aguero, Rooney, Pogrebynyak—Bench: Rudd, Bertrand, Stam, Hoilett

Gameweek1 brought 104 points.

Current team: Begovic, Hangeland, Vertonghen, Ivanovic, Mata (Captain), Nolan, Fellaini, Cazorla, Yaya Toure, Tevez, van Persie—Bench: Rudd, Bertrand, Stam, Pogrebynyak.

Sir John has 602 points, world rank #345 and leads his 29-team league. He has 11 transfers left with 3.4 million in the remaining budget.

I guessed wrong on point producing from Kagawa, Sigurdsson, Pogrebnyak and Hoilett to begin the season.
I got it right on Ivanovic and Lampard (Lamps was dropped later at the right time).

Swapping Rooney for vP and getting Mata were excellent moves. Dropping Michu was stupid. Yaya will go bye-bye when he leaves for Africa in January. Fellaini has been a good transfer and Cazorla is promising. Eleven unused transfers and a big surplus in budget will allow major moves to find optimal matchups in the final two weeks of Segment 1.

Bottom line: The double games in Gameweek1 were the key factor in success this season for the world leaders. Big numbers there were massive.