Capital One Cup fantasy visions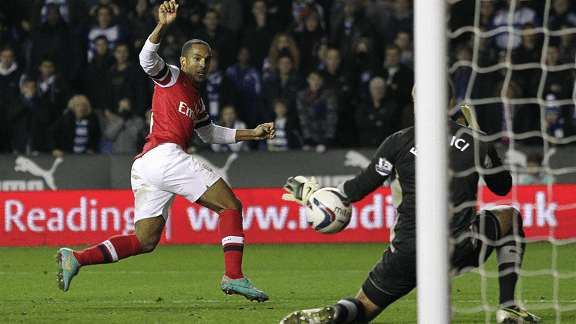 GettyImagesTheo Walcott scored his second hat-trick for Arsenal on a memorable night at the Madejski
Twelve of the 20 Premier League teams had midweek fixtures in the Capital One Cup tournament that now moves to the quarter-finals and many PL fantasy managers were wishing players had saved their stuff for the weekend. Goodness what amazing things happened in these games!

The biggest offensive explosion was at Reading on Tuesday where Arsenal came from four goals down and outlasted the hosts, scoring seven goals to Reading's five. Theo Walcott had a hat-trick, little-used Chamakh a brace, while single goals came from Giroud and Koscielny who also had an own goal to add to the frantic evening.

Reading, with 11 goals scored in eight PL games this season, had five, including scores from regulars Pogrebnyak, Hunt, Leigertwood, and Roberts. All will have confidence boosts for more goals when they play at QPR on Sunday.

In the dumps Aston Villa, 17th in the PL with only seven goals scored in nine matches, barely got past League One's Swindon Town 2-3. PL fantasy managers will like the form of forward Benteke. The Belgian notched himself a brace, including the winner in the 90th minute. The other goal came from one-time fantasy favorite Agbonlahor. Darren Bent, who has two of AV's PL goals, continued his exile on Paul Lambert's bench.

Southampton, 19th in the PL, crashed out against Championship side Leeds, losing 3-0. Nigel Adkins, with few fantasy names of note in his regular lineup, made 11 changes. One of the game's goals came from perhaps football's most irritating players, the well-traveled El-Hadji Diouf who now plays for Neil Warnock, a manager who once labeled Diouf "lower than a sewer rat".

Wigan went scoreless in regulation and extra time and then lost a penalty shootout 4-2 to League Two minnow Bradford City. Of interest to fantasy managers was that a shootout miss came from regular Maloney while Gomez had his spot kick saved.

Sunderland continues to play as if their name is Dunderland. On Tuesday, Championship side Middlesbrough ousted them. Martin O'Neill fielded many regulars, including Fletcher, McClean, Sessegnon, Johnson, Saha, Vaughn, and Cattermole, but the Black Cats who have scored only six goals in eight matches were short-sheeted. They play Aston Villa on Saturday. Drink plenty of coffee to stay awake for that one.

Wednesday was the rematch of Chelsea-Manchester United but minus several regulars who were part of Sunday's raucous 2-3 PL victory for SAF. On Wednesday Man U surrendered a PG in the 5th minute of stoppage time to send the match into extra time and then Chelsea won it 5-4 in overtime on goals from Daniel Sturridge and Ramires, but not before Ryan Giggs scored a PG in the 120th minute to keep the match in doubt.

Giggs who must have looked like a patriarch around 18-year-old Nick Powell and four 19-year-old teammates opened the game's scoring in the 22nd minute and got his brace at the end. Chicharito scored before the half and Nani scored for Utd in the second half. Whether SAF starts "step-over" on Saturday is questionable, but with Kagawa out, his chances are better. However, Anderson had three assists - could he be a starter on a team that needs service to Rooney and RvP who could have been used to restore order in the classic at Stamford Bridge.

Chelsea's goals came from a David Luiz penalty and a Mata to Cahill beauty. All three will be in the lineup against Swansea City on Saturday as will Hazard who converted the PG. Tellingly, both penalties came from young Man Utd defenders. Then Sturridge's goal followed a defensive mistake by Wootton and Ramires got around the GK for what proved to be the winning score. Message to fantasy managers holding El Nino: that is how you finish plays.

Two other matches involved Norwich City-Tottenham and Liverpool-Swansea City.

AVB's lads got a goal from Gareth Bale and then a Vertonghen OG and a late goal from Simeon Jackson saw the Canaries deny a Clint Dempsey PK in the dying moments and advance 2-1 to the quarterfinals over a stunned Spurs team.

At Anfield, Being Liverpool featured starts for cobwebbed Joe Cole, Stewart Downing, and Jordan Henderson and the Reds crashed out 2-3 against the Swans who beat their former manager. Chico, Dyer and De Guzman scored for Swansea City while Suarez headed in a Gerrard cross for the lone Liverpool goal. The Reds will be fantasy-tested at Newcastle on Sunday.

There are many, including Sir John who put little stock in the Capital One Cup; however, much of what happened over the past two days, especially Reading-Arsenal and Chelsea-Manchester United was exciting, compelling and hotly contested football. After the garbage that we have been subjected to over the weekend, this was what English football needed.

Tomorrow I will have a fantasy preview of the PL Gameweek Ten matches that cover three days and all fantasy managers hope that players will replicate what happened in the Capital One Cup.