Champions and Europa League Fantasy Impacts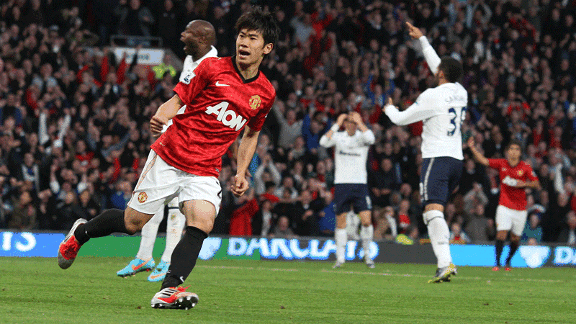 GettyImagesWill Shinji Kagawa be used more in Europe than the Premier League?
Premier League fantasy managers should keep their eye on tournament games during the week. On Tuesday, there will be two Champions League matches, with Chelsea traveling to the Ukraine to play Shakhtar Donetsk, a team that is 12-0-0 in its domestic league and in first place. That same day, Manchester United plays at home against Braga, 3-2-1, a team that is third in the Portuguese league.

On Wednesday, Arsenal has a home match against Schalke 04, a team that is 5-2-1 and in third while Manchester City travels to the Netherlands to play Ajax, 4-5-0 and in fourth place.

On Thursday, there are three Europa matches. Liverpool is home to play Anzhi Makhachkala, which has a 9-2-1 record in their league. Newcastle is home to play Belgium's Club Brugge, fourth in their league at 4-3-1 while Spurs go to Slovenia to play 3-0-2 NK Maribor.

Of importance to Premier fantasy managers will be injuries and players who are selected for those midweek games. Sir John wonders about players like Shinji Kagawa, who was pulled early in Gameweek 7 and although not injured was not on the bench on Saturday against Stoke. Kagawa may be SAF's choice for games on the continent instead of at home. If that is the case, it does no good for Premier League fantasy managers.

On Sunday, Alan Pardew chose to start Demba Ba against Sunderland and kept Papiss Cisse on the bench. He also started Tim Krul and Fabricio Coloccini, who had been out with injuries. The Europa League seems to have a much lower priority to PL managers, so we will see whom Pardew chooses to play on Thursday and what players he will feature Sunday, October 28, against WBA.

Brendan Rodgers notched his first home win last Saturday against Reading and, with the all-important derby with Everton set for early Sunday, October 28, the Liverpool boss is likely to rest some of his regulars in the Europa fixture this Thursday. At least that is what PL fantasy managers hope will happen.

Chelsea will have the most difficult drain on its team with the match against outstanding Shakhtar Donetsk in the Ukraine and then the critical showdown in the late game Sunday at home against Manchester United. While defending the Champions League title is important, the road match in the Ukraine might be a good time to rest Juan Mata, Eden Hazard, Oscar, Fernando Torres, Ashley Cole, Gary Cahill, David Luiz, Branislav Ivanovic and Petr Cech and give some playing time to the likes of Ross Turnbull, Cesar Azpilicueta, Ryan Bertrand, Paulo Ferreira, John Terry, Oriol Romeu, Victor Moses, Daniel Sturridge and, if he is ready, Marko Marin.

Roberto Mancini is the most difficult manager to predict for starting line-ups in Premier League play; however, it may be that he will start Edin Dzeko against Ajax on Wednesday and possibly rest some of his regulars for the late game at home Saturday, October 27, against not-so-strong Swansea City. David Silva missed last Saturday's game and may not be risked against Ajax. What Mancini does with Mario Balotelli is something the world would like to know.

Tottenham's long-distance travel schedule will have the team making the round trip to Slovenia for Thursday's Europa league match. AVB's team gets a break with an away PL match at Southampton on Sunday, October 28. It's anyone's guess if Bale will have his head back together after "bailing" on his team-mates before the Chelsea game. He was missed, as was Mousa Dembele, who could not play after being injured during the international break. Emmanuel Adebayor may get playing time on Thursday. It would seem that Clint Dempsey, who looked tired against Chelsea, would not be asked to play two matches in the week.

And finally, Arsenal is spared major competition in next weekend's Premier League schedule after their Champions League home match Wednesday against Schalke 04. The Gunners play bottom-of-the-table Queens Park Rangers in the London derby. Arsene Wenger is without Theo Walcott until November 3 and seems to be ready to play Jack Wilshere after his extended injury lay-off. Although Sir John has always thought Wilshere is over-rated, he is a Wenger favorite and a major talking point.