Premier Fantasy - Disappearing Acts
One of the most intriguing features of fantasy football is how players can quickly go from fantasy favourites to fantasy flops. The reasons for this include injuries, age, loss of desire, and disputes with managers.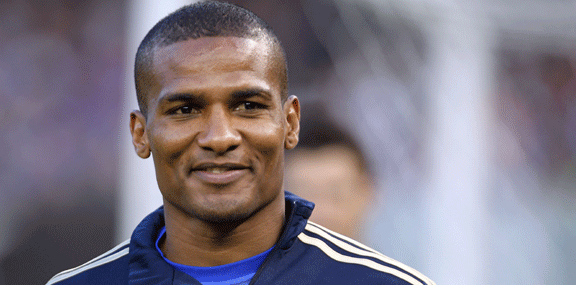 GettyImagesFlorent Malouda has found himself ostracised by Chelsea boss Roberto Di Matteo

In looking at the list of active fantasy Premier League players, several names stand out that not long ago were among the top fantasy point-producers and now struggle just to be named to the substitutes' bench.

Here are the top five players who have disappeared the fastest in fantasy football for the first eight weeks of Premier League competition:

1. Florent Malouda, Chelsea, midfielder, zero points, 6.6 million salary, 0.8% ownership

For a few years, the French midfielder was a regular fixture on my fantasy teams and produced excellent point totals. As late as 2010, Malouda had 13 goals. But now at age 32 and after several managerial changes at Stamford Bridge, Malouda is lost in space. He has not played a minute in PL games this season.

2. Gabriel Agbonlahor, Aston Villa, forward, 11 points, 6 million salary, 0.5% ownership

The one-time England international, as recently as the 2009 season scored 13 PL goals and had 3 assists. Previous years saw him score 12 and 11 goals respectively. Injuries and possible weight issues no longer make the hard-working 26-year-old worth a fantasy roster spot. Aston Villa are also a dreadful team. In their last game against Fulham they had zero shots on goal.

3. Louis Saha, Sunderland, forward, 5 points, 5 million salary, 0.8% ownership

At 34 years of age, the Frenchman had big seasons at Manchester United and Everton.
In 2003, he scored 20 goals for SAF and in 2009 notched 13 goals at Everton. Once a good fantasy selection, the man with the bleached hair is now a part of the anaemic Black Cats, a team that has scored just 6 goals in seven matches (one of them an own goal).

4. Andrey Arshavin, Arsenal, midfielder, 2 points 6.1 million salary, 1% ownership

The Russian was a fantasy darling for two years and in 2010 scored six goals and had 11 assists for the Gunners. Then, a combination of defenders learning how to play him, a bad attitude, a few knocks, and better players slowly reduced his effectiveness and playing time. Now 31, Arshavin's career appears to be toast.

5. Richard Dunne, Aston Villa, defender, zero points, 5.1 million salary, 0.6% ownership

Dunne was the heart and soul of the Manchester City back line and a popular fantasy pickup for his hard-nosed defence and ability to score on set pieces. Let go at City, he has never replicated his success and while battling injuries, the 33-year-old Ireland international is at the end of his career.

Others:

Marouane Chamakh, Arsenal, forward, zero points, 6.6 million salary, 0.1% ownership

Scored 7 goals and had 4 assists in 18 2010 PL games and has fallen off the radar ever since.

Kenwyne Jones, Stoke, forward, 2 points, 4.5 million salary, 0.5% ownership

The elegant, athletic striker scored 26 PL goals from 2007-2009 and one since.

Ashley Young, Manchester United, midfielder, 7 points, 8 million salary, 2.9% ownership

Young had seven goals for Aston Villa in 2010 and hints of glory at Man Utd since coming to Old Trafford; however, injuries and other factors make him an expensive and unreliable fantasy pick.

Thomas Sorenson, Stoke City, goalkeeper, 0 points, 5.5 million salary, 0.7% ownership

Once the starting GK and a good fantasy pick, the 36-year-old Dane has been replaced by Begovic and never plays.

Yossi Benayoun, West Ham, midfielder, 8 points, 5.3 million salary, 0.3% ownership

West Ham, Liverpool, Chelsea, Arsenal and now West Ham again; the 32-year-old Israeli international was a fantasy favourite at Anfield with as many as eight goals and five assists in one season, mostly as a substitute. A combination of a ruptured Achilles tendon and the arrival of AVB at Chelsea effectively wiped out his career. Saturday was his first start of the season and he got an assist against Southampton.

Jamie Carragher, Liverpool, defender, 2 points, 4.8 million salary, 1.3% ownership

The mainstay of the Reds defence for many years, the 34-year-old Carragher is used more as late relief and no longer a fantasy option for clean sheets.

Joe Cole, Liverpool, midfielder, 2 points, 5.3 million salary, 1.1% ownership

Cole was a Chelsea and fantasy favourite in 2004 and 2005, with eight goals in each of those seasons. Looking for wages beyond his abilities, he was allowed to leave on a free transfer to Liverpool and his career has been in free-fall ever since. He is 30-years-old but his hamstrings seemingly are those of a 90-year-old.

One more player who was a fantasy favourite for a year or two, but now is missed more for entertainment value than anything. He is Heurelho Gomes, Tottenham, goalkeeper, 0 points, 3.7 million salary, 6.5% ownership

The Brazilian was a laugh-riot in the nets for Spurs and a weekly source of highlight reel howlers. Why is he owned by 6.5% of fantasy managers today? His puny salary is a dumping ground for the unneeded fantasy two-GK roster requirement.