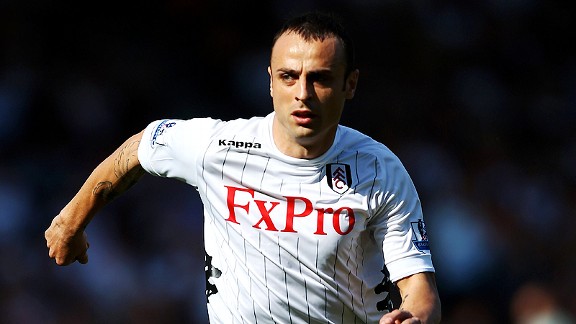 GettyImages / Clive Rose/Getty ImagesDimitar Berbatov: Picking up points at Fulham
The resumption of Premier League play on October 20-21 is expected to feature the return of many players who have been out injured and in two cases, suspended. This is great news to fantasy managers who resisted the temptation to use valuable transfers as replacements.

Not all media sources agree on the status of players; however, here is a partial list of players and their teams, plus comments on what their return could mean.

Berbatov, Forward, Fulham
The Bulgarian tallied 18 fantasy points, including two goals and one assist in the three matches he played before getting hurt. Aston Villa will be the Cottager's visiting opponent on Saturday and Berba may have a big day.

Petric, Forward, Fulham
Three goals in four games played are impressive for the 31-year-old from Croatia. He and Berbatov together make for inviting fantasy prospects.

Coloccini, Defender, Newcastle
Alan Pardew's defense needs help and Coloccini has been sorely missed. The Argentinean could be back for Sunday's visit to Sunderland after missing the past five matches.

Steven Taylor, Defender, Newcastle
Taylor missed the home loss to Man United and could record his second clean sheet against the Black Cats.

Krul, GK, Newcastle
The Dutch keeper had an outstanding season last year; however, he has missed the last four matches and if available will challenge Harper and Eliot for the starting job.

Young, Midfielder, Manchester United
The streaky Englishman has only played in the first two matches of the season. He carries a high salary (8 million) for his productivity (7 points) and it's not known if Sir Alex will give him much playing time over Kagawa and Cleverly. Man U's Saturday home opponent is tough-defending Stoke.

Smalling, Defender, Manchester United
Smalling has not played this season; however, this may be the weekend for him to help fill the absence of Vidic and Jones.

Garcia, Midfielder, Manchester City
Garcia, mainly a defensive midfielder, had a goal in his first match for United a month ago, but he scored only six goals in four seasons with Benfica. With Richards back healthy and Silva probably out injured, Yaya Toure may move up and be more of an attacking midfielder and prompt Mancini to play Garcia against WBA on Saturday.

Maicon, Defender, Manchester City
The Brazilian who came to the team from Italy has played in only one match this season, but is a favorite of Mancini.

Balotelli, Forward, Manchester City
The enfant terrible has apparently recovered enough from a fever to play for Italy. His fantasy numbers have been awful (10 points) and his playing time spotty. He has no PL goals, no assists, and sometimes no clue what life is about.

Fabio, Defender, QPR
The Manchester United twin was checked out of the Old Trafford library and was put on the horror shelf at QPR. Sidelined with an injury for the past three PL matches, Fabio is finding out what life is like at the bottom instead of the customary winning ways at Man U. His return can only help the wretched Rangers who have conceded 16 goals in seven matches.

Diaby, Midfielder, Arsenal
Plain and simple; the tall Frenchman makes the Gooners a much better team. If he is fit, Diaby could be licking his chops over the prospects of facing lowly Norwich City on the road.

Naughton (Defender) and Livermore (Midfielder), Tottenham
Livermore has played just once for Spurs, but of the two players listed above who are projected to be available, Livermore appears ready to provide the most help in contending with Chelsea Saturday at White Hart Lane.

Sturridge, Forward, Chelsea
In seven matches, Sturridge has played 33 minutes for the Blues and remains the only legitimate back up to Torres if he were injured. The 23-year-old Englishman is said to have an entitlement attitude about playing, something RDM isn't impressed with. With Spurs this weekend and Man U on October 28, even if Sturridge is on the bench, his PT will likely be in garbage time.

Lampard, Midfielder, Chelsea
He is due back on Saturday; however, it's not too likely he'll get the start considering the reliance RDM has placed on Hazard and Oscar and Mata's superb form. Mikel seems to be the preferred holding midfielder, while Ramires offers more speed to the Chelsea attack than Lamps.

Assou-Ekotto, Defender, Tottenham
Nothing is certain when it comes to AVB, but if Assou-Ekotto is ready after a four-match absence, the French defender surely will be in the line-up against Chelsea on Saturday. In three games, A-E had 16 fantasy points.

Brown and Bardsley, Defenders, Sunderland
Neither player has seen action this season. They are solid professionals and would further strengthen a pretty good defense for the Black Cats who have four draws in six matches played.

Hibbert (Defender) and Gibson, (Midfielder), Everton
Should they return for the visit to London after an extended absence on Sunday, they will make life even more miserable for wretched Queen Park Rangers.

Ridgewell, Defender, WBA
Ridgewell and his fellow Baggies are having a terrific season and until his injury, he was a bargain fantasy player with 26 points and a salary of 5.4. However, a clean sheet against Man City on Saturday is not likely.

Ireland, Midfielder, Aston Villa
Now that his broken wrist has healed, the man, whose career went south since the 2008-2009 season at Man City, hopes to find his form Saturday against Fulham.

Enrique, Defender, Liverpool
The out-of-favor Spaniard is due back but is not likely to crack the starting line-up for the Reds who play Reading Saturday at Anfield.

Shelvey, Midfielder, Liverpool
The in-form 20-year-old returns from a three-game suspension and should be given a starting assignment.

Diakite, Midfielder, QPR
The volatile native of France returns from a one-match suspension at home against Everton.