International break and Premier Fantasy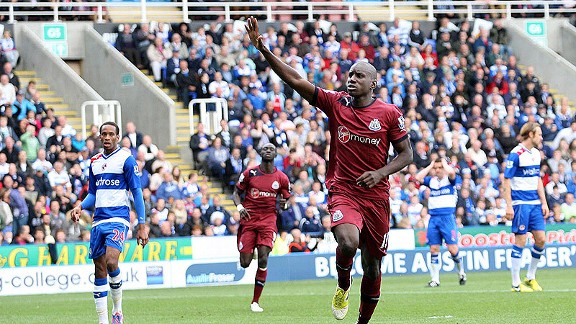 GettyImages / Ian Horrocks/Newcastle United/Getty ImagesDemba Ba: Made Sundeland pay the ultimate penalty
With the long October international break due to end on Wednesday (not including the delayed Poland v England qualifier), what impact will matches have on players returning to the Premier League?

While the circumstances were serious, Senegal being kicked out of the African Nations Cup is good news for some Premier League fantasy managers. Senegal has been censured because of rioting in a match against Ivory Coast and their exclusion in the annual tournament means that Ba and Cisse will not be out of Newcastle's line-up for six weeks in January-February.

Still projected to be at the African tournament are Yaya and Kolo Toure, Gervinho, and Tiote.

There were at least two serious casualties during the international break. The first involved Theo Walcott. The Arsenal midfielder's collision with the San Marino GK resulted in a bruised lung that knocked him out of England's match against Poland and likely will sideline him until the Gunners road trip to QPR on October 27.

And then on Tuesday, Manchester City and Spain midfielder David Silva had to leave the match against France after just 13 minutes. His leg injury has him out with no return date listed yet.

Making the long trip back from South America will be Aguero and Zabaletta (Man City), Valencia (Man Utd), Suarez (Liverpool), and Oviedo (Everton).

Chelsea's Eden Hazard was criticized for a poor work rate after his first match for Belgium. In the second game against Scotland, Hazard did not start but came in as a second-half sub and got an assist in his team's 2-0 victory over Scotland.

Hazard's Belgian teammates who played included Dembele, Vertonghen, Vermaelen, Benteke, and Kompany with the later two scoring goals. Fellaini and Lukaku were out injured with the Everton midfielder not expected back until November 3 while the WBA on-loan striker from Chelsea has no return date listed.

The Poland-England match was postponed until Wednesday because of a waterlogged pitch, meaning at least one more day for England's players to get back home and prepare for the weekend. The match will surely give a more accurate appraisal of Premier League players form than what we saw during the 5-0 rout of San Marino, the world's joint-worst minnows. In that game Cleverly was impressive in providing service to his England teammates, including Wayne Rooney who scored a brace and looks in exquisite form.

PL fantasy managers like to see their players score outside of domestic play, however, down deep they wish they would save their goals for their club teams. Today Hangeland got a goal for Norway, as did Giroud in the last-gasp draw for France against Spain, and Walters and Wilson scored for Ireland. Robin van Persie put one in the net for the Netherlands and although Mertesacker got one for Germany, he also was part of the defense that collapsed against Sweden. The Germans blew a four-goal lead in the final ten minutes and were tied by the Swedes 4-4.

In other matches, Chelsea's Petr Cech had a clean sheet for the Czech Republic and Nani was part of a 1-1 surprise draw for Portugal against Northern Ireland. Other Premier League players in action during the international break included Cabaye, Lloris, Evra, Koscielny (who committed a cynical foul in the box and was rescued by Lloris who then blocked Fabregas' PK), Darren Fletcher, Steven Fletcher, Adam, and Maloney.

Players returning from America after their match with Guatemala include Howard, Dempsey, and Cameron.