International break and player fantasy concerns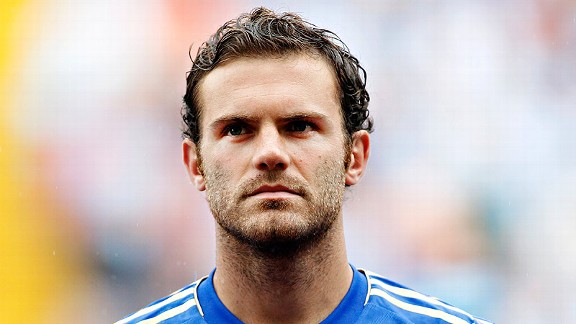 AP Photo/Sang TanJuan Mata: Omission from Spain squad is plus for Fantasy managers
To play for club and country is a big deal and a big honour for the world's greatest football players. The days ahead are also a big concern for Premier League fantasy managers who are preparing for Premier League action to resume October 20.

The risk of players picking up an injury in World Cup Qualifying or friendly matches is the greatest worry for fantasy managers who don't want to use precious transfers to repair their starting XI. Also high on the list of problems is the long distance travel some players must make that returns them to their club with serious jet lag. The result is that Premier League managers at the last minute will sometimes keep a player out of the line-up. Fantasy managers are then left with an unexpected zero.

With the international matches on Friday and the following Tuesday some competitions, including WCQ COMMEBOL have already posted projected starting line-ups. Argentina will start Aguero and Zabaleta and Uruguay will start Suarez. Paraguay have Oviedo in the first XI. Valencia is Ecuador's biggest question mark.

Here is a list of Premier League fantasy players who may be involved in World Cup Qualifying or friendly matches (there will be instances where some players are sidelined or not selected):

England:
Hart, Walker, Jagielka, Lescott, Cole, Lennon, Carrick, Cleverly, Oxlade-Chamberlain, Rooney, and Defoe.

Fantasy managers holding Gerrard, Glen Johnson and Lampard will have their players out of the international mix and hoping they return to full return to fitness for Premier League games.

Personal note from Sir John, who has Mata on his fantasy team: He is pleased that although Mata deserves to be part of the Spanish team, he is not and will be ready to go Saturday, October 20 in the early match against Tottenham.

Brazil:
Luiz, Oscar (he scored twice in a friendly against Iraq), Ramires, Sandro.

Maicon is not in the mix and may return for Premier League play October 20.

Belgium:
The recent emergence of Belgium as a key supplier of players to the Premier League carries with it more stars that are on international duty. They include: Dembele, Hazard, Mirallas, Kompany, Lukaku, Mignolet, Vermaelen, and Vertonghen.

Fellaini will miss both international matches because of a knee injury and is hoping to return to Premier League action October 21.

Spain:
Torres, Cazorla, Silva, and Reina are on the national team; however, only Silva and Torres are slated to start against Belarus.

Argentina:
Aguero, Zabaleta and Valencia are mentioned above. Premier League fantasy managers are pleased that Tevez and Coloccini will not be away from their domestic teams.

France:
Lloris, Clichy, Evra, Koscielny, Giroud and Cabaye are on the national roster; however, Cabaye has been bothered with an eye problem and Lloris' first team status is not clear.

Netherlands:
Vorm, Heitinga and Van Persie wear the national kit for the Netherlands.

Scotland:
Fletcher, Maloney, Mackie, Snodgrass, Naismith.

Wales:
Bale, Ramsey, Morison, Allen, Williams.

Ireland:
Coleman, Dunne, Kelly, O'Shea

Other players:
Kagawa (Japan), Cech (Czech Republic), Borini (Italy), Lindegaard and Agger (Denmark), Ivanovic, Kolarov and Nastasic (Serbia), Petric (Croatia), Mertesacker and Podolski (Germany), Schwarzer (Australia), Dzeko and Begovic (Bosnia), Nani (Portugal), Balotelli (Italy), Howard and Guzan (USA), Chicharito (Mexico), Petric (Croatia), Valencia (Ecuador) and Suarez (Uruguay).

The list is not all-inclusive; however, for those names mentioned, they represent thousands of miles travelled and hundreds of chances for injury. Message to all the lads listed above: Return to England in one piece and when you get back, sleep tight! We have endured nearly two weeks without the Premier League.