Gameweek 24: Fantasy Review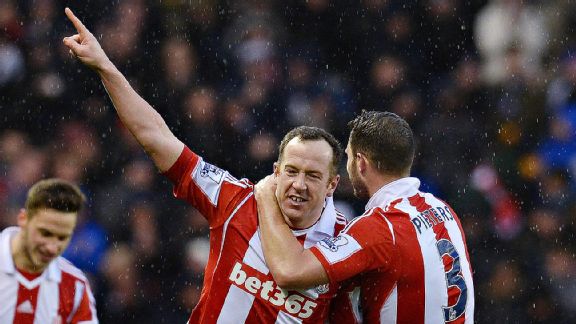 AllsportWhere did Stoke midfielder Charlie Adam rank in the top five?
The name "Adam" was heard often in Week 24.

Charlie Adam, Stoke
The midfielder had a brace in Stoke's historic result over Manchester United. His value dropped after two weeks without big points, but look for his 5.9 market price to go up next week.

Adam Johnson, Sunderland
The hottest player in the Premier League scored another goal and has six goals and two assists in his last four games. Not surprisingly, his value has jumped 0.3 to 6.8.

Adam Lallana, Southampton
A goal against Fulham gives him three goals in his last four matches, increasing his value to 7.5.

Sign of things to come?
Alex Oxlade-Chamberlain, Arsenal
"Ox" put two in the box, his first score since December 2012. The second goal was brilliant and a convincing claim to replace injured Aaron Ramsey.

Hot streaks
Daniel Sturridge, Liverpool
Another goal on Sunday gives him five goals and one assist in four matches since missing eight straight games. Still a bargain, his value has increased to 8.6.

Luis Suarez, Liverpool
A Sunday assist gives him four goals and two assists in five matches. The leading fantasy point-producer has 166 and a game-high value of 11.1.

Robin van Persie, Manchester United
His goal against Stoke was his second in as many games after returning from injury. He is now priced at 9.4.

Christian Benteke, Aston Villa
As assist on Saturday gives him three goals and two assists in his last four matches. His value is up to 8.0.

Santi Cazorla, Arsenal
It took a while to return to form, but the Spaniard's Sunday assist gives him three goals, an assist and two clean sheets in three games.

Leandro Bacuna, Aston Villa
After a long drought, the midfielder has scored two goals in his last two matches.

Fabio Borini, Sunderland
The Liverpool loanee has two goals and an assist in his last three games.

Jay Rodriguez, Southampton
Two goals and an assist in three games for the Saints' forward.

Olivier Giroud, Arsenal
A Sunday assist gives the forward two goals and one assist in four games.

Uh oh
Andy Carroll, West Ham
Recorded two assists and then clotheslined Chico Flores with his arm for a straight red card.

Swansea
The Swans took 20 shots against West Ham and had zero on target.

Wayne Rooney, Manchester United
Rooney has played three games since December 26 with no goals or assists. His value had dropped to 9.6.

Fulham
The Cottagers are a defensive disaster with 53 goals shredding their nets.

Transfer payoffs
Kenwyne Jones, Cardiff
The on-loan forward scored his first goal of the season and his backflip is the best goal celebration anywhere.

Shane Long, Hull
Scored his first goal for his new team in the draw against Spurs.

Juan Mata, Manchester United
A second assist in as many games for his new team has boosted his value 0.3 to 7.5.

Not in my net
Vito Mannone, Sunderland
The Black Cats' goalkeeper's second straight clean sheet included nine saves giving him 19 in two games.

Adrian, West Ham
Now three clean sheets in his last four games and 30 saves over that period. His value is up 0.3 and still a bargain at 5.1.

Wojciech Szczesny, Arsenal
The Sunday clean sheet was the goalkeeper's fourth in the last six games. He tops fantasy goalkeepers with 129 points.

Petr Cech, Chelsea
Cech and his defensive mates shut out Manchester City for the first time in 61 straight home games. Cech has six clean sheets in the last eight matches and at 119 points is second to Szczesny.

Redemption
Kevin Nolan, West Ham
In a season with two red cards, he scored a brace in the Hammers' clean sheet over Swansea.

Where have you been?
Rickie Lambert, Southampton
A goal and two assists on Saturday were his first major fantasy points since Boxing Day. A big fantasy favorite last season, his value of 7.0 should increase for GW 25.

Craig Bellamy, Cardiff
The veteran midfielder scored his first goal of the season.

Steven Naismith, Everton
With Romelu Lukaku out, the Blues' forward scored his first goal since September.

Best substitute
Victor Anichebe, WBA
Three minutes after coming on as a substitute, he scored the game's equalizer (thanks to a defensive howler by Kolo Toure).

Biggest goal
Branislav Ivanovic, Chelsea
His goal beat Manchester City.