Gameweek 22: Fantasy Review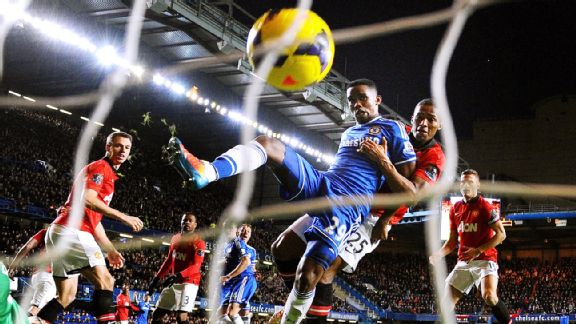 Mike Hewitt/Getty ImagesSamuel Eto'o showed his vintage form with three goals vs. Man United.
The fantasy week was highlighted by a hat trick, three braces and a dramatic reversal of fortune.

MOST NOTABLE
Samuel Eto'o, Chelsea
Recorded the first hat-trick by a Chelsea player against Manchester United in 60 years. After not playing in two games, the forward has four goals in two matches.

Emmanuel Adebayor, Tottenham
The forward's brace gives him five goals and two assists in six matches.

Santi Cazorla, Arsenal
A major fantasy disappointment until Saturday, last season's second-highest fantasy midfielder had both of his team's goals, his first since Nov. 2.

Yohan Cabaye, Newcastle
The midfielder broke a three-game drought with two goals. Even so, his value dropped to 7.2.

HOT STREAKS
Adam Johnson, Sunderland
The Manchester City flop is thriving as a Black Cat. A goal and an assist give him four goals and two assists in his last two games and an increase in value to 6.2.

Wilfried Bony, Swansea
While his team swan dives in the table, the forwards' goal was his third in three matches.

Edin Dzeko, Manchester City
A goal -- his team's 100th of the season -- gives the forward three goals in his past four games.

Christian Benteke, Aston Villa
After a prolonged slump, the forward has two goals in two games and an increased value of 7.5.

Kevin Mirallas, Everton
A goal Monday gives him two goals in two games, but he is a ball hog, not passing to wide-open teammates.

Gabriel Agbonlahor, Aston Villa
The forward's two assists give him two goals and two assists in four games.

Daniel Sturridge, Liverpool
The forward scored a goal, giving him two goals and an assist in his last two matches and a value jump of 0.3 to 7.4.

Jack Wilshere, Arsenal
An assist gives him three to go along with a goal in his past three games.

Christian Eriksen, Tottenham
Another assist gives the midfielder three goals and two assists in five matches.

Romelu Lukaku, Everton
Minus his dreadlocks, an assist Monday gives him one goal and two assists in four games.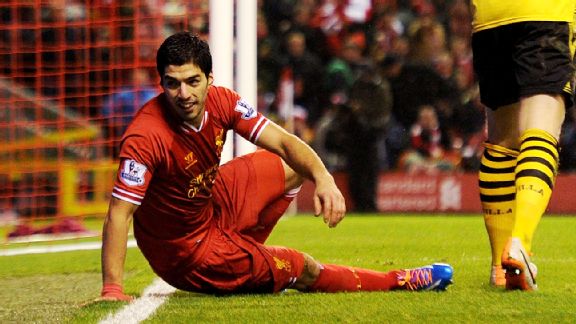 Andrew Powell/Liverpool FC/Getty ImagesLiverpool's Luis Suarez is consistently a scoring threat in the Prem.
UH OH...
Luis Suarez, Liverpool
The game's highest fantasy point-producer had no goals, no assists, and spent the day against Aston Villa whining, writhing, and winning a penalty that came from minimum contact and maximum acting. Yet his value still increased 0.3 to 10.9.

Swansea defense
The Swans have conceded eight goals in their past three games.

Mesut Ozil, Arsenal
In his team's past six games he has missed two with injury and scored zero goals and assists in the other four. His value has dropped to 8.9.

Rickie Lambert, Southampton
The forward has no goals and no assists in his past four matches.

Simon Mignolet, Liverpool
The goalkeeper has conceded nine goals in his past five games. His value dropped 0.3 to 6.1.

CLEAN LINEN
Wojciech Szczesny, Arsenal
The number one fantasy goalkeeper has four clean sheets in the past six matches.

OPENING THE BOOK
Ryan Bennett, Norwich
His first goal of the season was a game-winner for the relegation-threatened Canaries.

Craig Noone, Cardiff
The midfielder was his team's most active attacker and got his first goal of the season.

Diego Lugano, WBA
The defender's late strike for a draw against Everton was his debut PL goal.

WELCOME BACK
Sergio Aguero, Manchester City
The forward scored Saturday and had an assist after missing five games with an injury.

Fabio Borini, Sunderland
The Liverpool loanee scored for the first time since Oct. 27.

Javier Hernandez, Manchester United
His consolation goal against Chelsea was his first since Oct. 26.

Andreas Wiemann, Aston Villa
The Austrian forward scored his first goal since Sept. 28.

REVERSAL OF FORTUNE
Jason Puncheon, Crystal Palace
The midfielder's 18-day, three-game journey from the penthouse to the outhouse and back again included his season's first goal, a penalty miss of comic proportions and a brilliant, game-winning strike on Saturday.

I KNEW IT WOULD HAPPEN
Yaya Toure, Manchester City
When I have Toure, he does nothing. When I transfer him, he begins scoring. So after I dropped the Ivorian for Gameweek 22, he scores a goal and records an assist. He is the leading fantasy midfielder with 147 points and surprisingly had his value drop to 9.4.