Gameweek 21: Fantasy Review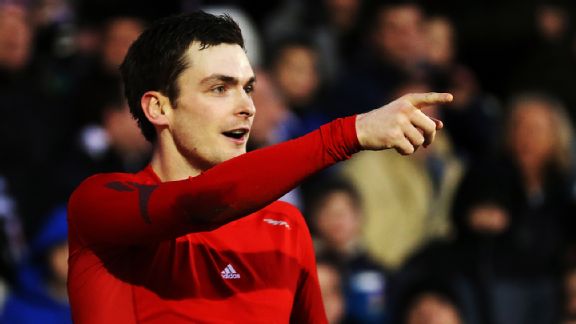 Clive Rose/Getty ImagesSunderland midfielder Adam Johnson was the star fantasy performer for the week.
Best efforts:
Adam Johnson, Sunderland
Sunderland's 17th place Black Cats are still Premier League endangered species, but Adam Johnson did his best to lift them out of the drop zone. The midfielder scored his first goal in six games and then added two more scores and an assist. For the few managers in the world who had him as their captain, he was good for 46 points.

Luis Suarez, Liverpool
The sizzling forward scored a brace on Sunday. He has 22 goals in 16 games (13 goals and four assists in his last eight games). Suarez, the highest priced fantasy player at 10.6, still is a bargain and leads all players with 148 points.

Hot players:
Eden Hazard, Chelsea
The midfielder scored a goal, giving him three goals and an assist in four games. Hazard, with 136 fantasy points is the top point-producing fantasy midfielder.

Olivier Giroud, Arsenal
Back from injury, the forward's goal on Monday gives him two goals and an assist in his last three games played.

Carlton Cole, West Ham
A goal gives the forward three goals in five matches.

Christian Eriksen, Tottenham
Since made a starter by Tim Sherwood, the Dane has three goals and one assist in four games.

Steve Sidwell, Fulham
Sidwell's goal, his second in two games was the only bright spot for relegation-threatened Fulham.

Adam Lallana, Southampton
Two goals and three assists in five games make him the Saints lone threat.

Danny Welbeck, Manchester United
With Robin van Persie and Wayne Rooney out injured, Welbeck is carrying the offensive burden. In his last seven games he has six goals and an assist.

Emmanuel Adebayor, Tottenham
A nifty headed assist gives him two assists and one goal in his past three games.

Ki Sung-Yueng, Sunderland
The South Korean scored in the Fulham rout, giving him two goals and one assist in four games.

Willian, Chelsea
He now has a goal and an assist in his last two games and has secured a starting spot.

Edin Dzeko, Manchester City
A Sunday goal gives him two goals in his last three games.

Charlie Adam, Stoke
A goal on Sunday made it two goals and one assist in his last five games.

SAS reconnected
Daniel Sturridge, Liverpool
Back from injury and in his first game since November 23, the forward's second half substitute appearance included a magnificent goal and an assist (to Suarez).

I'm still not convinced
Jack Wilshere, Arsenal
The notoriously bad fantasy performer has a goal and two assists in his last two matches.

Believe-it-or-not moment
Jason Puncheon, Crystal Palace
His botched penalty kick was at least ten feet high. The Palace midfielder went from the penthouse to the outhouse. He scored his first goal of the season on New Year's Day... and then this.

Uh-oh
Roberto Soldado, Tottenham
Seemingly devoid of confidence, Soldado barely broke a sweat and was pulled in the 58th minute. He has one goal in his last 12 matches.

Martin Skrtel, Liverpool
Is there another defender who grabs opponents' shirts in the box more than Skrtel? When will the referees start calling fouls on Skrtel and give penalty kicks?

Stoke defense
The Potters have bled 14 goals in their last four games.

Jussi Jaaskelainen, West Ham
Last season's second-highest fantasy goalkeeper and currently tied for fifth-highest has not played in three of his last five matches.

Santi Cazorla, Arsenal
Last season's second-highest fantasy midfielder has no goals and one assist in his last nine games played, ranking him in a tie for 58th place.

Assist star
Marko Arnautovic, Stoke
Two assists against Liverpool made for an impressive showing

Not in my net
Petr Cech, Chelsea
Cech and his defensive mates have four clean sheets in their last five games.

Adrian, West Ham
He recorded his first clean sheet and had seven saves in the 0-2 result against Cardiff.

As I live and breathe
Christian Benteke, Aston Villa
The forward scored a late second half header, his first goal in 12 games.

Andy Carroll, West Ham
Yes, that was Andy Carroll making his first appearance since last season and recording an assist.

Fantastic farewell
Jermain Defoe, Tottenham
The short-timer, who will leave Spurs to join Toronto FC in late February, scored his first goal of the season.