Premier Fantasy: Segment 2 Preparation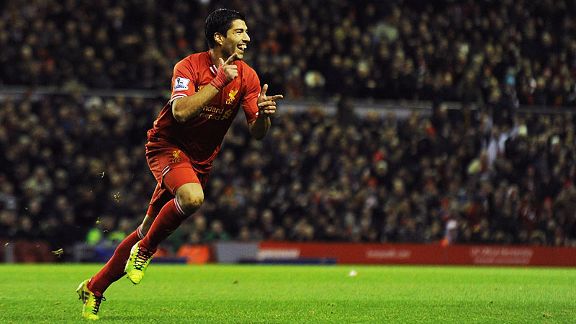 AllsportLiverpool's hot-scoring Luis Suarez is the highest-priced fantasy player. Is he worth it?
Segment 2 of ESPN FC's Premier Fantasy competition kicks off on January 11.

Managers must select a new roster of 15 players and all budgets have reverted to 100 million for the new segment, though points from Segment 1 will carry over for the season-long competition.

Player values have been reset. The most notable changes are:

Luis Suarez, F, Liverpool, 137 pts in segment 1
The top fantasy player's ending value was 11.4 and it is reset at a fair 10.6. More than 80 percent of fantasy managers own him, an increase of more than 50 percent compared to the start of the season when, of course, he was suspended.

Simon Mignolet, GK, Liverpool, 97 pts
The Belgian's value dropped week-by-week and was at 5.8 after Segment 1. Now it is 6.4.

Robin van Persie, F, Manchester United, 64 pts
The value of the Dutchman, who is currently injured, ended at 10.6 and has been reset at 9.2. About 30 percent of managers have cast him overboard.

Aaron Ramsey, M, Arsenal, 121 pts
Ramsey began Segment 1 at 6.6 and ended at 8.8. Even though he too is injured, his value has been reset at 9.4.

Mesut Ozil, M, Arsenal, 96 pts
Ozil came in at a bloated 9.5 and ended Segment 1 at 10.5. He is more realistically valued at 9.1.

Wayne Rooney, F, Manchester United, 105 pts
Rooney began the season at 8.8 and ended Segment 1 at 10.7. He is listed at 9.9.

Romelu Lukaku, F, Everton, 95 pts
The Chelsea loanee began the season at 6.2 and ended Segment 1 at 8.5. He is now at 8.3 and owned by nearly 23 percent of fantasy managers.

Big-ticket players:

Yaya Toure, M, Manchester City, 9.5, 131 pts
The highest point-producing midfielder is a good buy with his value down from 10.3.

Eden Hazard, M, Chelsea, 9.2, 126 pts
Hazard is the second best fantasy points for a midfielder and his value has lowered from 9.6.

Leighton Baines, D, Everton, 7.6, 81 pts
Baines was out injured, but is now back in the lineup and his value has increased by 0.1

Per Mertesacker, D, Arsenal, 7.5, 101 pts
The German's value has dropped from an ending 7.9.

Wojciech Szczesny, GK, Arsenal, 7.1, 108 pts
The top goalkeeper for fantasy points has had his value increased by 0.1. He is only owned by 12 percent of managers.

Overpriced players, based on Segment 1:
Sergio Aguero, F, Manchester City, 10.0, 100 pts
David Silva, M, Manchester City, 8.0, 72 pts
Patrice Evra, D, Manchester United, 7.3, 83 pts
Juan Mata, M, Chelsea, 7.2, 36 pts

Bargains and players to watch:

Seamus Coleman, D, Everton, 7.2, 129 pts - his value dropped from 7.9. Coleman is the leading point-scoring defender and is owned by two-thirds of fantasy managers.
Adam Lallana, M, Southampton, 7.0, 100 pts - owned by half of fantasy managers.
Jay Rodriguez, F, Southampton, 6.9, 89 pts
Gabriel Agbonlahor, F, Aston Villa 6.2, 61 pts
Gary Hooper, F, Norwich, 6.2, 60 pts
Wilfried Bony, F, Swansea, 6.0, 61 pts
Oussama Assaidi, M, Stoke, 5.9, 45 pts - ineligible to play against Liverpool on Sunday
Jussi Jaaskelainen, GK, West Ham, 5.9, 98 pts - down 0.7 from Segment 1
Gareth McAuley, D, WBA, 5.7, 82 pts
Steven Caulker, D, Cardiff, 5.6, 82 pts
Saido Berahino, F, WBA, 5.3, 43 pts

Strange...

Barcary Sagna, D, Arsenal, 81 pts
Only the 10th leading fantasy defender, Sagna at 6.3 is owned by more than 30% of managers.

Tactics:

More success seems to come from picking major point-producers instead of the best fifteen players who fit into the 100m budget. To do well you need the right captains who have big games, the correct players on double game weeks, and judicious use of transfers.

How did the game's top fantasy manager do it in Segment 1?

Sarsh143 finished Segment 1 with 1,431 points.

Sarsh143's starting eleven for gameweek one included Joe Hart, Branislav Ivanovic, Yaya Toure, Aaron Ramsey, Jack Wilshere, Roberto Soldado, and, as captain, Robin van Persie. The bench was slightly less strong: Eldin Jakupovic (GK), Darcy Blake (D), Maurice Edu (M), and Kwesi Appiah (F).

By the time gameweek 20 rolled around, Sarsh143's team included Wojciech Szczesny, Seamus Coleman, Eden Hazard, Theo Walcott, Fernandiho, Romelu Lukaku and, as captain, Luis Suarez. The bench was upgraded considerably from the first week, but kept Jack Wilshere -- despite amassing a mediocre 59 points -- was retained for the entire segment. Sarsh143 had no remaining transfers for the final two weeks of Segment 1.

Finally, remember that the January transfer window is open until the 31st. If one of your players is transferred to another team after January 11, you may need to replace him to stay within the three-on-a-team rule and a transfer will be charged. There are unlimited transfers allowed before segment 2 kicks off and then 30 for the remaining 18 games.

Good luck and have fun.