Gameweek 20: Fantasy Preview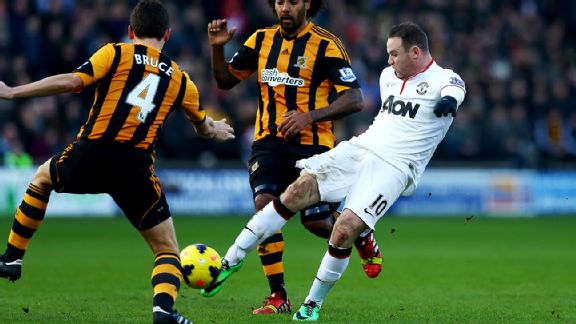 Matthew Lewis/Getty ImagesThe fitness of Manchester United's Wayne Rooney's is the big question mark going into the showdown with Spurs on New Year's Day.
Segment 1's final week has 10 matches on New Year's Day. The Swansea-Manchester City game offers the only chance to check announced lineups before kickoff.

WEDNESDAY

Swansea (5-6-8) vs. Manchester City (13-2-4)
The Swans are 0-3-2 in their last five matches, scoring just four goals in that period. . . .Manchester City have scored a record 54 goals in 19 games, but only 16 have been on the road. Look for the best XI to be restored to the starting lineup, although David Silva is suspended with five yellow cards. Joe Hart is stronger than ever in goal.

Arsenal (13-3-3) vs. Cardiff (4-6-9)
Big news is Mesut Ozil's injury (he's out until Jan. 14). Aaron Ramsey and Kieran Gibbs are missing, but Lukas Podolski is available along with Laurent Koscielny. Olivier Giroud's goal-drought ended Sunday. Kyle Walker returns from suspension. The Gunners are top of the table at New Year's. . . . Fifteen goals scored and 30 conceded have Cardiff flirting with the drop zone.

Crystal Palace (5-1-13) vs. Norwich (5-4-10)
Palace played Manchester City tough, but lost 1-0 on the road. Cameron Jerome is out hurt. . . .Norwich also showed defensive grit, losing at home to Manchester United 1-0.

Fulham (5-1-13) vs. West Ham (3-6-10)
Clint Dempsey is eligible for his first game on a two-month loan, but is not yet listed on the fantasy player page. The Cottagers are as bad as they come, as evidenced in their roll-over at Hull. . . The injury-plagued Featherdusters of West Ham are 19th. Kevin Nolan broke an 11-game goalless drought. Joe and Carlton Cole have shown scoring ability. Ravel Morrison is an injury doubt, more so for Andy Carroll.

Liverpool (11-3-5) vs. Hull (6-5-8)
Steven Gerrard is scheduled to return, but Jordan Henderson, Joe Allen, and Mamadou Sakho are out from injuries sustained against Chelsea. Look for scores from Luis Suarez and Raheem Sterling. Suarez lives off lesser teams; He has not scored against Chelsea, Arsenal, or Manchester City. Daniel Sturridge is still out. . . .Hull buried Fulham with six goals at home, including a brace from Robert Koren. Reality will set in at Anfield. Robbie Brady may return for Hull while David Meyler is out.

Southampton (7-6-6) vs. Chelsea (12-4-3)
The Saints' Jay Rodriguez and Rickie Lambert are in good goal-scoring form. Morgan Schneiderlin returns from suspension. . . .Chelsea are looking for someone beside Eden Hazard to put the ball in the net. Hazard and Samuel Eto'o scored on Sunday. Ramires is back from suspension, but Branislav Ivanovic is out injured and David Luiz is suspended with five yellow cards.

Stoke (5-6-8) vs. Everton (10-7-2)
Long-term injured Stoke defender Robert Huth is due back and desperately needed. Off suspension will be Glenn Whelan and Marc Wilson. Sunday, Spurs manhandled Stoke. . . .Everton's Tim Howard and Gareth Barry return from suspension. Leighton Baines is back in the lineup, Seamus Coleman has three goals in four matches, and Romelu Lukaku broke his scoring drought Sunday.

Sunderland (3-5-11) vs. Aston Villa (5-5-9)
The Black Cats are not as bad as their 20th position indicates, but they have scored only 15 goals and conceded 32.
Christian Benteke, in a muddled and injured state, could be available for Villa. Gabby Agbonlahor finally found the net against Swansea.

WBA (3-9-7) vs. Newcastle (10-3-6)
The Baggies got a brace from Nicolas Anelka Saturday and now brace themselves for possible FA discipline for the Frenchman's goal celebration. Shane Long may return from injury. . . .In-form Newcastle have their sights on a European position. Yohan Cabaye is hot.

Manchester United (10-4-5) vs. Tottenham (10-4-5)
The marquee match of the day could see Robin van Persie return after being out since Dec. 7. Wayne Rooney missed Saturday's game and faces a late fitness test. . . .Up-and-down Tottenham wonder which Emmanuel Adebayor takes the pitch. The good one who scored a brace Dec. 22 and had an assist Sunday, or the sleepwalker who took no shots in 90-minutes on Boxing Day? Paulinho is out injured.

Recommended captain picks: Suarez, Alavaro Negredo, Hazard, Yaya Toure, or Seamus Coleman.

Note: Transfers and extra budget will not carry over into Segment 2, so use the rest of your ammunition this week. Segment 2 begins Jan. 11. You must select a new team with unlimited transfers until the first kickoff that day.