Gameweek 19: Fantasy Preview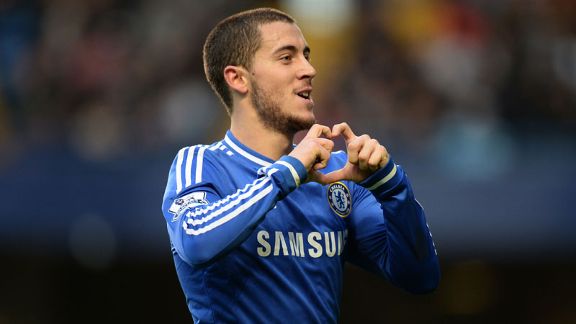 GettyImagesChelsea midfielder Eden Hazard leads the Blues in goals as they meet Liverpool.
There are six matches on Saturday and four on Sunday. You have only one game to check for announced lineups and it is not likely many managers will have a stake in either West Ham or WBA.

Expect more lineup rotations on the heels of Boxing Day.

Saturday, Dec. 28

West Ham (3-5-10) vs. WBA (3-8-7)
West Ham need any kind of help and Winston Reid may return from injury. Rickety Carlton Cole has two goals in two matches. Ravel Morrison is an injury doubt.
The Baggies managed to hold Spurs to a draw but are only a point from relegation.

Aston Villa (5-4-9) vs. Swansea (5-5-8)
Villa's young defenders once again coughed up a late lead, this one to Crystal Palace. Ron Vlaar is out as is Christian Benteke, but he has been out of touch with goals since Sept. 14.

Swansea is tough on defence but they have scored only three goals in their past four matches.

Hull (5-5-8) vs. Fulham (5-1-12)
After taking a 2-0 lead over Manchester United, Steve Bruce's lads fell apart, including giving up a game-winning own goal. Even with three goals conceded, Hull still has given up only six goals at home.

Relegation-threatened Fulham managed an away result at Norwich. Dimitar Berbatov will have a late fitness test.

Manchester City (12-2-4) vs. Crystal Palace (5-1-12)
City are a perfect 9-0-0 at home with 37 goals scored and just six conceded. Alvaro Negredo has two goals and one assist in his past three games, filling in for injured Sergio Aguero. Joe Hart has found his form in goal.

Crystal Palace have poked their collective heads above relegation goal differential. Leading scorer Marouane Chamakh returns from suspension.

Norwich (5-4-9) vs. Manchester United (9-4-5)
Light-scoring Norwich got another goal from Gary Hooper, his third in four matches. The Canaries have conceded 31 goals.

Wayne Rooney has a goal and four assists in his past three games. Rafael is out injured and Robin van Persie does not return until after New Year's Day. Antonio Valencia is suspended.

Cardiff (4-5-9) vs. Sunderland (3-4-11)
Troubled Cardiff were demolished by Southampton and are now drifting toward the stench of relegation.

The bottom-of-the-table Black Cats pulled off a shock away result at Everton. Ki Sung-Yueng got the penalty goal and is in excellent form.

Sunday, Dec. 29

Everton (11-3-4) vs. Southampton (7-6-5)
Leighton Baines may return from the injured list. Tim Howard is suspended with a red card.

Southampton has found a scoring duo in Jay Rodriguez and Rickie Lambert. Rodriguez has five goals and one assist in six games while Lambert has a goal and an assist in his past four games.

Newcastle (10-3-5) vs. Arsenal (12-3-3)
The streaking Magpies are on a roll and wiped out Stoke 5-1 on Boxing Day. Loic Remy had a brace, while Yohan Cabaye has three goals in his past three outings.
Aaron Ramsey is a big injury loss for the Gunners. Jack Wilshere's suspension is over. Lukas Podolski returned from injury with a goal and may give tired Olivier Giroud a break.

Chelsea (11-4-3) vs. Liverpool (11-3-4)
The marquee match pits Chelsea's anaemic forwards against the best striker in the world. Luis Suarez was done no favours by his teammates who could not turn his passes into goals against Manchester City. His string of 10 goals in the past four games has come to an end. Daniel Sturridge is still out injured. Simon Mignolet had hands of slippery stone at the Etihad. The Reds are an average road team.

Chelsea's main scoring is coming from Eden Hazard. Ramires is suspended. The Blues, after one clean sheet over a 10-game span, have now had two straight. They are 8-1-0 at Stamford Bridge.

Tottenham (9-4-5) vs. Stoke (5-6-7)
Emmanuel Adebayor reverted to the form that caused his exile from AVB. On Boxing Day against West Brom, he took no shots in 90 minutes.

Stoke are in 10th place and have given up 20 goals on the road. Glenn Whelan and Marc Wilson are both suspended.

Recommended captain picks:
Luis Suarez, Wayne Rooney, Yaya Toure, and Theo Walcott.