Gameweek 18: Fantasy Review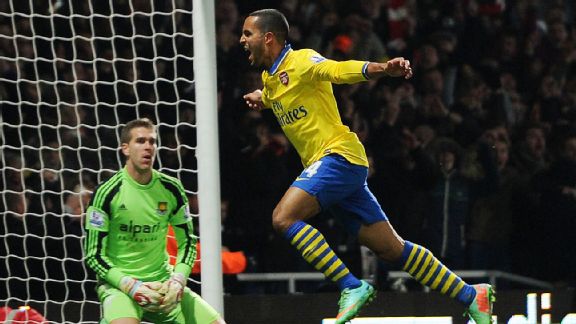 David Price/Arsenal FC/Getty ImagesTheo Walcott's return from the injured list has him on a goal-scoring rampage.
Boxing Day offered a menu of ten games and when the holiday feast had been consumed, the day's marquee match was more notable for who did not score than players who managed to find the net.

Stopping Suarez

Luis Suarez, Liverpool
His string of ten goals and three assists in four matches came to an end against Manchester City; however, the world is still wondering how Raheem Sterling did not score off a Suarez pass. Suarez remains the runaway fantasy point leader with 128 and has the highest value, now up to 11.6

Hot and getting hotter

Jay Rodriguez, Southampton
His brace on Boxing Day gives him five goals and one assist in his last six matches.

Rickie Lambert, Southampton
The other half of the Saints' striking team got a goal and has two scores and one assist in two games.

Theo Walcott, Arsenal
A brace against West Ham gives the midfielder four goals and an assist in his last four games. However, his value dropped 0.2 to 7.9.

Yohan Cabaye, Newcastle
Part of the Newcastle resurgence is Cabaye who now has three goals in his last three outings.

Carlton Cole, West Ham
The veteran forward is a rare bright spot for the 19th place feather dusters. He has had a goal in his last two games.

Alvaro Negredo, Manchester City
The City forward has two goals and one assist in his last three games.

Eden Hazard, Chelsea
A Boxing Day goal gives him three goals and two assists in six games.

Wayne Rooney, Manchester United
A goal and four assists in his last three games have helped his team move up the table and boosted his value 0.2 to 10.5.

Gary Hooper, Norwich
His Thursday goal was not enough to avoid a home loss, but the forward has notched three goals in four matches.

Welcome back!

Lukas Podolski, Arsenal
A late substitute, the forward scored his first goal in four months.

Loic Remy, Newcastle
Although he missed a penalty kick, the Frenchman scored a brace to break a five-game goal drought.

Seeing Red

Tim Howard, Everton
After Leon Osman gifted the ball to Ki Sung-Yueng, Howard was called for a red card for his attempt to stop the on-rushing Sunderland midfielder who then scored the penalty. Maybe it's the absence of Howard's beard.

Antonio Valencia, Manchester United
The midfielder already had a yellow card, but in stoppage time with his team ahead, Valencia kicked the ball off the pitch in anger. That brought another yellow card from Michael Oliver and the to-the-changing-room red card. How stupid can you be?

Uh-oh's

Romelu Lukaku, Everton
The forward has now gone five games without a goal.

Aaron Ramsey, Arsenal
The second ranked fantasy midfielder, goalless for five games, left the match with a thigh injury and is lost to the team, perhaps for several weeks.

Olivier Giroud, Arsenal
Although he had an assist today, the French forward has not scored a goal in six games.

Jussi Jaaskelainen, West Ham
The goalkeeper with the alphabet name and the fourth best fantasy point total is healthy but has been benched for two games.

Win some, lose some

James Chester, Hull
The defender scored his team's first goal against Manchester United and then gave up the deciding goal in the second half by putting the ball in his own net.

You can't have it both ways

Brendan Rodgers, Liverpool
The manager complained bitterly about the officiating, including opponents grabbing onto his player's jerseys. Message to BR: Martin Skrtel may still have a handful of Vincent Kompany's jersey.

Disappearing act

Emmanuel Adebayor, Tottenham
After Sunday's brace and exhilarating return from exile, the Spurs' forward played 90 minutes against the Baggies and took no shots and gifted West Brom's equalizing goal.

Like father, like son

Alex Bruce, Hull
The Hull defender tried to rearrange his nose by running face-first into the goal post.