Gameweek 17: Fantasy Review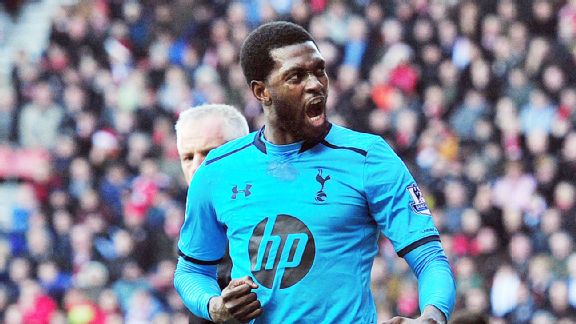 Glyn Kirk/AFP/Getty ImagesTwo goals by Emmanuel Adebayor were sweet redemption after being exiled by his former manager.
The week featured another superb performance by the most in-form footballer in the world and redemption by an exiled forward.

Louie Louie, oh yes!

Luis Suarez, Liverpool
Break out the 1963 Kingsmen classic. The Liverpool forward had a brace and an assist on Saturday giving him ten goals and four assists in his last four matches. He has 19 goals in 12 games and leads all fantasy players with 126 points. His value is up another 0.3 to 11.3.

A personal message to AVB

Emmanuel Adebayor, Tottenham
During the regime of sacked manager, Andre Villas-Boas, Adebayor was made to practice with the club's youth team. On Sunday, the forward was given a starting role by interim manager Tim Sherwood and scored a brace. Adebayor, along with Roberto Soldado, turned Spurs into a changed offensive team. The only negative: Adebayor's scoring came with lamentable celebrations observed with a sour look by referee Chris Foy.

Playing well

Seamus Coleman, Everton
The defender's goal was his second in as many matches.

Danny Welbeck, Manchester United
The forward's goal and assist give him three goals and one assist in two matches.

Yaya Toure, Manchester City
Four goals and two assists in his last six matches, seemingly without breaking a sweat and moving him to the top spot among midfielders with 119 fantasy points.

Wayne Rooney, Manchester United
Three assists in his last two matches coincide with his team's improved form.

Yohan Cabaye, Newcastle
Returning from suspension, his goal gives him two in two games.

Peter Crouch, Stoke
Two goals and an assist in his last three games.

Alvaro Negredo, Manchester City
Getting starts with Sergio Aguero out, the forward has scored a goal and an assist in his last two matches.

Super sub

Jesus Navas, Manchester City
He has had a goal and an assist in reduced minutes his last two games.

What a way to end a ten-game drought

Ross Barkley, Everton
The 20-year-old midfielder's 20-yard free kick goal was brilliant and his first score in ten games.

Five-game droughts broken

Adam Lallana, Southampton
The England national team wanna-play had his first goal in five games against Spurs.

Rickie Lambert, Southampton
The forward also ended his streak of five scoreless games against Tottenham.

Getting defensive

John Ruddy, Norwich
The goalkeeper has had games this season of giving up seven and five goals, but has two clean sheets in his last three matches.

Tim Krul, Newcastle
The Dutchman also has had two clean sheets in his last three outings.

Tim Howard, Everton
An own goal from Bryan Oviedo denied Howard another clean sheet, but the goalkeeper is the top fantasy point producer in the nets with 95.

Petr Cech, Chelsea
The goalkeeper and fellow defenders had their first clean sheet in five matches in a painfully boring draw against Arsenal.

Getting the hang of it

Raheem Sterling, Liverpool
The 19-year-old had not scored a goal until three games ago. Since then, his Saturday goal gives him three goals and one assist.

Jordan Henderson, Liverpool
The midfielder dished out two more assists on Saturday and has a goal and four assists in his last three matches.

They did what?

Ashley Young, Manchester United
The often-maligned midfielder scored his first goal in 19 months.

Hatem Ben Arfa, Newcastle
His penalty goal was his first score in three months.

Carlton Cole, West Ham
The 30-year-old (isn't he older than that?) forward had his team's only shot on target and scored.

Vincent Kompany, Manchester City
The defender scored his first goal of the season on Saturday and then, bleeding from a cut eye, gifted Fulham with a bizarre own goal.

Uh oh

Olivier Giroud, Arsenal
No goals or assists in his last five games.

Aaron Ramsey, Arsenal
No longer the top fantasy midfielder for points, in his last four games Ramsey has no goals and two assists.

Dive of the week
Adnan Januzaj
His first goal in nine games was followed six minutes later by a blatant dive and a deserved yellow card.

Missed call of the Week
Mike Dean
Dean, who was ten yards away and saw the entire play in front of him should have red-carded Chelsea's John Obi Mikel for a vicious, high, studs-up attack on the shin of Arsenal's Mikel Arteta.

Tourniquet needed
Southampton defense
The Saints once-solid defense is racked by injuries and has bled 11 goals in the last five matches.