Gameweek 17: Fantasy Preview
There is one game to check announced lineups: Liverpool and Cardiff have the early match.

SATURDAY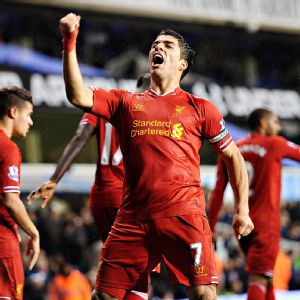 John Powell/Getty ImagesIt seems as if Luis Suarez has done nothing but celebrate goals since returning to action this season for Liverpool.
Liverpool (10-3-3) vs. Cardiff (4-5-7)
The Reds are on fire. Luis Suarez has eight of his 17 goals in the last three matches and his defenders have only given up five goals at Anfield where the Reds have scored 22. Steven Gerrard and Daniel Sturridge are out, but seemingly not missed. . . . Cardiff, with manager Malky Mackay being squeezed out by owner Vincent Tan, have only scored four goals on the road, none in their last four games.

Crystal Palace (4-1-11) vs. Newcastle (8-3-5)
The Eagles have only scored 11 goals, but Marouane Chimakh has three of them in as many matches. . . .Loic Remy has not found the net in the last four matches. Interesting statistic is the Magpies have given up one more goal (22) than they have scored (21) and are still in 6th place.

Fulham (4-1-11) vs. Manchester City (10-2-4)
Fulham have conceded 30 goals and scored only 11. Enough said.
City has racked up an astounding 48 goals in 16 games, but only 12 away from the Etihad. However, they are without Sergio Aguero. Alvaro Negredo and David Silva are in top form. City easily advanced in the League Cup. Edin Dzeko had a brace but Pablo Zabaleta left with a hamstring injury.

Manchester United (7-4-5) vs. West Ham (3-5-8)
The Red Devils get another softie and look to build on their result at Aston Villa. Playing for injured Robin van Persie, Danny Welbeck got a brace. Struggling Tom Cleverley had a goal while Antonio Valencia and Adnan Januzaj look comfortable on the wings. Wayne Rooney is doing everything but scoring goals as the field general. He was held out of Wednesday's Capital One Cup victory over Stoke and faces a late fitness test Saturday. .. . .West Ham seem more like Worst Sham. Big Sam's team is on relegation watch and have no clue about scoring, even though they managed to oust Tottenham in Wednesday's Capital One Cup tie. Kevin Nolan is suspended and a bunch of players are injured.

Stoke (4-6-6) vs. Aston Villa (5-4-7)
Stoke was blanked at home by Manchester United in a Capital One Cup game that left key defender Ryan Shawcross injured. . . .Christian Benteke has gone from a goal-scoring wonder to wondering why his last score was Sept 14. Gabriel Agbonlahor is suspended with five yellow cards.

Sunderland (2-3-11) vs. Norwich (5-3-8)
The last-place Black Cats knocked a watered-down Chelsea out of the Capital One Cup. Struggling Norwich help make this the crummy game of the week.

WBA (3-6-7) vs. Hull (5-4-7)
This will be the Baggies' first game minus sacked manager Steve Clarke.
Hull's highest fantasy defender, midfielder, or forward is 19th-ranked defender Curtis Davies.

SUNDAY

Southampton (6-6-4) vs. Tottenham (8-3-5)
Jay Rodriguez has three goals in four matches. Rickey Lambert has not scored in five games. . . ..Spurs have a better road record than at home. With Tim Sherwood temporarily in charge, Spurs blew a late lead and crashed out of the Capital One Cup. Emmanuel Adebayor started and scored. Paulinho has two more matches on suspension while Michael Dawson is suspended with five yellow cards and Sandro is out injured.

Swansea (5-5-6) vs. Everton (8-7-1)
Michu, the season's biggest fantasy disappointment, faces a late fitness test. After bagging 18 goals last season, he has only two so far and has gone 11 games without a score. Nathan Dyer is out with a broken ankle.
Everton have a league-high seven draws, four on the road. Romelu Lukaku has not scored in three games, but has had an assist in each of those matches.

MONDAY

Arsenal (11-2-3) vs. Chelsea 10-3-3)
The marquee game of the week has the Gunners at home, having conceded only six goals at the Emirates. Jack Wilshere and his finger are suspended for two matches. The atmosphere for Arsene Wenger's first-place lads is fragile after a home draw with Everton and the 6-3 demolition at Manchester City. . . . Lukas Podolski may feature for the first time since August. Chelsea blew a late lead and were ousted at Sunderland in the Capital One Cup. Eden Hazard has two goals and two assists in his last three PL games. The Blues have gone 11 games without a clean sheet.