Gameweek 13: Fantasy Review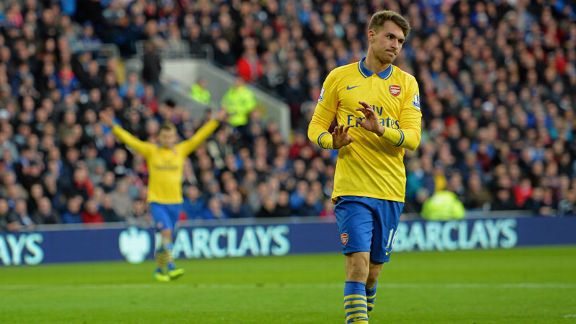 GettyImagesAaron Ramsey was ESPN FC's Fantasy big performer of the round.
It was a dramatic return to his home country and former team for Arsenal midfielder Aaron Ramsey. He tops the list of big performing players in Gameweek 13.

Aaron Ramsey, Arsenal

Ramsey's brace against Cardiff gives the Welshman eight goals and he is now the top fantasy point-producer with 98 points. His fantasy salary of 8.4 is an incredible bargain.

Wayne Rooney, Manchester United

The forward's brace against Spurs gives him eight goals (five in the last five games). His value is up to 10.1.

Samir Nasri, Manchester City

Nasri's brace gives the midfielder three goals in his last three games and makes him the fifth highest fantasy point-producer in his position.

Alvaro Negredo, Manchester City

Another goal for the forward who has three goals in his last four games.

Romelu Lukaku, Everton

The on-loan striker continues his prolific scoring, nailing his eighth goal in nine games for Everton. He has three in the past two matches. His 7.6 salary is a joke.

Loic Remy, Newcastle

Remy's string of three goals in three games was stopped, but he added an assist for the resurgent Magpies. He is the fourth-highest fantasy forward and has a best buy salary of 8.0.

Seamus Coleman, Everton

Now seven goals for the Blues' defender and four in his last five games, Coleman is the top point-producer among defenders with 80 and a budget-pleasing salary of 6.6. His value actually went down 0.1.

Yoan Gouffran, Newcastle

The French forward has quietly scored three goals and registered an assist in his last four games and has a rock bottom value of 6.2.

Steven Gerrard, Liverpool

The only bright spot in a wretched loss at Hull, the captain has three goals and five assists in his last eight games.

John Terry, Chelsea

The defender's goal, his second of the season, and clean sheet makes him the number two fantasy point producer in his position.

IT'S ABOUT TIME!

Moussa Sissoko, Newcastle

Sissoko's goal was his first in 20 games.

GETTING THE HANG OF IT

Gary Hooper, Norwich

After a disappointing start, the Celtic transfer has two goals in his last three matches.

A HELPING FOOT OR HEAD

Mesut Ozil, Arsenal

Known for his assists, Ozil had two against Cardiff giving him six in 10 games but he is still over-priced at 9.9.

FIRST GOALS

Carlton Cole, West Ham

Signed off the scrap heap in late October, the forward scored his first of the season against pathetic Fulham.

Joe Cole, West Ham

The occasional sub with only a smattering of minutes played in seven games scored his first goal of the season.

Bryan Oviedo, Everton

What a game for the Blues' defender, subbing for injured captain Leighton Baines. Oviedo scored his first goal of the season and added an assist for good measure.

Gerard Deulofeu, Everton

The Everton striker made the most of his first start and opened his book against Stoke.

Mohamed Diame, West Ham

A fantasy fizzle until Saturday, the Hammer's midfielder scored against woeful Fulham.

Chris Brunt, WBA

Ditto for the Baggie's midfielder who found the net against Newcastle.

Mathieu Flamini, Arsenal

In and out of the line-up since early October, the Frenchman found the net for the first time against Cardiff.

Demba Ba, Chelsea

After limited minutes in five games, the forward nailed his first goal of the season.

Gary Cahill, Chelsea

The defender's first goal was part of the Chelsea comeback.

NOT IN MY NET

Tim Howard, Everton

Registered his fourth clean sheet in the last five games and is now the top fantasy GK with 76 points.

Wojciech Szczesny, Arsenal

Close behind Howard is the Pole who also has four clean sheets in five games.

Brad Guzan, Aston Villa

Three clean sheets in four games is quite a feat for the Villa GK.

COMIC MOMENTS OF THE WEEK

Michael Essien, Chelsea

The veteran's first start saw him give away the ball and allow a goal after just 14 seconds against Southampton.

Manchester United's "wall"

Everyone jumped and Tottenham's Kyle Walker's free kick skipped under the boots for his first goal of the season.

Special Note: Gameweek 14 is just two days after the final four matches in Week 13. So be alert to injury updates and get your team ready.