Gameweek 12: Fantasy Review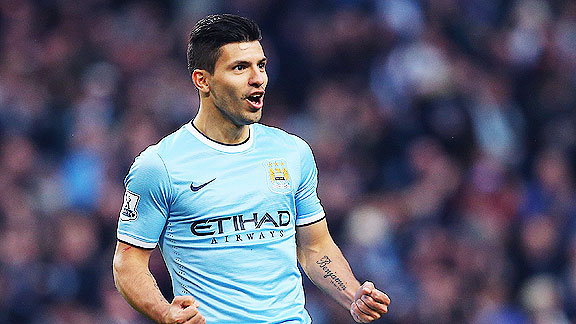 Alex Livesey/Getty ImagesManchester City forward Sergio Aguero now has a league-leading ten goals.
Hot players:

Sergio Aguero, Manchester City
The forward's brace gives him a league-leading ten goals for the season and nine in his last seven games. He leads fantasy forwards with 80 points and is priced attractively at 9.3.

Luis Suarez, Liverpool
The forward's goal on Saturday gives him nine in seven games since returning from suspension.

Daniel Sturridge, Liverpool
He headed in his ninth goal of the season and has 75 fantasy points. His salary is a bargain 9.3.

Oliver Giroud, Arsenal
A Saturday brace gives him seven goals and second for fantasy points with 76. He has a best buy bargain salary of 8.9.

Loic Remy, Newcastle
The French forward's eighth goal gives him three in three games. His salary is a miniscule 7.8.

Romelu Lukaku, Everton
The Chelsea loanee scored a brace and has seven goals.

Wayne Rooney, Manchester United
A goal and an assist against Cardiff, now three goals and three assists in his last four matches.

Charlie Adam, Stoke
Another goal, the second in as many games.

Jonjo Shelvey, Swansea
Two straight appearances as a substitute have produced a goal and an assist.

Alvaro Negredo, Manchester City
His fifth goal of the season was part of the Tottenham destruction on Sunday.

Welcome back:

Frank Lampard, Chelsea
The midfielder's brace against West Ham was the first time he had scored since opening day.

Shane Long, WBA
A brace against Aston Villa gives the forward three goals in his last two games. He showed incredible skill on his first touch and finish for the initial goal.

First time in the net:

Jesus Navas, Manchester City
The winger scored twice against Spurs, the first coming only 13 seconds into the game and also registered his first assist of the season.

Kim Bo-Kyung, Cardiff
The substitute scored his first goal in stoppage time to level with Manchester United.

Ashley Westwood, Aston Villa
The late, dramatic strike against WBA was his first Aston Villa goal.

Philippe Coutinho, Liverpool
The midfielder got his first goal.

Scott Parker, Fulham
The midfielder scored his first Premier League goal in three years in a losing effort.

Barry Bannan, Crystal Palace
An impressive first goal as new manager Tony Pulis watched from the stands.

Comedic moment of the season:

Artur Boruc, Southampton
Saints' goalkeeper's lame impersonation of a Cristiano Ronaldo step-over was low comedy and allowed Arsenal's Olivier Giroud to steal the ball and deposit it in Boruc's net to complete a classic howler.

He did what?

Dean Moxey, Crystal Palace
After Sir John named the defender worst fantasy player in the league, the Eagle's defender notched his second straight clean sheet.

Ready to assist you:

Steven Gerrard, Liverpool
The Reds' captain had two assists giving him four in as many games.

The rot continues:

Dimitar Berbatov, Fulham
The former fantasy favorite has one goal in 11 games and 35 fantasy points.

Christian Benteke, Aston Villa
No goals since September 14.

Clean linen:

Per Mertesacker, Arsenal
The German defender has three clean sheets in his last three games played.

Wojeiech Szczesny, Arsenal
The Gunners' goalkeeper has three clean sheets in his last four games.

Petr Cech, Chelsea
Cech and his defenders got their first clean sheet in six games.

Saved-the-day:

Simon Mignolet, Liverpool
Although he conceded three goals against Everton, the Belgian made nine saves. He is tied for second among fantasy goalkeepers with 65 points. Everton keeper Tim Howard is first with 68.

Did-anyone-get-the-license-plate-of-that-lorry?

Hugo Lloris, Tottenham
The Spurs goalkeeper was flattened by six conceded goals at Manchester City.

Bad calls of the week:

Phil Dowd, referee
Normally an excellent referee, Dowd should have given a straight red card to Kevin Mirallas for the Everton midfielder's studs first, thigh-high, blood-producing butcher tackle on Luis Suarez. The yellow card was a slap on the wrist.

Neil Swarbrick, referee
Swarbrick should have shown a straight red card to Wayne Rooney who kicked Cardiff midfielder Jordon Mutch and then lashed out with his left hand.

Disappointing no-show of the week:

Robin van Persie, Manchester United
After four goals and two assists in four games, the Dutchman was held out against Cardiff because of an injured toe.

Most surprising:

Leighton Baines, Everton
The top scoring fantasy defender who had not been substituted for in five years, left in the 50th minute and is now out four weeks with a broken toe.