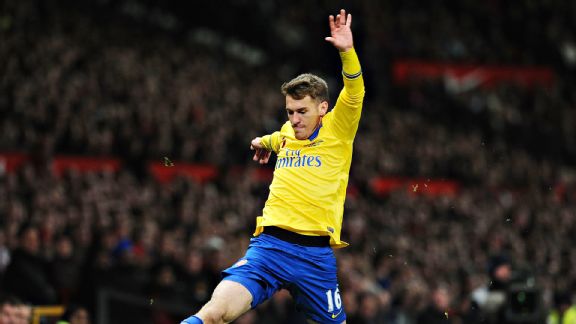 Stuart MacFarlane/Getty ImagesArsenal's move to the top coincides with Aaron Ramsey's fabulous fantasy season.
With the Premier League season now nearly one-third complete, let's look at fantasy players who have had the greatest improvement from last season and those players whose performances have regressed the most. Except where noted, all players have been in eleven matches.

Goalkeepers
Up the most:
Artur Boruc, Southampton, 6.1 salary
The surprising Saints have six clean sheets and Boruc is the second best fantasy GK with 61 points. Last season he was 20th.
Tim Howard, Everton, 6.5 salary
The Toffees' GK also has six clean sheets and his 66 fantasy points are tops at his position. Last season he finished eighth.

Down the most:
Joe Hart, Manchester City, 6.6 salary, nine games
Last season's top fantasy GK, Hart is now benched, ranked 17th, and has just 39 points.
Petr Cech, Chelsea, 7.3 salary
The fourth-best fantasy GK last season is tenth with 50 points.

Defenders
Up the most:
Dejan Lovren, Southampton, 6.4 salary
The Croatian transfer from Lyon has 66 points and ranks number two.
Jose Fonte, Southampton, 6.4 salary
Last season, Fonte was the 57th highest fantasy defender. He is now tied for third with 63 points.
Seamus Coleman, Everton, 6.5 salary
Last season, Coleman was listed as a fantasy midfielder and was ranked 72nd. He is now tied for third among defenders with 63 points.
Steven Caulker, Cardiff, 6.0 salary
With 55 fantasy points, Caulker is ranked 11th among fantasy defenders after finishing 70th last season.

Down the most:
David Luiz, Chelsea, 6.6 salary, five games
Last season's 11th best fantasy defender has only 11 points and is ranked 102nd.
Sebastien Bassong, Norwich, 4.8 salary, seven games
A popular pick last season and the ninth highest fantasy defender, Bassong is currently 85th.
Ashley Cole, Chelsea, 7.3 salary, nine games
Last year's 12th-best fantasy defender is 37th with 38 points

Midfielders
Up the most:
Aaron Ramsey, Arsenal, 8.4 salary
The fantasy player of the year so far with six goals, four assists and 79 points, Ramsey was the 74th highest player last season. Now he is first.
Adam Lallana, Southampton, 7.1 salary
Ranked 47th last season, Lallana currently is third with 63 points.
Ravel Morrison, West Ham, 5.6 salary
Big Sam's reclamation project was on loan to Birmingham last season and now is tenth with 48 points.
Robbie Brady, Hull, 5.3 salary, nine games
Brady's first Premier League season has him ranked 17th with 45 points.
Gylfi Sigurdsson, Tottenham, 7.0, nine games
Ranked 80th last season, Sigurdsson has three of Spurs' nine goals and is tied for 17th with 45 points.

Down the most:
Juan Mata, Chelsea, 7.6 salary, seven games
Last season's fifth highest fantasy midfielder is 111th with only 16 points.
Santi Cazorla, Arsenal, 9.0 salary, seven games
Ranked second last season, the Spaniard is 69th with 28 points and one goal.
Marouane Fellaini, Manchester United, 6.7 salary, nine games
The Everton transfer was ninth highest last season and is mired in 91st place with just 21 points and has not had a goal or an assist.
Philippe Coutinho, Liverpool, 7.0 salary, six games
The predicted big season for Coutinho remains just hype. He is rated 101st with no goals or assists.
Michu, Swansea, 8.2 salary, ten games
Last season he was the fourth highest fantasy midfielder. Now he is 13th with 47 points.
Jack Wilshere, Arsenal, 6.8 salalry, ten games
The perpetual media darling showed a pulse with two goals and an assist in two games, but is now ranked 51st with only 33 points.

Forwards
Up the most:
Daniel Sturridge, Liverpool, 9.3 salary
Sturridge was the 32nd highest fantasy forward last year. With eight goals and two assists, his 70 points now rank him first.
Olivier Giroud, Arsenal, 9.0 salary
The 17th highest fantasy forward last season is now fourth with 65 points.
Loic Remy, Newcastle, 7.6 salary, nine games
With 55 points, Remy is the seventh highest forward after finishing 55th last year.

Down the most:
Dimitar Berbatov, Fulham, 7.0 salary, ten games
The sixth best fantasy forward iast year is ranked 18th with 32 points.
Fernando Torres, Chelsea, 6.4 salary, eight games
Number 13 last season, number 38 now.
Christian Benteke, Aston Villa, 7.8 salary, nine games
Number five last season, now 19th.
Jermain Defoe, Tottenham, 5.6 salary, eight games
Last season's number 16 is now 57th.