Gameweek 9: Fantasy Review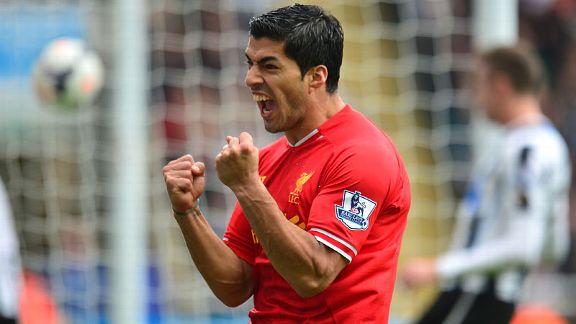 GettyImagesS.A.S. is proving a lethal partnership and fantasy managers are benefitting greatly.
Liverpool forward Luis Suarez is the hottest fantasy player in the Premier League after his hat-trick against West Bromwich Albion. Since returning from suspension he has six goals and one assist in four matches. As expected, his value has increased 0.2 to 10.0. Close behind in productivity is team-mate Daniel Sturridge. In nine games, the former Chelsea man has eight goals and his 64 fantasy points have him top among forwards. His value is up 0.2 to 9.1.

Other weekend stars

Sergio Aguero, Manchester City forward
Now seven goals and one assist in his last four games played. He is the third best fantasy forward and his value is up 0.3 to 8.8.

Romelu Lukaku, Everton forward
Another goal gives the Belgian five goals and one assist in five matches.

Olivier Giroud, Arsenal forward
Giroud scored his fifth goal to go along with four assists and has increased in value 0.3 to 8.8.

Robin van Persie, Manchester United forward
Two goals and one assist in the past two games have upped his value 0.2 to 10.0.

Wayne Rooney, Manchester United forward
A goal against Stoke now has Rooney with four goals and four assists.

Roberto Soldado, Tottenham forward
His penalty goal gives him two goals and as assist in the last two games and fourth place among forwards.

Doing well

Aaron Ramsey, Arsenal midfielder
Ramsey's assist moved him to 66 fantasy points, top in the Premier League. He has five goals and three assists in his last six matches. His value is up 0.3, but still a bargain at 7.8.

Steven Gerrard, Liverpool midfielder
The Reds' captain has two penalty goals and most recently an assist in the past four games.

Defensive titans

Dejan Lovren and Jose Fonte, Southampton defenders
Lovren has 61 fantasy points, making him the top defender in the Premier League and Fonte has 59.

Artur Boruc, Southampton goalkeeper
The Saints' goalkeeper has six clean sheets and has only conceded three goals in nine matches. The Pole's 56 fantasy points leads all goalkeepers.

Tim Howard, Everton goalkeeper
Howard had 12 points and a clean sheet on Saturday, including a spectacular penalty save.

David Marshall, Cardiff goalkeeper
Norwich unloaded 31 shots against Cardiff, including ten that were on target and saved by the Scottish keeper who had ten fantasy points.

Hugo Lloris, Tottenham goalkeeper
Two straight clean sheets and six for the season, Lloris at 54 fantasy points is ranked number two.

Michel Vorm, Swansea goalkeeper
Two clean sheets in a row.

Back again

Fernando Torres, Chelsea forward
He scored his first Premier League goal of the season and with an assist had 10 fantasy points.

Leighton Baines, Everton defender
Baines had his first clean sheet in six games.

Wojciech Szczesny, Arsenal goalkeeper
Szczesny garnered his first clean sheet in six matches.

Managerial wake-up calls

Adnan Januzaj, Manchester United midfielder
While only playing 33 minutes, the 18-year-old sparked Manchester United's late rally to beat Stoke. Flash to David Moyes: The kid should start.

Javier Hernandez, Manchester United forward
Chicharito's "Don't-forget-about-me" goal was his first of the season and the game winner.

Mixed review

Mikel Arteta, Arsenal midfielder
The Spaniard scored a penalty goal and then got a red card.

Bad streaks

Simon Mignolet, Liverpool goalkeeper
Six straight games without a clean sheet.

David De Gea, Manchester United goalkeeper
Five straight games with dirty sheets.

Christian Benteke, Aston Villa forward
One fantasy point in two games and a missed penalty kick.

Victor Moses, Liverpool midfielder
The Chelsea loanee has no goals or assists in six straight games.

Nani, Manchester United midfielder
Step Over Jr. has 13 fantasy points in four games and left in the 58th minute to a chorus of Old Trafford boos against Stoke.

Joe Hart, Manchester City goalkeeper
Five games without a clean sheet and his worst howler of the season in the Chelsea loss.

Michu, Swansea midfielder
The leading fantasy player last season has gone four games without a goal.

Bad fantasy seasons

All Manchester United defenders
Thirty-one defenders rank above Patrice Evra who is the highest Red Devil fantasy point producer.

Dean Moxey, Crystal Palace defender
Seventeen points in nine games for the woeful Eagles.

Juan Mata, Chelsea midfielder
On the bench Sunday, but did not play. Once a huge favorite, the Spaniard only has 12 fantasy points and is all but forgotten.