Gameweek 8: Fantasy Review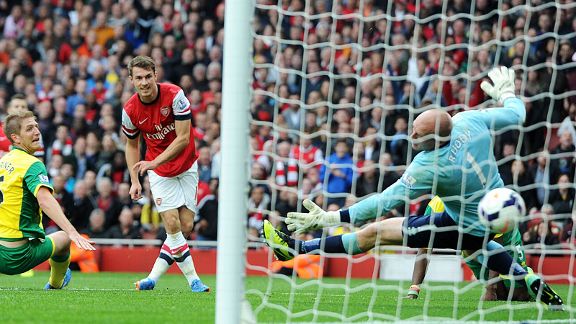 GettyImagesAaron Ramsey leads all fantasy players with 59 points.
Three braces highlighted the ten games of Week 8 along with the goal of the week from Ricardo Vaz Te. The West Ham striker's overhead beauty in a congested box came in a losing effort against Manchester City. He has two goals in his last two games.

The braces

Sergio Aguero, Manchester City forward

Three goals and an assist in his last two games gives Kun six goals this season and a third place fantasy standing among forwards with 46 points. His 8.5 fantasy salary is still a bargain.

Mesut Ozil, Arsenal midfielder

Ozil has 36 points in just five games, yet his fantasy salary dropped 0.2 to 9.6.

Eden Hazard, Chelsea midfielder

After no goals or assists in his first six matches, the Belgian now has three goals and an assist in his last two outings. He ranks 4th amongst midfielders with 45 points. His fantasy salary is up to 8.5.

Hot streaks

Daniel Sturridge, Liverpool forward

Another goal gives him seven strikes out of eight games, plus two assists and the highest fantasy points amongst forwards at 57. His value is up to 8.9.

Oscar, Chelsea midfielder

Three goals in four matches and a fantasy salary up to 8.2.

Aaron Ramsey, Arsenal midfielder

A goal and an assist on Saturday gives him five goals and two assists in his last five matches along with the highest fantasy point total of any player with 59.

Kevin Mirallas, Everton midfielder

One goal and three assists in his last four matches.

David Silva, Manchester City midfielder

After missing three games, the Spaniard has a goal and two assists in his last two matches.

Jack Wilshere, Arsenal midfielder

The English media's great midfield hope/hype, after a lousy fantasy string of six games, now has 20 points in his last two games with two goals and an assist. His value is up 0.3 to 6.8.

Jordan Mutch, Cardiff midfielder

The bargain basement [4.5 value up 0.2] 21-year-old has two goals and an assist in three games.

Jonathan Howson, Norwich midfielder

Two goals in his last three games.

Luis Suarez, Liverpool forward

An assist on Saturday and three goals in his last three matches, Suarez is now tied with van Persie at 9.8 for the highest fantasy salary.

Artur Boruc, Southampton goalkeeper

Number one in fantasy points in his position with 49 and a value that has increased 0.3 to 6.2. The Saints' GK has only given up three goals in eight games.

Asmir Begovic, Stoke goalkeeper

Eight points on Saturday with five saves and a clean sheet for the stingy Potters.

Dejan Lovren, Southampton defender

The number one fantasy defender with 59 points is still dirt-cheap at 6.3 despite an increase of 0.2.

Welcome back

Dimitar Berbatov, Fulham striker

The Bulgarian broke a season-long game-scoring drought with a goal against punching bag Crystal Palace.

Robin van Persie, Manchester United forward

The Dutchman, who broke a three game scoreless streak, has four goals this season and has had his value drop 0.2 to 9.8.

Roberto Soldado, Tottenham forward

Broke a five-game drought with a goal but his fantasy value has dropped 0.3 to 7.8.

A hint of things to come

Andros Townsend, Tottenham midfielder

A goal on Sunday and a salary up 0.1 to 6.0 followed a week of glory for the England international.

Adnan Januzaj, Manchester United midfielder

A new contract, another quality start, a harsh yellow card and the kind of life on the wing that United need.

Uh-oh's

Victor Moses, Liverpool midfielder

Four games, no goals, no assists.

Juan Mata, Chelsea midfielder

One assist in five games played.

Leighton Baines, Everton defender

No clean sheets in his last four games and only five points in his last three matches. His value is down 0.2 to 7.7.

Santi Cazorla, Arsenal midfielder

Finally got back in the lineup, but Arsene Wenger pulled him after 59 minutes.

David Luiz, Chelsea defender

Too casual and zero clean sheets in his four matches.

Utterly useless

Marouane Fellaini, Manchester United midfielder

In eight matches has no goals or assists and looks hopelessly out of place. He has 19 fantasy points and a bloated 7.1 salary.

Jozy Altidore, Sunderland forward

The American came with big hopes and has done nothing with no goals or assists and 17 points.