Fantasy international break form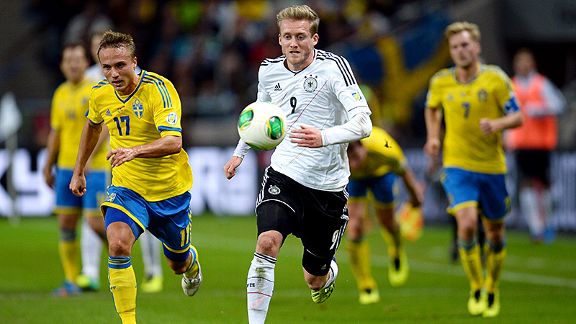 Lars Baron/Getty ImagesAndre Schurrle was productive for Germany, but will that form carry over to Chelsea when Premier League play resumes?
Premier League fantasy managers watched with trepidation and anticipation as many of the big-name players competed for their country. Collective breaths were held in hopes players would not be injured or come down with an illness away from their domestic teams. It would seem the only significant casualty is Arsenal's Mesut Ozil, who picked up a knee injury late in Germany's match with Sweden Tuesday.

Fantasy managers rolled their eyes when players filled the nets for their national teams, pleased that players were in good scoring form, but wishing the goals could be saved for domestic play and fantasy points.

Several players had excellent times away from the Premier League and their form could portend a big weekend of points when Gameweek 8 kicks off Saturday.

Andre Schurrle, Chelsea midfielder
Schurrle had the biggest production over the international break, but remains a sketchy fantasy choice. Not only has he been a spotty choice for Jose Mourinho, but he is an unmitigated fantasy bust through seven matches with only 15 points. Mourinho certainly took notice of the two games Schurrle had for Germany when he scored four goals, but it remains to be seen if the German will be in the first XI when the Blues play Cardiff at Stamford Bridge on Saturday.

Robin van Persie, Manchester United forward
Van Persie scored a hat trick against Hungary, apparently showing no negative effects from an injured toe that he thought was broken. The Dutchman will try to fill the nets at Old Trafford against Southampton.

Romelu Lukaku, Everton forward
Four goals in three PL games for the torrid on-loan Everton forward was followed with a brace for Belgium in their 2-1 victory over Croatia. He faces Hull at home Saturday.

Wayne Rooney, Manchester United forward
A goal for the happy forward against Montenegro and another against Poland keep him looking strong to help push United back up the table in their game against Southampton.

Daniel Agger, Liverpool defender
Scored two penalty goals against Malta, but Steven Gerrard takes PGs for the Reds.

Luis Suarez, Liverpool forward
He also scored a PG for Uruguay, but is in the same situation with the Reds with regard to Gerrard as Agger.

Nicklas Bendtner, Arsenal forward
The president of the Nicklas Bendtner fan club scored a brace in Denmark's 2-2 draw against Italy. Even so, he may not make the Gunners' team sheet against Norwich.

Pablo Osvaldo, Southampton forward
He scored against Denmark but has only one goal in seven PL games.

Oscar, Chelsea midfielder
Mourinho's pet pick scored South Korea and will have a chance to add to his PL tally at home against Cardiff.

Gylfi Sigurdsson, Tottenham midfielder
Sigurdsson seems to be one of the few Spurs who can score. He has three goals -- the team has only six goals in seven games. He scored for Iceland in their victory over Cyprus. Spurs are at Aston Villa Sunday.

Andros Townsend, Tottenam midfielder
Townsend has had zero goals and assists in PL play this season. After his debut goal for England, are their fantasy goals ahead?

Papiss Cisse, Newcastle forward
Cisse has no PL goals. He scored for Ivory Coast against Senagal and must carry the Magpie offense at Liverpool since Loic Remy (five goals scored) is out injured.

Other PL players scoring for their country: Bryan Ruiz, Maynor Figueroa, Mesut Ozil, Aaron Ramsey, Nani, John O'Shea, Juan Mata, Alvaro Negredo, Kevin De Bruyne, Robert Snodgrass, Steven Naismith, Gerrard.

The international break is a time for players to recover from injuries or illness and with their return come questions of game fitness and how they will fit in the team's plans. That is the story for Arsenal midfielder Santi Cazorla. While he was out, the team picked up Mesut Ozil, Aaron Ramsey has been on a goal-scoring run, and Mikel Arteta returned from injury.