A real fantasy day at Anfield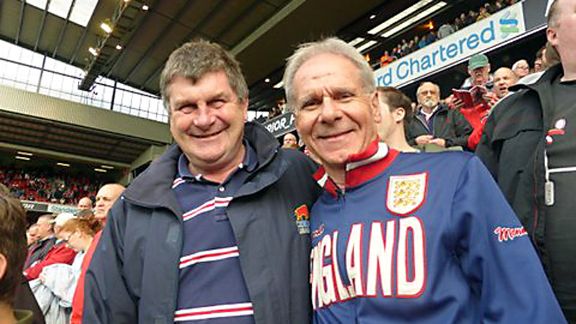 Courtesy of John Culea Sir John, right, with friend Andy Thompson enjoying the Premier League firsthand.
October 5, 2013. Anfield. Liverpool-Crystal Palace. It was an afternoon with memories to last the rest of my life after watching my first top division football match in person in 44 years. The last was 1969 at Stamford Bridge when Chelsea was in the old first division.

The experience came courtesy of friends Andy Thompson and Adrian Fenton of Poulton, England and our seats could not have been better; 11 rows from the pitch and the center of the field. Liverpool's 3-0 halftime lead on goals from Luis Suarez, Daniel Sturridge, and a PG from Steven Gerrard made the outcome seem inevitable, although fantasy disappointment for me came in the 76th minute when Simon Mignolet lost his clean sheet on a shocking headed flick off a free kick by Dwight Gayle.

I had three fantasy players to watch: Gerrard, Mignolet, and Victor Moses. After Gerrard's PG gave me six points, I thought I had another six, but Moses somehow could not score from point blank range.

In person observations compared with watching on television:
The play on the pitch seems faster.
The corners look longer.
The singing of "You'll Never Walk Alone" is more dramatic.

Surprising observations:
The neighborhoods outside Anfield, with narrow streets, have many row homes empty, boarded up, and overgrown with weeds.

Anfield seats 45,000 only because there is zero legroom in all seats. Your knees straddle the seat in front of you.

Disappointing observations:
I missed instant replays on television. There is no big screen at Anfield for replays of goals and fouls. No Premier League venues have this feature. Ironically, all stadiums where the top rugby teams in England play have large video screens for fans.

It is impossible to understand most of what the public address announcer at Anfield says.

Crystal Palace supporters were more noisy and enthusiastic than the hometown fans; however, they had several knuckleheads who set off three flares that sent blue and red smoke billowing into the stands. What idiot brings flares to a football match?

Player observations:
Gerrard: It was thrilling to see the legendary midfielder in person and watching him on and off the ball. With television concentrating on the ball, you don't get to see Gerrard's genius all over the field. His penalty goal was scripted.

Luis Suarez: A moment of fun was a corner taken by Suarez that was near the Crystal Palace supporters. Cascades of boos rained down on the controversial striker from the Palace section. This was Suarez's home debut after his lengthy suspension. Responding to the verbal abuse, Liverpool supporters quickly drowned out the visiting boo-birds.
In person, watching Suarez's inventiveness and speed is astounding.

Daniel Sturridge: There are few more opportunistic forwards in the game than Sturridge. He has a nose for the ball in front of the net and a powerful shot.

Moses: Strong, creative and in my opinion Liverpool is a better team with Moses than Philippe Coutinho.

Mamadou Sakho: A rock on defense and a player whose physical presence is immense.

Raheem Sterling: Unimpressive, frustrating and bullied much of the match.

Jose Enrique: Looked ragged and was gassed at the final whistle.

Jordan Henderson: Excellent with determination and emotion while anchoring the team in midfield.

While the Crystal Palace supporters had bozos who set off flares, there were others who showed great loyalty and humor at the end by chanting, "We won the second half!"

When 90 minutes were over, sadly it was time to go home. In the middle of the crush of people leaving Anfield, I think those around me were speaking English; however, with regional accents, I had no clue what some of them were saying. I didn't need to talk with anyone. My day was one to be relived in heart and mind. I may walk alone, but the day's memories will always be with me.