Gameweek 7: Fantasy Preview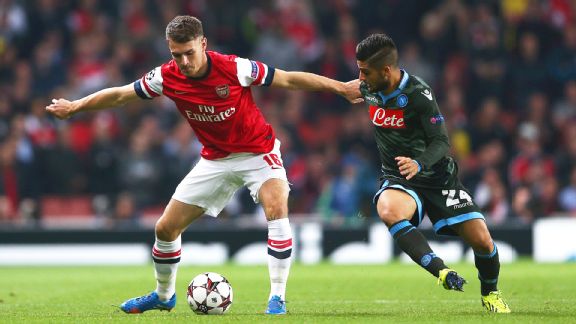 Paul Gilham/Getty ImagesArsenal's midfield, including top Premier League fantasy performer Aaron Ramsey, played a huge role in the club's win over Napoli.
Sir John's England adventure continues with a Saturday visit to Anfield for the Liverpool-Crystal Palace game. I'll have a report on the visit Sunday.

Gameweek 7 covers Saturday and Sunday, with one match to check announced lineups for last-minute fantasy changes.

SATURDAY

Manchester City (3-1-2) vs. Everton (3-3-0): The early game is the week's marquee match with Roberto Martinez taking his in-form and undefeated Toffees to the Etihad. City should have Sergio Aguero and David Silva back and has fantasy gold Yaya Toure looking great. City leads the PL in goals (14) but surrendered three against Villa. In midweek, City was dominated at home by Bayern Munich. Everton's giant, Romelu Lukaku, comes off a brace and an assist and three goals in the two games he has played since coming on loan from Chelsea. Kevin Mirallas has a late fitness test.

Cardiff (2-2-2) vs. Newcastle (2-1-3): Surprising 11th place Cardiff hosts 16th Newcastle. Loic Remy is on a goal-scoring run and Yohan Cabaye is deadly on free kicks.

Fulham (1-1-4) vs. Stoke (2-1-3): Sir John met Stoke midfielder Charlie Adam at Pulci Pizza in Poulton-le-Fylde on Wednesday. Adam was gracious and said the team needed to show more than they did in losing last week to Norwich. As for Fulham, the Potters need inspiration in a match devoid of much offensive potential for either team.

Hull (3-1-2) vs. Aston Villa (3-0-3): The eighth-place Tigers are the surprise team through six weeks. Robbie Brady, high on the fantasy point chart, is out four weeks with a hernia injury.

Liverpool (4-1-1) vs. Crystal Palace (1-0-5): Sir John is the guest of friend Andy Thompson for the match at Anfield. Luis Suarez, after a five-month PL absence, opened his account with a brace and Daniel Sturridge leads the PL in goals with five. Sad-sack Palace has scored only four goals and allowed 10.

Sunderland (0-1-5) vs. Manchester United (2-1-3): It doesn't get much worse for the Black Cats: winless, dead last, only four goals scored, and 14 conceded. Then again, things have not been this bad at United since the last century. David Moyes' team is 12th and wondering if Robin van Persie will return to form. Wayne Rooney, having an excellent fantasy season, is dealing with a shin injury but should start. Rio Ferdinand is uncertain. United could not hold a UCL lead after Danny Welbeck's goal and drew 1-1 with Shakhtar Donetsk.

SUNDAY

Norwich (2-1-3) vs. Chelsea (3-2-1): The Canaries are struggling to stay out of trouble while Chelsea tries to move into the top four. In midweek, the Blues had an easy UCL road result in Romania. Ramires had a brace and Frank Lampard a goal in the clean sheet. Eden Hazard, who has been an awful fantasy player, is hurt. Juan Mata appears to be the choice of manager Jose Mourinho. There still is zero threat at the forward position. Injured Fernando Torres is suspended.

Southampton (3-2-1) vs. Swansea (2-1-3): The sixth-place Saints have only surrendered two goals in six matches and are in heady territory. They have managed just five goals and are undefeated at home.
Swansea looks on the rise and has a better road record than at home. Michu and Wilfried Bony are working well together. The Swans won their Europa League game Thursday.

Tottenham (4-1-1) vs. West Ham (1-2-3): While Spurs are in third and have given up only two goals, AVB's charges have only scored six. Tottenham won their Europa game Thursday. West Ham has been brutal through six games with just four goals scored. Big Sam's defense is the only thing keeping them out of the drop zone.

WBA (2-2-2) vs. Arsenal (5-0-1): Albion remains fantasy starless and meandering in midtable. Arsenal, top of the table, played in midweek and had a convincing UCL result. Mesut Ozil and Olivier Giroud scored and Aaron Ramsey had an assist. The fantasy player of the season so far has been Ramsey, with four PL goals and two assists. Close behind in scoring is Giroud, also with four strikes. Santi Cazorla and Barcary Sanga are listed as out. Mikel Arteta is recovered. Where Serge Gnabry will fit remains to be seen. The 18-year-old scored his first PL goal and looks lively. Ozil has three PL assists.