Gameweek 6: Fantasy Review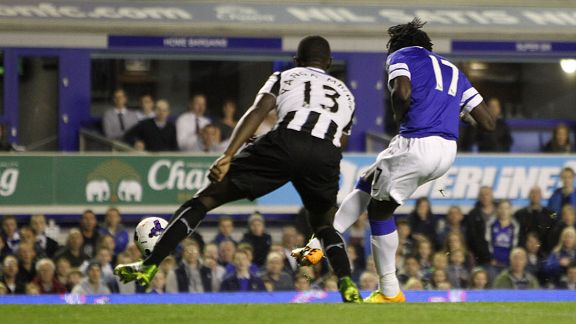 GettyImagesRomelu Lukaku opened the scoring after less than five minutes against Newcastle.
Sir John is in England with Lady Patti and was able to watch the Everton-Newcastle match in a pub on British telly. On Saturday I'll be at Anfield to see Liverpool host Crystal Palace and on Sunday will give you my impressions of the first football match I will have seen in person in England since 1969.

Looking at this past weekend from a fantasy perspective, supporters of Manchester United and Manchester City need a reality check. The only good news for fantasy managers owning their players came from Wayne Rooney, Edin Dzeko, and Yaya Toure.

WINNERS

Jose Fonte, Southampton: The defender got his fourth clean sheet and is tied for first at his position with 42 points.
John Terry, Chelsea: The defender scored a goal and has an assist for the season and 41 points.
Ben Davies, Swansea: A goal on Sunday gives the defender two for the season and 37 points.
Aaron Ramsey, Arsenal: The Welsh midfielder is the hottest fantasy player with four goals in his last four games. He leads all fantasy players in points with 48 and his value has jumped again to 7.5.
Romelu Lukaku, Everton: The on-loan defender from Chelsea had two goals and an assist on Monday and has three goals in his two games played. Nice loan, Mourinho.
Loic Remy, Newcastle: The Frenchman has three goals in his last two matches after scoring on Monday against Everton.
Yaya Toure, Manchester City: Another goal gives the big guy four this season and 45 fantasy points.
Daniel Sturridge, Liverpool: One goal and two assists on Sunday giving him five goals and 44 points.
Luis Suarez, Liverpool: He had a brace in his return to the PL after five months.
Robbie Brady, Hull: Two goals and an assist the last two games for the Irish midfielder.
Gylfi Sigurdsson, Tottenham: Three goals have the midfielder on 34 points, 29 in the last three matches.
Morgan Amalfitano, WBA: Out of nowhere, two goals and one assist in the last two matches and 24 points in three games.
Olivier Giroud, Arsenal: The French forward got another assist and has four goals and two assists for a position-leading 40 fantasy points and his value has increased 0.6 in two weeks to 8.5.
Wayne Rooney, Manchester United: Rooney is carrying his troubled team and has three goals in his last three games.
Emanuele Giaccerini, Sunderland: After doing nothing for three weeks, the midfielder got his second goal of the season on Sunday.

Two goalkeepers came up winners -- Hull's Allan McGregor got his second clean sheet and is the fifth-highest fantasy point guy at his position with 32. Southampton's Artur Boruc is third-best with 36; his clean sheet was in no danger of being soiled, as woeful Crystal Palace had zero shots on goal.

MIDFIELD LOSERS

Jack Wilshere, Arsenal, 12 fantasy points: The media darling is fantasy poison.
Andre Schurrle, Chelsea, 12 points: Big hype and nothing to show for it.
Fernandinho, Manchester City, 15 points: Just another guy on the pitch.
Marouane Fellaini, Manchester United, 16 points: Plays soft, deep, and worth little for fantasy managers.
Eden Hazard, Chelsea, 20 points: Hazard is a major fantasy disappointment so far this season.
Moussa Sissoko, Newcastle: Six games played, 18 points, a member in bad standing of the "Dreaded 3 Points Club."

FORWARD FLOPS
(zero goals, zero assists)

Fernando Torres, Chelsea, 5 points in five games
Danny Graham, Hull, 13 points in six games
Dimitar Berbatov, Fulham, 13 points in five games

INDEFENSIBLE DEFENSIVE LOSER

Dean Moxey, Crystal Palace, 540 minutes (every minute of all six games), 12 fantasy points, ten goals conceded (And Sir John has him on his bench!)

Among the forgotten:

Wilfried Zaha, Manchester United midfielder, zero minutes, 6.0 value
Demba Ba, Chelsea, forward, 65 minutes, three points, 7.5 value
Javier 'Chicharito' Hernandez, Manchester United forward, 88 minutes, three points, 6.2 value
Shinji Kagawa, Manchester United, midfielder, 45 minutes, one point, 7.1 value

First goals of the season in Gameweek 6 and promise of more include Andreas Wiemann, Karim El Ahmadi, Leandro Bacuna, Aston Villa; Bryan Ruiz, Fulham; Serge Gnabry, Arsenal; Jonny Howson, Norwich.