Gameweek 5: Fantasy Review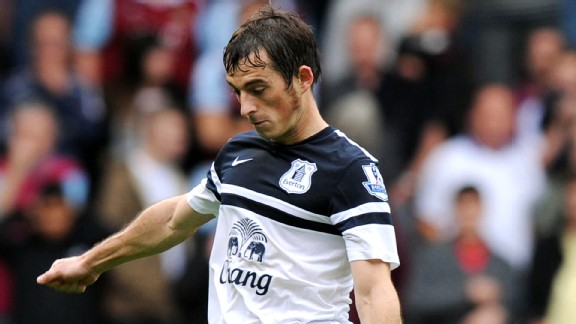 Olly Greenwood/AFP/Getty ImagesEverton defender Leighton Baines leads all fantasy players in points in a season dominated by defenders.
In Week 5, there were clear-cut fantasy winners, losers, surprises, and players who are fantasy flops.

Winners:
Defenders are showing the way.

Leighton Baines, Everton
The defender had two goals and leads all players with 41 fantasy points.

Dejan Lovren, Southampton
The Croatian scored a goal and has three clean sheets for 35 fantasy points.

Other defenders with goals:
Liam Ridgewell, WBA, Per Mertesacker, and Bacary Sagna, Arsenal.

There were players who emerged from the shadows.

Loic Remy, Newcastle
The forward struck for a brace.

Stephane Sessegnon, WBA
Unhappy at Sunderland, the midfielder got a goal against his old club.

Libor Kozak, Aston Villa
Subbing for injured Christian Benteke and only in his second game, the Czech Republic forward scored his team's only (and winning) goal.

Other notable performances:

Brad Guzan, Aston Villa
The American goalkeeper had 12 fantasy points including a penalty save.

Simon Mignolet, Liverpool
The Reds goalkeeper had seven saves to bring his season fantasy total to 38 points, tops for his position.

David Marshall, Cardiff City
The goalkeeper made 11 saves against Spurs.

Sergio Aguero, Manchester City
A brace for the Argentine forward gives him three goals for the season and 28 fantasy points.

Michu, Swansea
Two goals and an assist in three games have pushed his fantasy salary up again to 8.1.

Aaron Ramsey, Arsenal
Three goals in two games has Ramsey tied with Yaya Toure for midfield fantasy points at 36.

Yaya Toure, Manchester City
A goal in the Manchester United bashing.

Sone Aluko, Hull
The forward had a goal and an assist.

Robbie Brady, Hull
A goal and an assist have the 21-year-old high on the midfielder fantasy point table with 31.

Oscar, Chelsea
A goal in his first and fifth game with three tame matches in between; nonetheless, Mourinho's preferred has 28 fantasy points.

Wayne Rooney, Manchester United
Despite Manchester City kicking their collective behinds, a superb free kick goal was Rooney's second in two games.

Mesut Ozil, Arsenal
Three assists in his two games. His value just went up to 9.7.

Losers:

Robert Snodgrass, Norwich
The midfielder had a penalty kick denied by Aston Villa's Brad Guzan and came away with zero fantasy points for 90 minutes.

Samuel Eto'o, Chelsea
The new addition was pulled after 64 minutes and has shown nothing in two PL matches.

Steven N'Zonzi, Stoke
Not only is N'Zonzi a loser for clearly telling the referee to "F--- off" (How can a player do that and not receive a yellow card? So much for the phony "Respect" campaign.), but he is a fantasy flop with 16 points in five games.

Sunderland
The team had zero shots on goal against WBA and fired its manager on Sunday.

Mixed review: Mark Noble, West Ham
The midfielder scored a goal, but two yellow cards always equal a red and a one-game suspension.

Surprises:

Jon Obi Mikel, Chelsea
"Surprise" is an understatement when you score your first goal in seven years, and that is what the midfielder did against Fulham.

John Terry, Chelsea
The defender should get bonus points for his assist that led to Mikel shocking the football world.

Bacary Sagna, Arsenal
The Gunners' defender got his first PL goal in two years.

Flops:

Dean Moxey, Crystal Palace, 10 fantasy points in five games for the defender who has played every minute. That is as bad as it gets, and of course, Sir John has him on his team.

Danny Graham, Hull, zippo and 11 crummy fantasy points.

Andre Schurrle, Chelsea, ditto.

Nikica Jelavic, Everton, one assist and 16 fantasy points.

Marouane Fellaini, Manchester United, no goals, no assists and 15 fantasy points.

Moussa Sissoko, Newcastle, zero goals, zero assists, 15 fantasy points.

Theo Walcott, Arsenal, 16 fantasy points in four games played and now injured.

Eden Hazard, Chelsea, one fewer goal than Mikel, zero assists, 17 fantasy points.

Steven Gerrard, Liverpool, zero goals, zero assists, 18 fantasy points.

Forgotten:

Juan Mata, Chelsea, two games played, four fantasy points and a mailing address c/o Mourinho's doghouse.

To struggling managers, don't feel like the Lone Ranger. I am having my worst fantasy season ever. In Gameweek 5, I had a measly 45 points and through five games have 272 points, which places me in the odorous 75.4 percentile with 20,629 managers above me. Ick!