Gameweek 4: Fantasy Review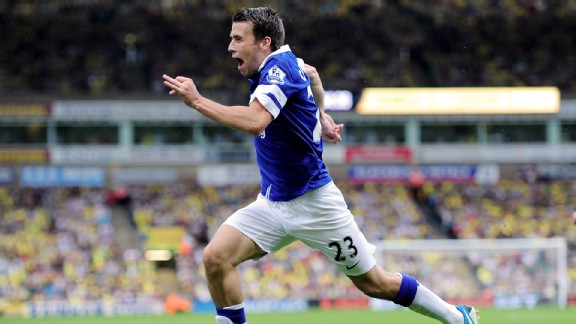 Jamie McDonald/Getty ImagesEverton defender Seamus Coleman is the leading fantasy point-producer through four games.
Each week, Sir John will look back at the best fantasy performances.

In Gameweek 4's ten games, five matches involved a clean sheet, with two being scoreless. In past years, midfielders were the most important fantasy producers. However, a rule change that added an additional point for a clean sheet has brought about an unusual situation. So far, the highest fantasy score for positions through four weeks can be found at goalkeeper and defender.

Everton defender Seamus Coleman is the unlikely leading fantasy point producer for all positions. Through four matches the Irishman has a goal, an assist, and three clean sheets, good for 34 fantasy points.

In past season, goalkeepers have usually been the least important fantasy point guys; however, so far this year, with the added point for a clean sheet, Liverpool GK Simon Mignolet has racked up 33 points for the Reds with three clean sheets and a penalty save. West Ham's Jussi Jaaskelainen continues his great work in the net with three clean sheets and eight points in GW4. Everton's Tim Howard has now had three straight clean sheets and is a bargain at 5.9. Hugo Lloris of Tottenham and Joe Hart of Manchester City also have had three clean sheets.

Arsenal forward Olivier Giroud is the next highest point producer at 31, achieved with four goals and an assist and gave fantasy managers who own him a scare when he went down with a knee issue at the end of Saturday's game, so we will wait on the Frenchman's fitness for Gameweek 5.

Manchester City midfielder Yaya Toure and Arsenal middleman Aaron Ramsey each have 27 points. Toure only had a clean sheet in Week 4 to go with his two goals in previous weeks while Ramsey nailed a brace in GW4 against Sunderland.

The big surprises for the week were midfielders Gylfi Sigurdsson of Spurs who had a brace and Ramsey. Ramsey has a bargain fantasy value of 6.9 with Sigurdsson even cheaper at 6.5. What long-term benefit Sigurdsson is for fantasy managers is questionable since he didn't play in GW3, had only 27 minutes in GW2 and went 90 minutes with only four points in the season opener. He will vie for minutes with Christian Eriksen and Erik Lamela. Ramsey is pretty much penciled in as a 90-minute guy.

Forwards rewarded their fantasy managers in Gameweek 4. Liverpool's Daniel Sturridge got a goal against Swansea, his fourth in four games and Christian Benteke's goal was his fourth of the season. Robin van Persie scored a goal, as did Wayne Rooney on a glorious free kick. Although Newcastle forward Yoan Gouffran scored a goal, three of his four games have been as a sub and the other he was off at the half.

Several fantasy players remain forgotten by their real-life managers. Among them are Manchester United midfielders Shinji Kagawa and Wilfried Zaha. Neither has played a minute in four games. Chelsea's Demba Ba has been left out of three of his team's four games and was subbed out in the other. Sameul Eto'o's start is further bad news for Ba.

A player who shows enormous fantasy potential is 18-year-old Adnan Januzaj. The Manchester United midfielder made his PL debut as a sub in GW4 and absolutely sparkled. Look for him to be added to the ESPNFC fantasy player list and don't be surprised if he is in the starting lineup along with Marouane Fellaini. The two of them should start in place of Ashley Young and Anderson.

Disappointing fantasy players through four weeks include Liverpool's Philippe Countinho, Chelsea's Eden Hazard, Andre Schurrle, and Juan Mata, Arsenal's Jack Wilshere and Santi Cazorla, Manchester United's Ashley Young and Michael Carrick, Sunderland's Jozy Altidore, Fulham's Dimitar Berbatov and Adel Taarabt, Hull's Danny Graham, and Aston Villa's Brad Guzan.

Finally, there is one player who could not be on the pitch last week and should be considered by fantasy managers. Everton forward Romelu Lukaku could not play against Chelsea, the team that owns him, but the loanee will be unleashed at West Ham on Saturday and at a value of 6.1 is waiting to reward.