Gameweek 4: Fantasy Preview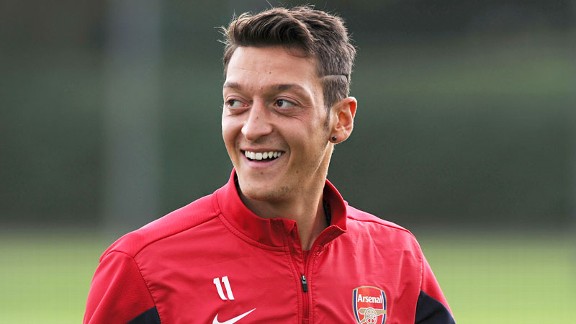 Stuart MacFarlane/Getty ImagesFantasy managers who invested in new Arsenal transfer Mesut Ozil may have to wait another week due to the German's illness.
Premier League action resumes with eight matches on Saturday and single games on Sunday and Monday. Then in midweek, Champions League and Europa League games will involve Chelsea, Arsenal, Manchester United, Manchester City, Swansea, and Tottenham, so player rotation will be a factor in Gameweek 4.

You only have one game to check announced lineups: the early match with Manchester United hosting Crystal Palace.

Saturday, September 14

Manchester United (1-1-1) vs. Crystal Palace (1-0-2)
Manchester United, unaccustomed to mid-table, is seventh and coming off a drab home draw with Chelsea and a loss at Liverpool. Two games in a row without a goal have United supporters grumbling. Now that Marouane Fellaini is on board, we shall see how David Moyes deploys him. If there was ever a game for Robin van Persie to break his goal drought, this is it. Wilfried Zaha and Shinji Kagawa were not on the team sheet at Liverpool. Wayne Rooney remains out with a head cut and Nani has a new five-year-contract.
Ian Holloway still has sweet dreams of the season's first victory over Sunderland. Banned from the sidelines for two games, his visit to Old Trafford will be a nightmare.

Aston Villa (1-0-2) vs. Newcastle (1-1-1)
Christian Benteke's three goals leads his team and prospects are good for more against the Magpies.
Perhaps Papiss Cisse will thrive with Loic Remy as he did with Demba Ba.

Fulham (1-0-2) vs. WBA (0-1-2)
Fulham is waiting for Dimitar Berbatov to emerge from his slumber and loanee Darren Bent is out injured.
New transfer Stephane Sessegnon needs to inject offensive life for the Baggies.

Hull (1-0-2) vs. Cardiff (1-1-1)
This should be a gritty and emotional game for the newly promoted teams.

Stoke (2-0-1) vs. Manchester City (2-0-1)
Mark Hughes' Potters like their start, but now they face quality competition.
After a lackadaisical performance against Hull, Edin Dzeko may find himself on the bench and watching new transfer Alvaro Negredo start. Negredo has two goals in substitute roles. Is he the new "Super Sub" as Dzeko was last year, or the real fantasy deal as a starter? Sergio Aguero is in good form. David Silva is out injured.

Sunderland (0-1-2) vs. Arsenal (2-0-1)
The Black Cats have Jozy Altidore back along with Steven Fletcher and could get more offense from Fabio Borini who was checked out of the Liverpool library.
Arsenal's late transfer catch Mesut Ozil is not likely to start, having come down with an illness. He will travel with the team, but his effectiveness is in doubt. Olivier Giroud, waiting to add to his three goals, may have to wait for assists from Ozil.
The Gunners will also be without defender Per Mertesacker who is also ill and remains behind in London. Theo Walcott is fit to play.

Tottenham (2-0-1) vs. Norwich (1-1-1)
Spurs were underwhelming against Arsenal and look for a rebound. Transfer Christian Eriksen may start along with Erik Lamela, although Lamela only returned Thursday from South America.
Gary Hooper might start for Norwich.

Everton (0-3-0) vs. Chelsea (2-1-0)
Dull, duller, and dullest Everton has three draws. They struck gold in the late transfer window by checking out Romelu Lukaku from the Chelsea library, but he will not be available against the team that owns him. Seamus Coleman has a late fitness test.
Chelsea could debut new toy Willian. Team rotation is the big question for fantasy managers who risk carrying Chelsea players. About the only guaranteed spots belong to Petr Cech, Branislav Ivanovic, and Eden Hazard who seems fit to start. Samuel Eto'o will play but it is unknown if he starts. David Luiz is available.

Sunday, September 15
Southampton (1-1-1) vs. West Ham (1-1-1)
Fantasy managers hope Rickie Lambert will continue where he left of on international duty.
Big Sam's Hammers are more Shammers after having no goal attempts on target in their last game.

Monday, September 16
Swansea (1-0-2) vs. Liverpool (3-0-0)
Swansea's first victory lifted them from bottom of the table. Fantasy favorite Michu finally posted something other than garbage points with an assist.
Daniel Sturridge is on fire with three goals, but is an injury question along with Glen Johnson. Fantasy managers are wondering about Philippe Coutinho's fantasy worth. Kolo Toure is expected to start while Chelsea loanee Victor Moses may also feature.