Mesut Ozil impact: Fantasy winners and losers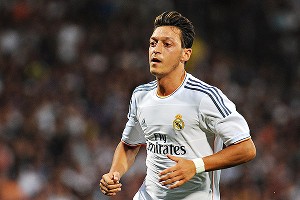 Valerio Pennicino/Getty ImagesMesut Ozil's presence in the Arsenal lineup will force some fantasy managers to adjust their team.
The biggest Premier League fantasy import for the season is new Arsenal midfielder Mesut Ozil who carries a 9.5 value in ESPN FC's Premier League Fantasy Game, highest of any fantasy midfielder.

We will get our first look at the 24-year-old German international in the Premier League when Arsenal visits Sunderland Saturday.

Ozil (5-foot-11) will be paid 140,000 pounds a week, the highest of any Gunner and a paycheck guaranteed for the next five years. Although all Premier League players enjoy comfy salaries and are used to seeing stars make larger sums of cash, especially when they fetch a big transfer fee, you wonder what his teammates think knowing that Ozil is earning up to four times what other Gunners make.

Players who benefit from Ozil:

Olivier Giroud, forward: The Frenchman probably broke out the champagne when he learned Ozil had been signed. Ozil had an astounding 72 league assists in five La Liga seasons; however, it should be noted that one of the recipients of Ozil's passes was Cristiano Ronaldo, who also handled free-kick duties. Giroud has three goals in three games and may have visions of a 30-plus season with Ozil delivering the goods.

Lukas Podolski, forward: Out until December with a hamstring injury, the forward who scored a brace in his second game, will welcome the presence of his German national teammate.

Theo Walcott, midfielder: Walcott's eyes must also have lit up with the news Ozil was a Gunner. Walcott has no goals and one assist for the first three games. That will soon change.

Laurent Koscielny, defender: The Frenchman is always a threat on set pieces and will thrive on Ozil's corners.

Per Mertesacker, defender: The German is also strong on set pieces and knows his fellow countryman can deliver.

Players who may not be as productive:

Santi Cazorla, midfielder: The Spaniard has pretty much run the Arsenal show himself. Now, Ozil will have a big hand (and foot) in the attack. Cazorla through three matches only has ten fantasy points.

Mikel Arteta, midfielder: Arteta is due back from a serious injury Sept. 28. But what role will he have? He has been the primary penalty kicker, but Ozil can handle that too, and scored a penalty for Germany Tuesday. Ozil could be Wenger's choice for free kick duties, meaning that Arteta will suffer more from Ozil's presence than Cazorla.

Aaron Ramsey, midfielder: Ramsey has played every minute of the first three games and has one assist and a clean sheet. He will have to fight for playing time.

Tomas Rosicky, midfielder: Rosicky will have an even more difficult time than Ramsey.

Alex Oxlade-Chamberlain, midfielder: Out three months with a bad knee injury, once he returns, Ox-C's prospects for playing are slim.

Jack Wilshere, midfielder: The media darling will need time to adjust to Ozil's presence. So far, Wilshere has been a poor fantasy point producer and isn't likely to be on the receiving end of many of Ozil's passes that will be directed more toward Giroud, Walcott, and Podolski.

Bacary Sagna, defender: Will Wenger prefer Sagna or Ozil advancing on the wings? That is a no-brainer.

Carl Jenkinson and Kieran Gibbs, defenders: They will continue to battle for starting positions and are not impacted by Ozil's presence.

Mathieu Flamini, midfielder: He has three chances of even a few minutes of playing time: fat, slim, and none.

Nicklas Bendtner, forward: The president of the Nicklas Bendtner admiration society/fan club is doomed for anonymity.

We now await Ozil's Premier League debut. He is a footballer who has never scored more than nine league goals in any season. Even so, the player who will wear number 11 is carrying the hopes of Arsenal supporters and fantasy managers around the world on his shoulders.