Gameweek 3 Fantasy Preview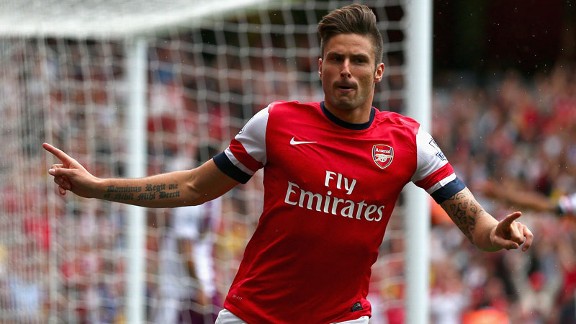 GettyImagesArsenal forward Olivier Giroud looks to continue his goal-scoring streak against perfect-record Spurs.
Chelsea and Aston Villa are idle this week, so fantasy managers must decide what transfers to use and/or what players will be assigned to the bench.

Once again, we have only one game to check announced lineups and that will be the early Manchester City-Hull match.

Saturday, August 31
Manchester City (1-0-1) vs. Hull (1-0-1)
City was humbled at Cardiff's home opener and Hull was exalted at theirs. Order will be restored at home as Edin Dzeko and Sergio Aguero are operating in terrific tandem and David Silva has apparently found his velvet touch. Joe Hart was nailed for three goals by Cardiff and will look to right his standing as England's #1.

Cardiff (1-0-1) vs. Everton (0-2-0)
Frazier Campbell's brace was a fantasy surprise against Man City. Ross Barkley has a goal in the two Everton draws and looks more active than Kevin Mirallas. Arouna Kone remains a forgotten man by his former Wigan manager. Maroune Fellaini has had a new job description written by Roberto Martinez and is dealing with transfer rumors.

Newcastle (0-1-1) vs. Fulham (1-0-1)
The Magpies draw against West Ham showed the team has a pulse, but not much more and against Fulham will face a team with more offensive firepower including goal hungry Darren Bent. Loic Remy may return for Newcastle.

Norwich (0-1-1) vs. Southampton (1-1-0)
Gary Hooper and Anthony Pilkington could return from injury and fantasy managers might see a fit Sebastien Bassong finally get a start. The Saints Luke Shaw has a late fitness test and wait for Rickie Lambert to open his goal-scoring account.

West Ham (1-1-0) vs. Stoke (1-0-1)
Big Sam's Hammers opened with a home result over Cardiff and then went sterile in a 0-0 draw at Newcastle. Only one shot on goal will not get it done. Andy Carroll is still out injured. Rats! Razvan Rat is probably on the bench again. Liverpool flop Oussama Assaidi hopes to be a loan success for punchless Stoke.

Crystal Palace (0-0-2) vs. Sunderland (0-1-1)
Crystal Palace, bounced out of the League Cup by Bristol City blew a lead against Stoke after a heart-breaking opening loss at home to Spurs.

Sunderland and fantasy managers like diminutive newcomer Emanuele Giaccherini and got a brace from Connor Wickham and goals from Jozy Altidore and Adam Johnson in midweek League Cup play. Stephane Sessegnon's DUI arrest may glue him to the bench.

Sunday, September 1
Liverpool (2-0-0) vs. Manchester United (1-1-0)
Daniel Stirridge had a brace in midweek, but Simon Mignolet gave up two goals in the League Cup victory. Philippe Coutinho has yet to open his goal scoring or assist account for the season. Kolo Toure is a huge injury loss for the Reds. Martin Skrtel could return.

Wayne Rooney's head is on straight playing just behind RvP who is a great road goal-scorer. Rafael is out injured, Chicharito so-so on the bench.

WBA (0-1-1) vs. Swansea (0-0-2)
The Baggies got a hat trick in midweek from Academy star Saido Berhino, but are not likely to feature the 20-year-old. GK Ben Foster is lost until November with injury. Nicolas Anelka returns.

The Swans are uncharacteristically bottom of the table. Fantasy managers wait for Michael Laudrup to start Wilfried Bony who is dealing with an ankle/foot injury. Michu is without a goal in two games. You sense an eruption from the Spaniard this week on the road.

Arsenal (1-0-1) vs. Tottenham (2-0-0)
Arsenal got an Aaron Ramsey brace in their Champions League advance and Olivier Giroud and Lukas Podolski each have two goals in the first two PL games; however, bad news as Podolski is out 21 days with a hammy, injured in the midweek game. Mikel Arteta, Thomas Vermaelen, and Ox-C all remain on the sidelines.

Spurs have a perfect record, albeit on two penalty goals by new transfer Roberto Soldado who looks like part of the inventory from opening day. The Gareth Bale soap opera continues. And there is mention of Spurs pursuing Chelsea's Juan Mata who would give Tottenham the midfield playmaker they lack. Aaron Lennon is out hurt.