Gameweek 2 Fantasy Preview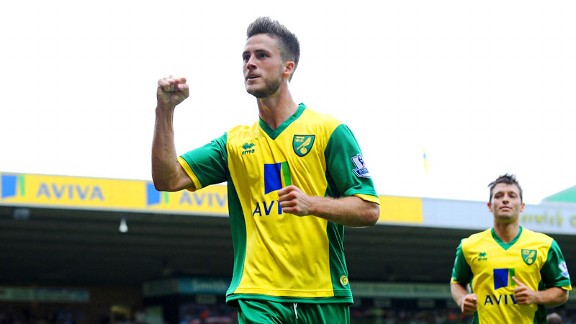 Tony Marshall/Getty ImagesRicky van Wolfswinkel had an impressive Premier League debut for Norwich.
The double-game week to start the season gave managers a chance to load their lineup with player from Chelsea and to a lesser extent, Aston Villa. Week 2 has the normal 10-game schedule. Chelsea and Aston Villa will be idle this weekend.

There is only one game to check announced lineups for the week and that is the Fulham-Arsenal match on Saturday.


SATURDAY

Fulham (1-0-0) vs. Arsenal (0-0-1): Fulham misses injured goalkeeper Maarten Stekelenburg, but have newcomers Scott Parker and Darren Bent. Dimitar Berbatov will face a team with several defensive players either injured or suspended. Olivier Giroud had the lone Gunner goal against Aston Villa. Alex Oxlade-Chamberlain and Mikel Arteta are out injured. Arsenal had a Champions League group qualifying victory on Wednesday with goals from Kieran Gibbs, Aaron Ramsey, and a PG from Oliver Giroud.

Everton (0-1-0) vs. WBA (0-0-1): Everton will start fantasy bargain Ross Barkley, who scored against Norwich. Kevin Mirallas is the main threat. Once high-scoring Maroune Fellaini now plays in a drop-back position. Scott Sinclair debuts for WBA; Nicolas Anelka is on personal leave.

Hull (0-0-1) vs. Norwich (1-0-0): Hull, beaten 2-0 by Chelsea, showed little attack except from subs Tom Huddlestone and Jake Livermore who will start. Norwich loves new acquisition Ricky van Wolfswinkel, who got his first goal. Defender and fantasy favorite Sebastien Bassong is back.

Newcastle (0-0-1) vs. West Ham (1-0-0): Big Sam got a resurrected performance from Joe Cole and reliable Kevin Nolan who scored. Newcastle looked like garbage against Manchester City and has no fantasy player worth recommending.

Southampton (1-0-0) vs. Sunderland (0-0-1): Rickie Lambert is on a continued career high. Luke Shaw came back and got a clean sheet. On the other hand, Jozy Altidore could not find the net for the Black Cats, who are low on offense and expectations.

Stoke (0-0-1) vs. Crystal Palace (0-0-1): Stoke's offense stinks. Jonathan Walters choked on a Stoke penalty kick but the Potters defense still is impressive for fantasy players. Crystal Palace opened their season of likely relegation against Tottenham and held the Spurs to one goal.

Aston Villa (1-0-1) vs. Liverpool (1-0-0): Aston Villa had a huge road result over Arsenal and then was feisty in losing at Stamford Bridge, 2-1. Christian Benteke has three goals for the season, but also two yellow cards. Their defense is greatly improved.
Liverpool is living large with Daniel Sturridge in good fantasy form and Philippe Coutinho primed for multiple fantasy points.

SUNDAY

Cardiff (0-0-1) vs. Manchester City (1-0-0): Cardiff, unable to score against West Ham, will find it even tougher against Man City, 4-0 winners over patsy Newcastle. Vincent Kompany is out injured. Edin Dzeko, David Silva, and Yaya Toure were impressive. Pablo Zabaleta was superb and dangerous and Sergio Aguero even more so.

Tottenham (1-0-0) vs. Swansea (0-0-1): Spurs are still without injured Gareth Bale and had a not-so-impressive 1-0 victory over Crystal Palace. Newcomer Ricardo Saldado fit in well. Wilfried Bony will be in the starting lineup for the Swans. He and Michu look as if they were made for each other and could reward fantasy managers. Both Spurs and Swansea had impressive Europa wins.

MONDAY

Manchester United (1-0-0) vs. Chelsea (2-0-0): United comes off a 1-4 thrashing of Swansea and David Moyes presents question marks for fantasy managers. Shinji Kagawa and Wilfried Zaha did not play in the season opener. Wayne Rooney was a second-half sub and while far from game-fit, his passing was superb. Robin van Persie was magnificent and Danny Welbeck impressive. Chelsea also is difficult to predict for fantasy managers. Juan Mata did not play in the opening win over Hull and Romelu Lukaku was a late sub. Mata started against Aston Villa and appeared tired and out of sync and is the subject of a move to Man United. Demba Ba is a bust. Fernando Torres was in civvies and could start at Old Trafford. Lukaku, who came on as a sub, looks lethal and may start.