Premier League Fantasy Team Previews: Norwich, Fulham, Stoke, Southampton, and Aston Villa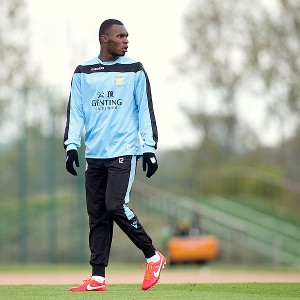 Neville Williams/Aston Villa FC via Getty ImagesChristian Benteke decided to stay at Aston Villa, where he'll be counted upon to score.
ESPN FC fantasy picks expert Sir John Culea has profiled fantasy players on the Premier League's top 10 teams. In the remaining two parts, he looks at the rest of the table and players with fantasy value. Go to the ESPN FC EPL fantasy page to play the game.

NORWICH

Last season: 10-14-14
Goals: 41 scored, 58 conceded
Position: Eleventh

The best bargain fantasy defender last season was Sebastien Bassong (5.5 fantasy value). The 27-year-old Frenchman was the nint-highest fantasy defender. Beyond him, the only fantasy recommendation is transfer Ricky van Wolfswinkel, a 24-year-old Dutch international from Sporting Lisbon who had 15 goals in 16 games and with a low fantasy value of 6.0 is a good gamble for a third forward. Also new is Gary Hooper (6.0), the former Celtic striker.

FULHAM

Last season: 11-10-17
Goals: 50 scored, 60 conceded
Position: 12th

At Craven Cottage, it is Dimitar Berbatov, new ownership, and wishful thinking. Berbatov (7.0) is the only recommended fantasy player. The silky 32-year-old Bulgarian had 15 goals and three assists in 33 games and was the fifth highest fantasy forward. One other consideration: Adel Taarabt (5.5), now fantasy-listed as a forward, is new and on loan from salary-bloated and relegated QPR.

STOKE CITY

Last season: 9-15-14
Goals: 34 scored, 45 conceded
Position: 13th


Stoke was the most boring Premier League team last season and their defense assured survival. Recommended fantasy picks are goalkeeper Asmir Begovic (5.8) who had 110 saves in 38 games.

-Johnson: Fantasy preview 2013-14

The Potters' defense crumbled a bit toward the end of the season, but overall it was splendid. The best fantasy defender for points was Ryan Shawcross (5.7), 11th-highest and a fantasy bargain. Robert Huth (5.6) used to be a threat on set pieces, but the German had only one goal in 35 matches last season. Jonathan Walters (6.0) was the 11th highest fantasy point player in midfield and had a team-high eight goals. That tells you the forward line for Stoke stinks.

SOUTHAMPTON

Last season: 9-14-15
Goals: 49 scored, 60 conceded
Position: Fourteenth

The Saints have one main offensive weapon, forward Rickie Lambert, and he was the third-highest scoring fantasy forward in the PL. The 31-year-old, whose career has included years in the lowest league, has a bargain value (6.5) and last year scored 15 goals and had five assists. Midfield remains a barren fantasy position and the defense proved porous. Luke Shaw (5.1) is a media darling but the 18-year-old, who signed a new five-year contract remains a fantasy project. An upgrade on defense could be transfer, Dejan Lovren (5.2), a 24-year-old Croatian who had 18 games with Lyon. A red flag: he had three red cards.

ASTON VILLA

Last season: 10-11-17
Goals: 47 scored, 69 conceded
Position: 15th

While Aston Villa has been the most active in the summer transfer market, job No. 1 was keeping forward Christian Benteke and manager Paul Lambert convinced the Belgian to sign a new deal. Benteke is a bargain at 8.1 and scored 19 goals in 34 games, ranking fifth for fantasy forwards. With no Champions or Europa involvement, Benteke, barring injury, will play every PL game. A key for fantasy managers is that Aston Villa has two games in the first week, although they are on the road at Arsenal and Chelsea.
The other fantasy recommendation is goalkeeper Brad Guzan (5.7) who warded off 114 shots in 36 games. The rest of the under-fire defensive corps is a collection of battle fatigue players while the midfield is benign. One possible fantasy consideration is Nicklas Helenius (5.9), a 6-foot-5 Danish forward who will wear Darren Bent's No. 9 jersey.

Next: Newcastle, Sunderland, and promoted teams Cardiff City, Crystal Palace, and Hull City.