Premier Fantasy is back for the new season, and the preliminary squad selection is full of familiar pitfalls. We take a look at who to avoid, who could prove to be a bargain buy and assess what the early-season fixture list presents.

- FREE: Click here to play Premier Fantasy

In limbo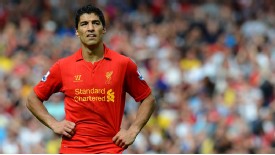 GettyImagesLuis Suarez's future remains shrouded in uncertainty.
Each season, there is at least one player whose future seems set to be decided on the final day of the transfer window; this time, we have three.

The case of Luis Suarez is clear cut as far as fantasy is concerned, with the Liverpool striker suspended for the first five games following his bite on Branislav Ivanovic last term. So regardless of whether he is welcomed back into the fold at Liverpool there is no point having the Uruguayan in your starting squad. Suarez is still owned by 10% of managers, who will soon learn the error of their ways.

It's not so obvious for Gareth Bale and Wayne Rooney. At least with Rooney it seems he will remain in the Premier League, whether that is at Manchester United or Chelsea. But if Spurs midfielder Bale moves on before September 2, he will be headed for Real Madrid and La Liga.

Rooney will not feature in United's opening-day game at Swansea and there remain major doubts over Bale. And at a premium price of £9.6 million, it is a big gamble to have Bale clogging up your budget with a chance of not getting a return. For the opening weeks at least, it would be wise to put your money into Juan Mata or Eden Hazard.

Rooney is proving very unpopular in the summer market, owned by just 4.7% of managers, but there is far more faith in Bale as he features in 28.6% of teams and is the third most popular midfielder.

One enhancement to the game is an increase in transfers from 20 to 30 for each segment, which means any mistakes can be rectified without too much damage to long-term strategy.

Hot or cold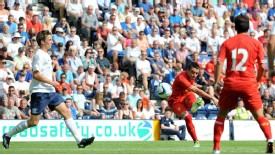 APIago Aspas scored on his non-competitive Liverpool debut against Preston.
The absence of Suarez, be it short-term or long-term, from the Liverpool team could make Iago Aspas one of the bargain signings. Daniel Sturridge should be available in the early part of the season but is fighting back from injury, so Aspas might well be key up front. And with Liverpool's fixture list favourable -- they face Stoke, Aston Villa, Swansea, Southampton and Sunderland in the opening gameweeks -- a price of £6.7 million has value.

Aspas scored 37 goals in two seasons for Celta Vigo prior to the switch to Anfield and has been among the goals in pre-season. And in just 3.5% of teams, Aspas could offer vital variation from your rivals' squads.

Wilfried Bony , the Eredivisie Footballer of the Year, has already found the back of the net for Swansea in their Europa League qualifying campaign, following a season in which he scored 31 goals in 30 league games season for Vitesse Arnhem. He will be Swansea's lead striker and, while a price of £6.6 million is perhaps higher than some would like, he looks built for the Premier League.

But unlike Liverpool, Swansea have a tough start to the season, with Manchester United, Tottenham, West Brom, Liverpool and Arsenal all up in the opening weeks. It may be wise to take a watching brief and see how Bony shapes up before the club's fixture list eases. He is currently in 7.9% of teams.

- FREE: Click here to play Premier Fantasy

Continuing the goalscorer theme, Roberto Soldado is guaranteed to lead the line for Spurs, though you may worry about the supply line if Bale is not around. He scored 59 goals in three seasons before leaving Valencia and, in a team also possessing the talents of Paulinho, he should get plenty of chances. Both are priced at £7.8 million so you would be wise only going for one of the two, and Soldado looks to be the pick.

Everton midfielder Kevin Mirallas had a stop-start 2012-13 due to injury but showed his creative ability when fit. At £6.2 million he comes at a mid-range price and, while you would hope for better than 4.1 points per game at that cost, he should improve further in his second season.

Danny Graham had a nightmare six months at Sunderland and that is reflected in a price drop following his loan move to Hull, but if he can rediscover some form then £4.9 million could make him a superb option as a third striker. Loic Remy, back in the Premier League at Newcastle, is more expensive at £6.4 million but showed at QPR last season he can score goals in England. If Newcastle start well it is likely that Remy will be among the goals.

Norwich City's good early run of fixtures makes former Celtic striker Gary Hooper, £6.0 million, a viable purchase. The Canaries host Everton, Southampton and Aston Villa while also travelling to Fulham, Spurs and Stoke.

And how about a gamble on veteran West Brom stiker Nicolas Anelka, who scored seven goals in seven pre-season games? He is a snip at £5.5 million and the Baggies don't play any of last season's top five in first five gameweeks.

City slickers?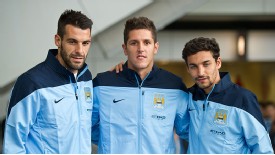 GettyImagesManchester City's new signings Alvaro Negredo, Stevan Jovetic and Jesus Navas.
Four new faces have arrived at Manchester City but are they worth investing in? Jesus Navas has contradictory stats over the past two seasons: last year he didn't score a single goal and provided only six assists, but the previous campaign he netted five and assisted 12. He is playing in a better side now but still had a 25-goal striker in Alvaro Negredo to aim for at Sevilla. A price of £7.4 million makes him a gamble.

Negredo, on the other hand, looks far more reliable. After plundering 59 La Liga goals in the last three seasons he looks a good fit for the Premier League, and £8.0 million could prove to be on the cheap side of expensive. Only 4.2% of managers have taken a chance.

- FREE: Click here to play Premier Fantasy

Stevan Jovetic does not play as an out-and-out striker and so it would be folly to spend £7.2 million to clog up one of your three striking berths, though slightly more managers have brought him in than Negredo. The 2.7% of managers to invest in Fernandinho may wish to think again, as he is more of a defensive midfielder than the box-to-box Yaya Toure.

Pick of the fixtures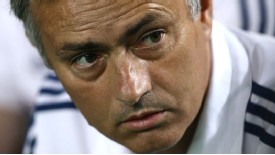 GettyImagesJose Mourinho will expect six points from the two games Chelsea have in the opening week.
Just as important as the player and the team they represent is the opposition, especially when a team enjoys a run of favourable fixtures. Fantasy managers should make sure they have loaded up on Chelsea players for the first gameweek, with home games against Hull City and Aston Villa making it a double on Jose Mourinho's return. That does mean Chelsea -- and Villa -- will have a blank gameweek three due to the UEFA Super Cup.

West Ham have what most would consider to be an easy start to the season, with home games against Cardiff, Stoke and Everton along with trips to Newcastle, Southampton and Hull. And with West Ham defenders priced affordably it would be wise to invest, if only for the short-term. Goalkeeper Jussi Jaaskelainen was only outscored by Joe Hart last season and starts the season with great scope for clean sheets.

Other teams worth considering based purely on the fixture list are Manchester City, Norwich City, Tottenham and West Brom.

Seeds of doubt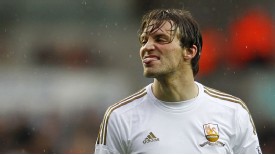 GettyImagesMichu was Swansea's top scorer with 18 league goals last season
Michu was one of the key fantasy performers last season, but he is far more expensive this season at £7.7 million. He is in 38.3% of teams despite there being uncertainty about where he will be deployed and the Swans' tough fixture list. With Bony taking the lead striking role it is likely that Michu will drop deeper, meaning he may not be as prolific in front of goal.

Moussa Sissoko was a hit in February after scoring two goals on his debut for Newcastle United, but that form did not last long and at £6.3 million there is better value elsewhere.

Gerard Deulofeu, on loan at Everton from Barcelona, and Chelsea's Kevin De Bruyne could both offer value, but we need to see how much football they will get before investing.

- FREE: Click here to play Premier Fantasy

Sunderland have effectively signed a new team over the summer so there is risk attached to their players -- will they gel immediately? There is hardly a long line of Italians who have prospered in England but former Juventus midfielder Emanuele Giaccherini, in the game at £5.9 million, scored three goals and provided three assists for the Serie A champions in ten starts last season. Can he transfer that across leagues and a whole season?

The new boys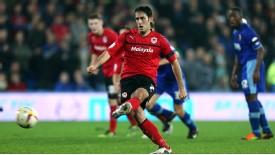 EmpicsCardiff's Peter Whittingham scores
There is always value to be had from the promoted teams, with their players starting the season at the bottom end of the pricing range.

Neither of the two automatically promoted sides, Cardiff and Hull, had a player reach double figures for goals last season -- an amazing statistic. Championship champions Cardiff had three players notch eight goals, one of whom was Peter Whittingham (£4.9 million) and he also made seven assists. Craig Noone (£4.7 million) scored seven times with eight assists.

Hull relied on the goals of Robert Koren (£5.0 million) from midfield, though he only scored nine. Graham may help to change that, but scoring has been an issue for Hull for the past few seasons and it may take more than a summer to turn that around. Robbie Brady (£4.7 million) was their chief architect with 13 assists, with Ahmed Elmohamady (£4.8 million) creating nine.

It was all about clean sheets for these two sides, with Cardiff keeping out the opposition 18 times and Hull 16. Investing in defenders from newly promoted sides is usually folly, however. With clean sheets being worth an extra point to defenders and goalkeepers this season, more thought needs to go into these positions.

Crystal Palace had one of the top marksmen in the country, with Glenn Murray (£5.0 million) plundering 30 league goals. But he is battling back from a long-term injury picked up in May which means he is to be avoided. Their leading assist maker, Wilfried Zaha (£6.0 million), has moved to Manchester United, which means much may rest on the shoulders of their other tricky winger, Yannick Bolasie (£4.9 million), who made eight goals and scored three in the Championship.

- FREE: Click here to play Premier Fantasy