Premier League Fantasy Team Preview: West Ham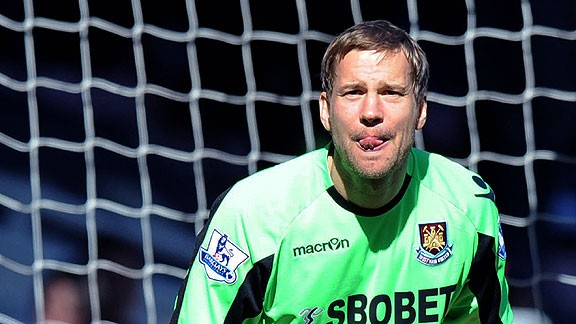 Olly Greenwood/AFP/Getty ImagesWest Ham goalkeeper Jussi Jaaskelainen, who warded off a barrage of shots to help fantasy managers, needs help on the defensive line.
ESPN FC fantasy picks expert Sir John continues his Premier League season preview with a look at West Ham fantasy players who will try to help the club secure another top ten finish. Go to the ESPN FC EPL fantasy page to join the game.

Last season: 12-10-16
Goals scored: 45
Goals conceded: 53
Finish: Tenth

Big Sam Allardyce had a very successful return to the Premier League, guiding the Hammers to a 10th place finish. He was helped in large measure by the goalkeeping excellence of the man with the alphabet name, Jussi Jaaskelainen (5.9 fantasy value). The 38-year-old Finn made a league high 166 saves in 38 games. J.J. was the second highest fantasy scoring GK and without him, West Ham might have led the league in goals conceded. He is a fantasy bargain.

The target practice that J.J. endured tells you the Hammers' need help in the fantasy defensive line and West Ham seems to have addressed that weakness with a terrific transfer (an excellent fantasy value at 5.7) in Razvan Rat, a 32-year-old Romanian from powerhouse Shakhtar Donetsk. Rat is no goal-scoring threat, but he will add toughness to a line that includes Joey O'Brien (5.7) who was the highest fantasy scoring defender for West Ham (12th-ranked). Others on the target range were James Collins (5.2), James Tompkins (4.9), George McCartney, Guy Demel (5.2), and a few other bodies.

West Ham has trouble scoring goals. Andy Carroll (6.4), on loan from Liverpool is now part of the owned inventory at West Ham. Carroll had seven goals in 26 games during an injury-interrupted season. Beyond that, it's slim-pickings with Richardo VazTe (5.5) and Modibo Maiga (5.4).

Most of the goals came in midfield with Kevin Nolan (6.8) delivering 10 and ranking eighth in fantasy midfield scoring last season. His second half was one of injuries and a prolonged scoring slump, salvaged only with a hat trick in the final game. The newest addition is Liverpool winger Stewart Downing (6.2), a transfer flop at Anfield who only had three goals and five assists in 29 games last season. Mohamad Diame wasn't much of a threat with three goals in 33 games. Mark Noble (5.6), Joe Cole (5.0), Matthew Jarvis (5.5), Matthew Taylor (5.0), and Jack Collison (4.8) were penciled in now and then and won't do a whole lot for fantasy managers.

Next: A combined look at Norwich, Fulham, Stoke, Southampton, and Aston Villa.